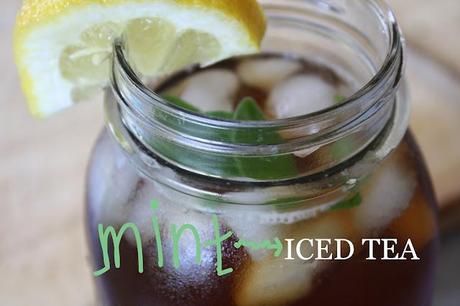 Boy oh boy. The first week of Summer here brought a huge heat wave! I am crazy about iced tea during these hot summer months and I am always constantly making fresh batches of iced tea to keep in our fridge every week. It goes fast in my house! Lately though, I have been putting a fresh new spin on my iced tea at home and not only am I loving it but the husband approves too! Mint Iced Tea is heavenly, with adding the mint I feel like it's even that more refreshing to drink! All you will need is 1 cup of fresh mint, 6 tea bags,  6 cups of water and lemon.  I hope you all enjoy it too...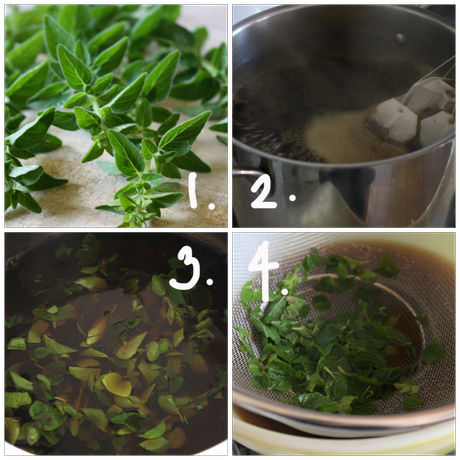 1\\ Mint. It's the key ingredient in this and there is nothing better than going out to the garden and snipping off a few sprigs of mint!
2\\ boil 6 cups of water with 6 tea bags. Use whatever sort of tea that you fancy. We bought a huge bulk box of Lipton black tea at Samsclub a while back and I've been using that. Any sort of black tea will do. Sometimes I even mix black and green tea. Yumm! Once the water comes to a boil, let it boil with the tea bags for 5 minutes and then turn burner off.
3\\ next take 1 cup of chopped fresh mint and put it into the pot of tea and let it steep in there for about 10 minutes while it cools.
4\\ pour tea through a strainer to catch all the mint.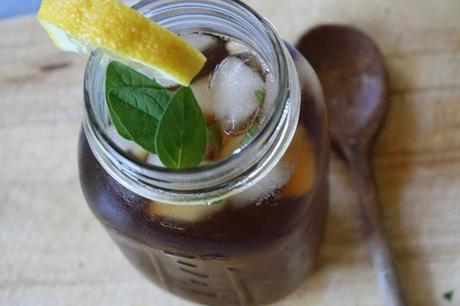 Fill a glass up with ice (or in my case a mason jar!) and pour the mint tea in, squeeze some lemon and garnish with mint! Now you can weather this heat and stay hydrated. Happy iced tea making!!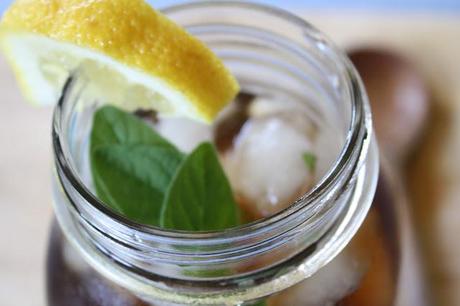 PS\\ Here's to my 400th post. Cheers :)