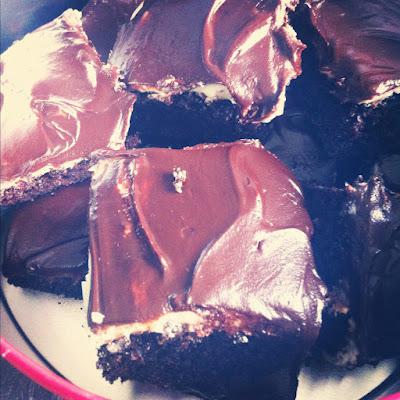 Hey lovies,
I thought I'd share with you my mint chocolate brownie recipe. I made these to take to my boyfriend's on Thursday and they went down a treat! They taste a little like After Eight mints, but in brownie form. And if you like mint chocolate as much as I do, I'm sure you'll love these!
I also used measuring cups for this recipe, as I find them easier to use than scales. You can pick them up for pretty cheap at most supermarkets. :)
Ingredients:Brownie:
3/4 cup of butter
1 1/2 cup of sugar
2 tsp of vanilla essence
3 eggs
3/4 cup of flour
1/2 cup of cocoa powder
1 tsp of baking powder
pinch of salt
Mint Frosting:
1/4 cup of  butter
2 1/2 cup of icing sugar
1 1/2 - 3 tbsp of milk
1/2 tsp of peppermint flavouring
Green food colouring
1 sharing block of chocolate (I used dark, but you can use milk chocolate too!)
Method:
1. Pre heat the oven to 180 C
2. Melt the butter
3. Beat eggs, sugar, vanilla, flour, cocoa, baking powder, salt and butter
4. Bake for 20 - 30, then cool for 1 hour
5. For the mint frosting cream the butter and icing sugar together, add milk tablespoon at a time and then beat in flavouring and colour
6. Frost brownies and chill for 1 hour
7. Melt sharing bar of chocolate with 1 tsp of butter and pour over brownies
Then you're all done, and you're left with yummy scrummy brownies! :)
Let me know if you try these out and what you think of them.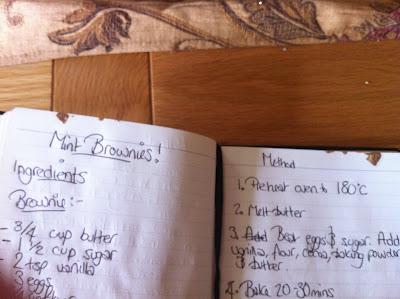 As you can see, it can get a little messy. But that's all apart of the fun!