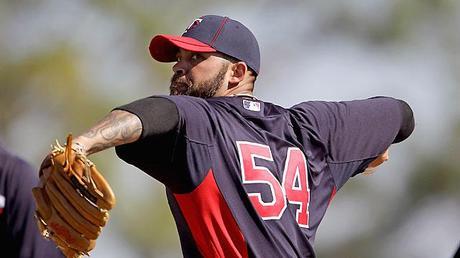 Photo: mlb.com
- Adam Parker
Joel Zumaya's season is over as his time with the Minnesota Twins has come to an end before it could begin because of a damaged elbow.
Now Zumaya must decide whether his once-promising career is finished as well, and the reliever with the rocket right arm and a recurring injury bug sounded like he's ready to call it quits rather than endure yet another year of strenuous rehabilitation.
But even if Zumaya does opt to have the surgery, he's still not sure if he'll try to make yet another comeback.
"That's going to be a family decision. Right now, my persepective is probably not,"
Zumaya said Monday, two days after tearing the ulnar collateral ligament in his throwing elbow.
"I know I'm pretty young, but I'm probably going to go on six surgeries if I go get another one. I'm only 27 years old. I've taken a lot of wear and tear on my body, especially my arm, and then rehab, and it just mentally takes a lot out of you."
Zumaya didn't pitch last season. He left the Detroit Tigers to sign with the division rival Twins, getting an incentive-laden one-year $850,000 contract with $400,000.
"I've got a little 2 and 1/2 year-old, so maybe it's time to move on,"
Zumaya said.
To resume his career Zumaya would need to undergo Tommy John surgery, the ligament-replacement procedure that typically requires a year of rehab. He expects to decide within two days whether to have surgery or retire.
"It's tough for anybody involved in a situation when you're talking about a guy going through what he's going to have to through here,"
said Twins general manager Terry Ryan, who hoped to strengthen a struggling bullpen with the high-risk, high-reward reliever.
"It's a personal decision between his family and people he confides in and so forth."
Zumaya was hurt throwing after throwing a curveball to catcher Drew Butera during his first live bullpen session of the spring.
"I was trying to be so optimistic, but I knew. I knew right away,"
Zumaya said.
"I've been told. I've asked people, 'How does it feel? What are your instincts? What happens?' Basically right when I came off the field, I just felt that my arm was gone."
Zumaya has spent much more time rehabbing injuries the last several seasons than showing that 100 mph-plus heat. After garnering attention as a rookie for the 2006 AL Champion Tigers, he has pitched in just 109 games over the last six years while dealing with nagging foot, shoulder, elbow and finger problems.
"People who throw as hard as me ... you're injury prone, you know?"
Zumaya said.
"It's just hard, man. I guess you're not meant to throw a pitch as hard as I do. My arm's been through some stuff."
Zumaya received more than 100 text messages from family members and friends, including many of his former Tigers teammates.
He said he's been leaning on his family the last few days, while also asking players about the surgery, including former Tigers pitcher Jason Grilli, who had a similar situation with previous elbow surgeries before ultimately undergoing Tommy John surgery.
"He almost had the same thing as me, elbow surgery and then he had Tommy John,"
Zumaya said.
"So I've been speaking to him, and literally just asking him, 'What's the deal?' The majority of those guys, they said if you get the Tommy John, your chances of coming back are even stronger. I don't know yet. But like I said, it's going to be a couple days before I make this decision and go on about my business."
So for now, the future of the pitcher who once got a sore wrist from playing Guitar Hero is in doubt. Will injuries derail this once-promising pitcher's career into early retirement?
Be sure to follow Beard And Stache on Twitter 
@BeardAndStache
, 
and also Adam 
@Adam_Parker43
, Like our Facebook page 
HERE!