This was supposed to be included in my collective haul posted a few days ago but it was absolutely forgotten since I've purchased this way before Ulta. :( 
I just wanted to show you what I got from Sephora. It's not much but these are products I've wanted to buy for a long time and I think I got it for a pretty good deal. :)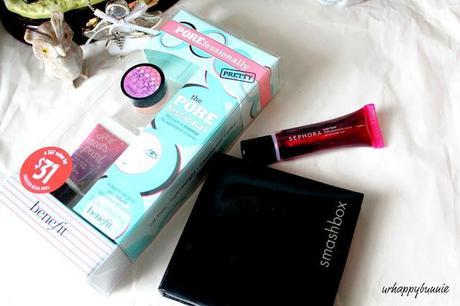 I got the Benefit POREfessionally Pretty set which has a full sized Benefit Porefessional Primer, a deluxe sample size of Girl Meets Pearl and Erase Paste in Medium for only $31.
Quick Review:  Benefit Porefessional is actually a really good primer. I've been dying to get a full size since I've tried the sample since it does minimize my pores however, upon using this for awhile I find that it does not do a great job of making my makeup last longer. 
Girl Meets Pearl is a pearly golden pink liquid highlighter. I am very happy with this highlighter. I have been extremely fond of highlighting as of late and though this is a liquid highlighter it is fairly easy to use and blend out. It's not extremely frosty and bright and it catches the light perfectly. 
Erase Paste in Medium is definitely not my color! It is too light and pink. I think I'll stick with my Boiiing Concealer. Consistency of Erase Paste is much thicker than Boiing which I'm not sure if I hate or love. 
In this Sephora haul I also got the Sephora Lush Flush Lip and Cheek Stain in 02 Pinot that retails at $12.
Quick Review: Sephora Lush Flush Lip and Cheek Stain is in a tube package and unexpectedly in a gel form. I thought it would be a liquid stain but it's a gel and has a doe foot applicator. I like it as a cheek stain but my main purpose for buying it was as a lip stain but I don't think it's as good as liquid lip stains. 
Smashbox Iconic Eyes Palette was up on sale for $10. I checked Sephora online again for this palette and sadly it's not up anymore. I would make a separate review post on this one with more photos and swatches. :)
I hope you enjoyed this mini haul and quick review on the items.