Well the news and events just keep rolling in around the Midlands at the moment so heres another update to let you know whats coming up in and around the Midlands!
ARCO LOUNGE HARBORNE RE-VAMP
Arco Lounge in Harborne part of the Lounges Group is having a bit of a spruce up and a re vamp. The Lounges are a lovely place to hang out with friends for a drink and a chat, so pop down after the 27th April to see what they've done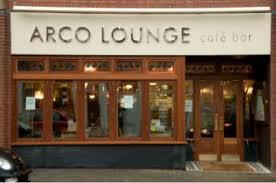 Image from Arco Lounge Twitter
---
GLYNN PURNELL'S FRIDAY NIGHT KTICHEN
Glynn Purnell's Friday Night Kitchen is a live culinary experience taking place at Aston Villa on Friday 2
nd
 October 2015. The evening, to raise money for Cure Leukaemia, will see 'Yummy Brummie' Glynn prepare four courses on stage, helped out by some surprise celebrity guests. For Masterchef fans, Gregg Wallace will be hosting the event, and you can expect to see some more familiar faces too as they cook up a Friday night with a difference for 400 guests.
There's currently a competition running to win the chance to get tickets to the event just by sharing your Friday night dinner. Whether it's a chinese take-away, a dish at your local restaurant or perhaps your partner is cooking a special meal – they want to see what you are eating.
The competition is open on Twitter, Facebook and Instagram, so all you need to do is tag GPFNK (or Cure Leukaemia on Facebook and Instagram) and use the hashtag #FridayNightFoodie. The top three entries each month will go into the final, where Michelin starred chef Glynn Purnell will choose the overall winner! Entries can only be counted if sent in on Fridays each week until Friday 26
th
 June, when the competition ends.
---
NOSH & QUAFF REVEAL FIRST GLIMPSE OF THEIR LOBSTER!
Mouth-watering hot dogs, ribs and wings, will be on offer at Birmingham's ultra-stylish lobster and beer restaurant. Nosh & Quaff aims to become Birmingham's most irresistible 'one-stop, feel-good venue' with Lobster as the star of the show.
There will also be mouth-watering hot dogs, ribs and wings on offer, all hand-made from fresh, organic ingredients and spectacularly cooked and served in ultra-stylish surroundings.
I literally can't wait to try this!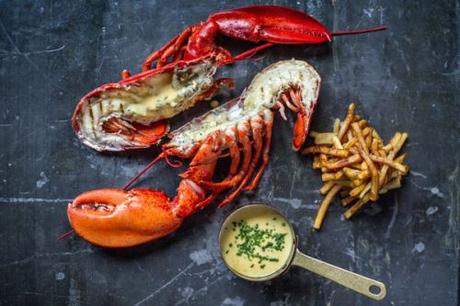 Image courtesy of Nosh & Quaff
---
 Colmore Food Festival returns for fifth year  
The fifth annual Colmore Food Festival is back in July and will showcase the superb food and drink offering in Birmingham's business quarter, Colmore Business District (CBD).
25 venues, the majority of which are independent businesses, will be serving taster options priced at just £3 in Birmingham's Victoria Square on
This year sees three new independent CBD-based venues taking part in the festival, as well as the return of some of the district's finest eating and drinking establishments including Purnell's Bistro and Chung Ying Central. Alongside the varied food offering will be artisan coffees, real ales, fine wines, champagne and delicious cocktails.
There will be a programme of live cookery demonstrations from top chefs in the District, as well as live jazz music, outdoor theater and other entertainment during the festival's two-day run.
www.colmorebusinessdistrict.com for more information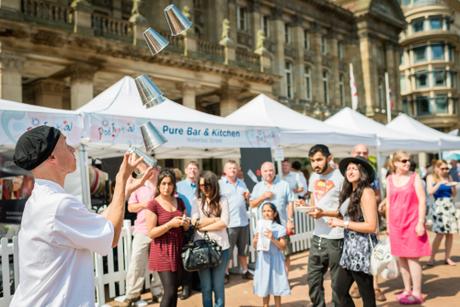 Image Courtesy of Clive Reeves PR
---
 'DIP YOUR OWN ASPARAGUS' AT PEACH PUBS 
Beautiful British asparagus is only around for a few precious weeks. So to make the most of this super home-grown veg, the chefs from The Highfield in Edgbaston and other Peach Pubs have been off in search of the earliest possible crop.
They found it 'grown with love' on the small family farm owned by John Barfoot and his family in Botley, Sussex, on the South Coast where the micro climate is as warm as anywhere in Britain.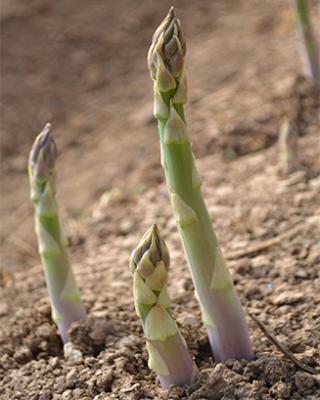 To make the most of this fantastic home-grown produce which is only around for a short time, the chefs have come up with a novel way of serving superb British asparagus fresh from the fields of John Barfoot's farm.
From now they will be serving 'Dip Your Own' asparagus, where you can dip the best of British asparagus into a pot of delicious home-made Hollandaise sauce, grated egg and Parmesan. Soft, free-range egg combined with the slightly sharp, nutty taste of Parmesan and a classic Hollandaise make for a fantastic flavor combination given a new twist – everything comes on your own individual board so all you have to do is dip, and enjoy.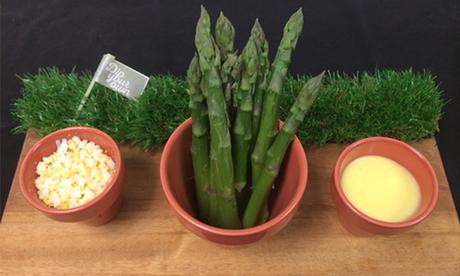 Image Courtesy of Peach Pubs
But don't delay – Dip Your Own is only available in The Highfield, and the Peach Pubs across Warwickshire including The Almanack and The Rose & Crown from now until the end of May, so get yours today! (I'm getting mine next Thursday, if anyones interested….I'll report back on twitter!!)
---
FORT DUNLOP ANNOUNCES FOOD FESTIVAL WITH A BIT MORE BITE
The unusual setting of Fort Dunlop is set to get Birmingham stomachs rumbling with the arrival of Bite, another street food festival to add to the already thriving scene in Birmingham.
It will kick off on Friday 24th April and feature some of the region's most exciting street food traders including Andy Low 'n' Slow who will be at the first event
As well street food stalls serving up mouth-watering morsels, there will be a fantastic line-up of live music from some of Birmingham's well-known local bands and a selection of DJs will be mixing it up with a playlist of indie, pop, reggae and street music.
An edible garden has also been created, with visitors able to help themselves to as many herbs and spices as possible. Foodie visitors will be able watch the performers and chow down in the comfort of a communal dining area, created out of upcycled furniture having converting steel drums into benches. They'll also have Ping Pong and foosball tables, as well as a host of competitions with fantastic prizes to be won.
The event is free to attend and will run from 11am to 3pm on the last Friday of every month from 24th April. For more information and updates, please visit: www.fortdunlop.com or follow @Fort_Dunlop on Twitter.
---
Well, I think that concludes the foodie news for now….. as usual please let me know in the comments, email or twitter if theres other great foodie happenings that you would like to be featured on the blog in future, or just what you're all getting up to! ( I'm nosey!)
Disclosure: I wasn't paid or sponsored to write about any of these events, but as usual, want to keep you all updated! I will be getting a few complimentary spears of asparagus next week, but i'll try not to let it affect my opinion ;)
About these ads