According to a today's report, Microsoft has started sending out invitations for another Surface event, scheduled for May 20 in New York City. The invitations simply say "Join us for a small gathering".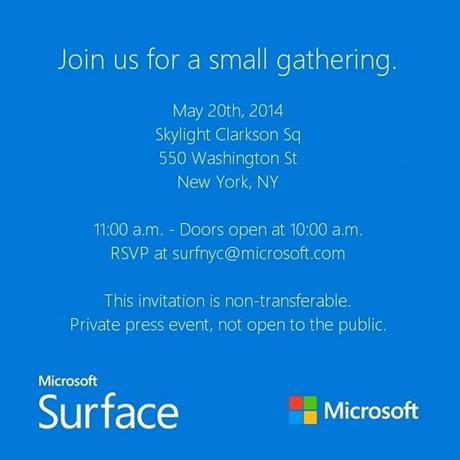 The invitation for the May 20 event.
Although it's not yet certain what will be unveiled on May 20, our guess is that it could be the Surface Mini. Microsoft has been rumoured to be working on a smaller tablet for quite some time now (over a year, to be exact) and over the past couple of weeks, it has become all but obvious what's in store for us.
A number of Surface Mini cases and other accessories were listed last month on Amazon and the date of availability says May 18, which means that the company could very well reveal the mini version of its tablet soon.
There is no information on hardware yet, but rumor has it that the Surface Mini tablet will sport an 8in screen.