Hey everyone, today's post is going to giving a detail insight into micro needling. You are going to find this useful if you do have old acne scars, hyper pigmentation, injury scars, stretch marks. So lets have a detailed look into derma roller and the micro needling process.
A Brief Look at the Micro-Needling Process
Micro-needling is one of the most popular ways to treat scars today. It is especially good at treating old acne scars. Here is a brief look at when it was developed, how it works, and what you can expect if you decide to treat your skin with it.
When Micro-Needling Was First Invented
Micro-needling is widely thought to have got its start in 1995 when Orentreich and Orentreich highlighted the used of dermal (skin) needles for treating scars. Two years later Camirand and Doucet talked about the process being done using a modified "tattoo pistol," specifically. But it wasn't until 2006 that the process really started to gain popularity. That was when collagen induction therapy, or CID, was developed by Fernandes. That form of therapy utilized something called a Derma roller.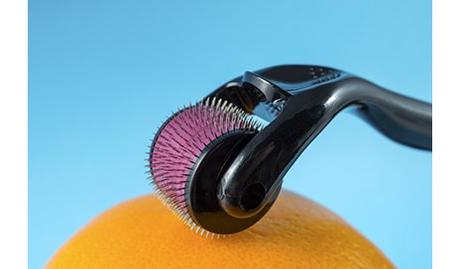 Derma roller
Derma rollers Versus Other Micro-Needling Tools
A Derma roller is a form of micro-needling tool. But just like there are different types of  there are also different types of micro-needling tools available today for use both in clinics and home settings.
The Dermaroller is most commonly used in clinics. It generally uses almost two-hundred tiny needles on what looks like a small paint roller. The needles only have a diameter of about one tenth of a millimeter They are also usually no more than 1.5 millimeters long. Some of them are as short as 0.5 millimeters.
There are also micro-needling stamps and micro-needling pens available. Many of them are sold in kits that can be used at home, but some are also used in clinics. They work in a similar way, but they are meant to treat specific cars. Dermarollers, on the other hand, are often used to treat larger scarred areas.
How Micro-Needling Procedures Are Performed
Whether at home or in a clinic, the process of doing micro-needling is similar. First the area to be treated is washed and sterilized with something like rubbing alcohol. Then local anesthetic is applied in the form of a cream spread on the skin. That local anesthetic has to sit for about an hour before the area will become numb enough to treat. The waiting is usually the longest part. Whether you are treating yourself at home or having a clinical procedure, the rolling or stamping of the micro-needling device shouldn't take more than about twenty minutes.
Advantages of Derma roller Over Other Skincare Procedures
Obviously lasers and other skincare procedures are useful in some cases, but they can't be used in all situations. One advantage that Derma roller or any other type of micro-needling can have is that it can be done on any skin color. Some other treatments don't work well on those whose skin is a darker shade.
Another reason that micro-needling can be advantageous is that the recovery time is very fast. The tiny holes poked in your skin by the needles will close on their own almost immediately. So, infection risks are very low. An ablative laser treatment, on the other hand, can leave you open to possible infections for days.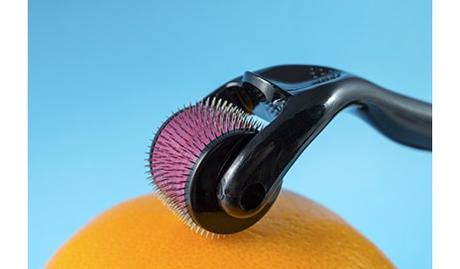 Derma roller
Ultimately, the final decision on which procedure to have to clear up your scars and other skin problems will depend on what your skincare professional has to say. They can assess all of your skin's problems and all of your related needs. Then you can start taking the right steps towards better skin health.
Related
You Might Also Like
GIA BATH AND BODY WORKS OATMEAL MILK AND HONEY SOAP REVIEW
Benefits & Side Effects of Using Face Wash with Salicylic Acid
JUST LIKE HEAVEN HANDMADE FACIAL CLEANSER FOR DRY SKIN : BURST OF HAPPYNESS
WOE BE GONE SOAP BY BURST OF HAPPYNESS
ORGANIC HARVEST SUNSCREEN SPF 30 REVIEW
H2O PLUS AQUAFIRM WEEKLY ACTIVE FOAM MASK : HYDRATION FOR DRY SKIN
H2O PLUS FACE OASIS HYDRATING TREATMENT : REVIEW
Gentle Exfoliation of Dry Skin – THE BODY SHOP HONEY AND OAT MASK Review
Tags:
derma roller, dermaroller, how to fade away injury scars, how to reduce hyper pigmentation, how to reduce stretch marks, how to treat acne scars, how to treat cellulite, micro needling