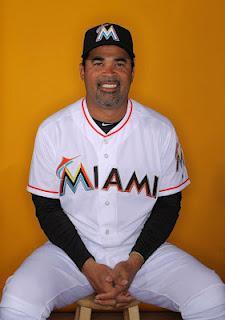 Photo: Getty Images - Marc Serota
- Troy Ballard
In an attempt to revitalize baseball in South Florida, the Miami Marlins are doing everything they can -- including bringing in a roster of high priced free agents, a new stadium, and an explosive new manager, Ozzie Guillen.
Like anything Guillen is involved with, it didn't take long for things to get interesting during Miami's spring training. In an exhibition game against the Boston Red Sox, a debatable hit was called a foul ball, and Guillen immediately jumped out of the dugout an began to argue with the umpire.
Guillen's case didn't last long, as first base umpire Tim Timmons wasn't in the mood to deal with it, and
the new manger in Miami was tossed from the game
.
For Chicago White Sox fans, this isn't much of a surprise, as this was Guillen's mantra for almost the entire time he coached the team. In turn, for Marlins fans, this is something that inevitably raised eyebrows.
And even if it looks like Guillen is immature, classless, and a recipe for disaster in Miami, he actually did something very important by being tossed out of the game -- he set the tone for the Marlins.
There's a reason when that the Marlins pursued Guillen. It wasn't because he was the best manager available, (because that's just not true), and it also had nothing to do with the fact that he has won a World Series.
Miami signed Guillen because he is an emotionally charged figure. He leads with reckless abandon, for better or worse, and a team can find an identity behind his off the wall style of managing. He doesn't fit the mold of a typical MLB manager, but he knows how to get a ball team winning games.
The Marlins have been searching for an identity for a number of years, and despite brining in great talent and leadership, they continued to struggle. The team needed something to rally around. Miami is hoping that something is Guillen.
With being thrown out of this essentially meaningless game, Guillen has established his stance with his new team and players. He is willing to go out and defend them, despite having almost no time to bond and develop relationships, Guillen is there for the team.
Guillen has the Miami Marlins' back. Does the team have his?
That's the toughest part of his job, and it will only be answered over time as the season begins and starts to roll. The team is still adjusting to his new style, and may not be totally on board with his methods and ideology. But like all great things, it doesn't happen overnight.
Even though this look likes another classic Guillen blow-up, it's actually an excellent start to his career as a Miami Marlin.
Be sure to follow Beard and Stache on Twitter @BeardAndStache, and also Troy @TroyBallards, Like our Facebook page HERE!