Eating grilled corn in the rainy days is really a wonderful experience for all. But, when those smoky corns become cheesy, creamy, spicy and a bit tangy, then it really become irresistible. These ultimate corns are really flexible and easy to make as you can change the ingredients and their types as per your preference. Get ready to thrive with Mexican grilled corns at home.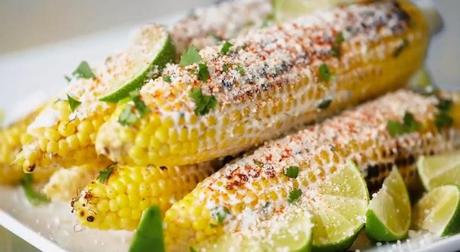 Serving:4 Preparation Time:10 mins Cooking Time:20 mins
Ingredients
4 ears Corn
1/2 cup Mayonnaise
1 1/2 cups sour Cream
1/4 cup chopped Cilantro
1 cup grated Parmesan
1 juiced Lime
Red Chili powder to taste
2 Limes wedges
How to make
Mexican Grilled Corn
Step 1:
Remove the husks of the corn, but leave the core attached at the end.
Step 2:
Grill the corn on a hot grill until slightly charred and gets cooked evenly all over.
Step 3:
In a bowl, mix in mayonnaise, sour cream and cilantro together.
Step 4:
In an another bowl, grate the Parmesan.
Step 5:
Spread mayonnaise mix over corn while it is warm.
Step 6:
Drizzle lime juice over the corn and shower with Parmesan.
Step 7:
Season with chili powder and serve with lime wedges.
MORE RECIPES