'When you are good to others, you are best to yourself'
Benjamin Franklin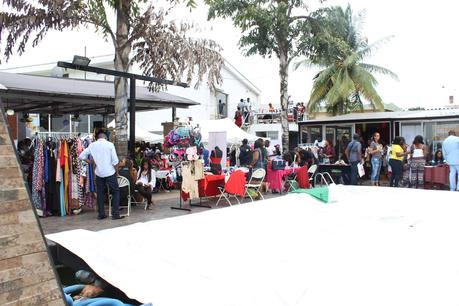 Hello people,
Is it too late to wish you all a happy new month? I'm going to go ahead and wish you that anyway, tons of beautiful memories to go with it as well.
So how's life been these past few weeks? I'm hoping fabulous!!! Lately my life has sort of been in fast-forward which I'm getting used to and I honestly can't complain seeing as slow motion isn't such a great look on me. I've been super busy but then again I love the sense of fulfillment that comes with having done something remarkable...and no guys, I'm not speaking in code
lol
. 
So because of said busy life lately, I have kinda neglected my civic responsibility to this blog and hence my profound apology though I'm sure you are getting pretty tired of my lame apologies (
I'm hoping this time will be different irrespective of my sounding like an addict consistently repeating the same mistake over and over again
).
And yes this post is like six days late in case you're wondering - SHAME ON YOU IFY!!! But I hope it's not too late.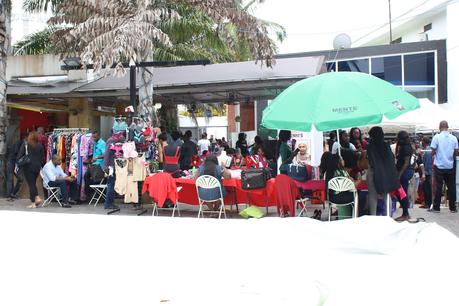 Anywho, in a bid to redeem myself in your eyes, I dragged my tired butt to Mende de moda lifestyle Exhibition (tagged September Pride) on Sunday evening last week (Sept 6th) regardless of my current check on my bank account (I might consider shredding my ATM cards one of these days), the check being there simply because I have exceeded my spending/shopping budget for the month and the month's just beginning arghhhhh!!!! #ShopaholicAndNotSoProudAtTheMoment....
That said, Mente de moda is a shopping fair where different brands predominantly in the creative arts and lifestyle (mostly art and fashion) showcase and sell their products at their respective stands. So we are talking loads of clothes, fashion accessories, hair products, some finger foods for us foodies, drinks, milkshakes and some art for art lovers.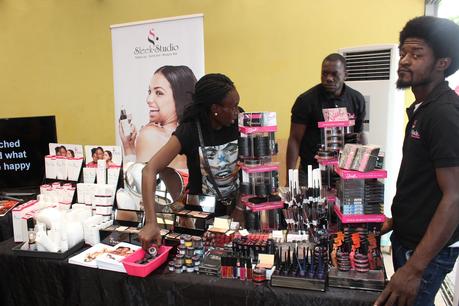 Sleek Studio Stand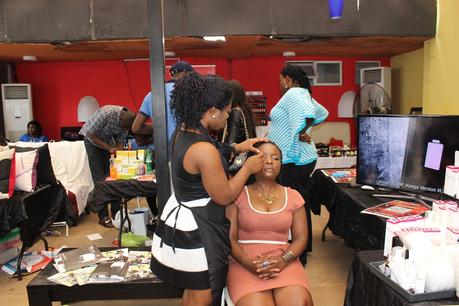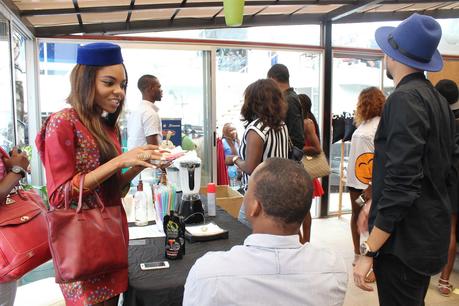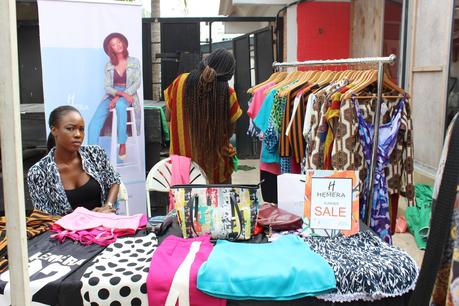 Hemera Stand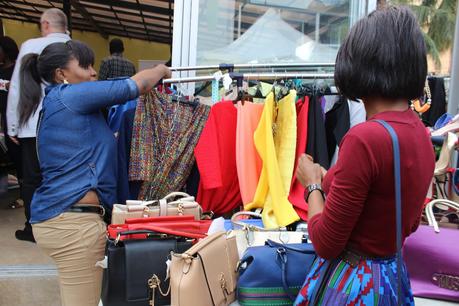 This fair usually happens every month however there was none last month until this one and this took place at Maddox, a little way across from Eko Hotel on Adetokunbo Ademola Street, Victoria Island. It is safe to say there was fun all around, people in their numbers and loads of shopping involved.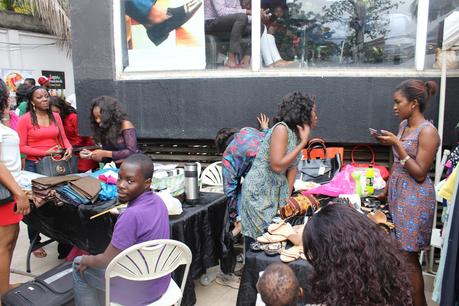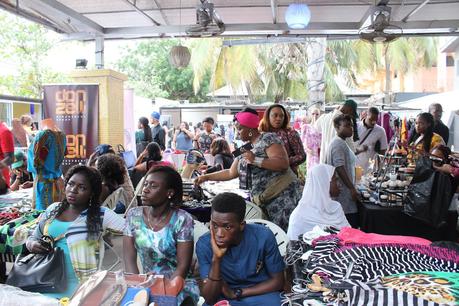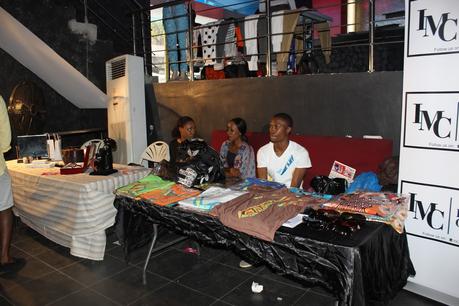 Some stands inside the building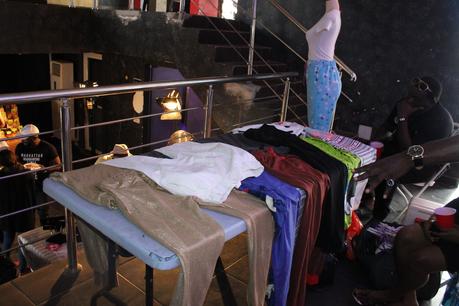 They sold really nice custom-made Joggers & PJs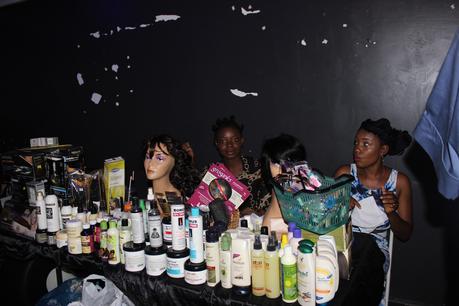 Hair Care products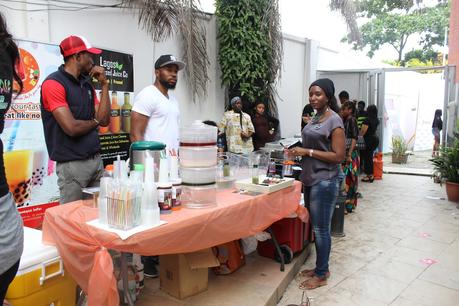 For the foodies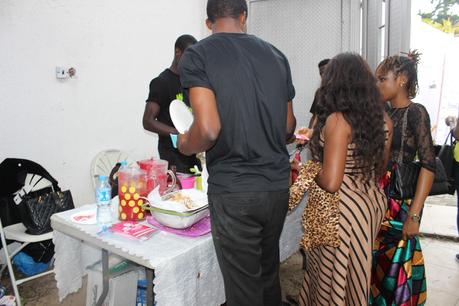 Wendy's Funnel Cakes...one word: delicious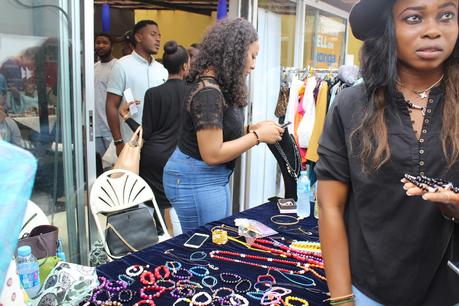 Tang and some custom made jewelry pieces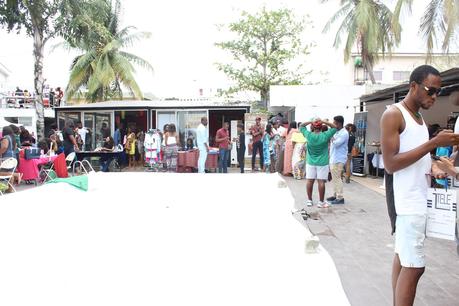 I ran into my friend from uni alongside her family at the event and we wound up hanging out and shopping together.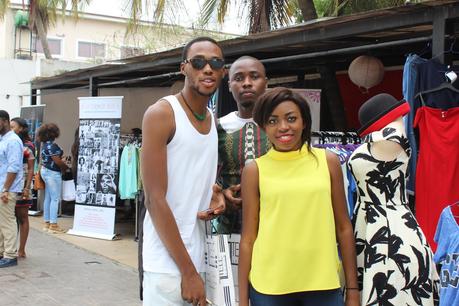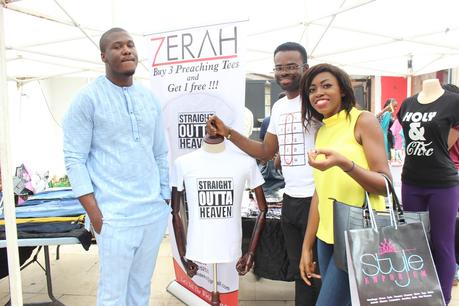 Zerah Tees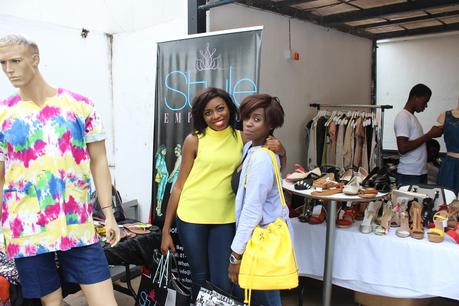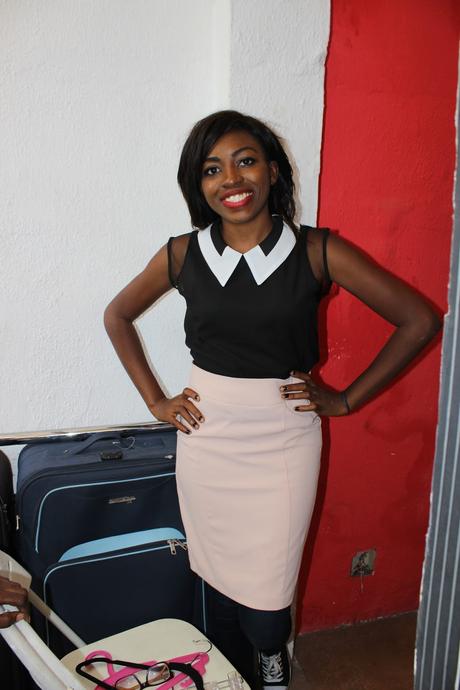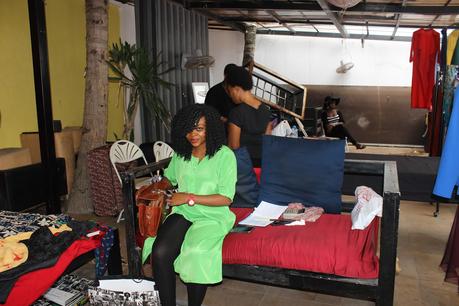 Lovely lady at the Soul Orange Vintage Stand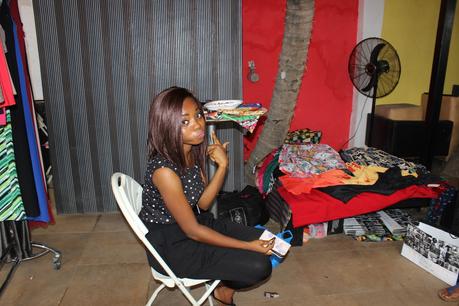 Still at the Soul Orange Vintage Stand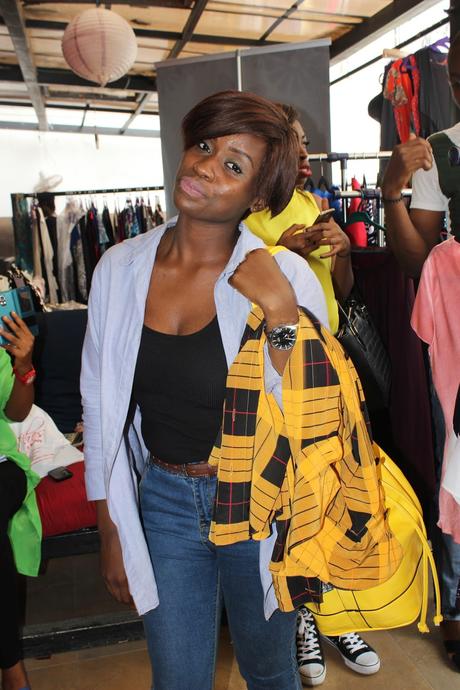 I finally found a keeper in that yellow plaid number copped at the Soul Orange Vintage Stand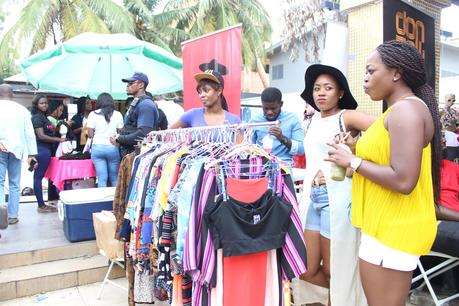 VintageWeAre Stand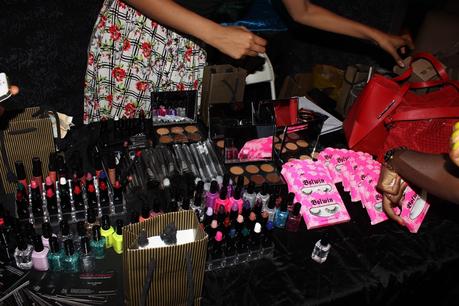 Bolwin Stand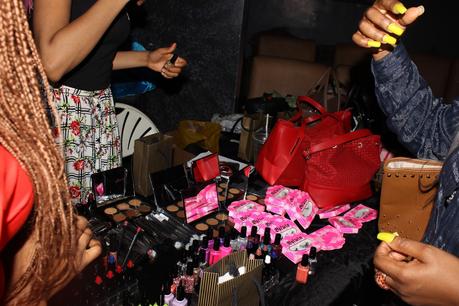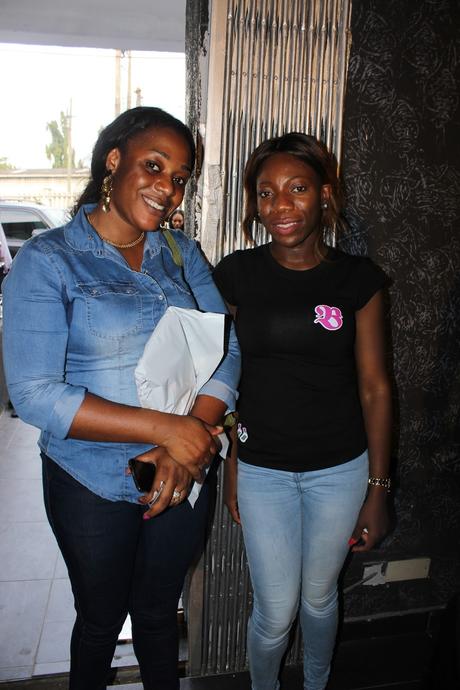 L-R: A nice customer and the lady behind the brand: Wunmi Bolade
I promised myself that I wasn't going to spend more than 
N
15,000 and I was really proud of myself for sticking to my budget for the day (atta girl!).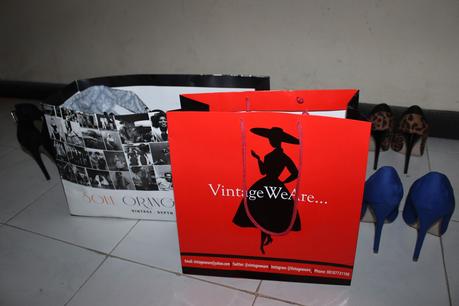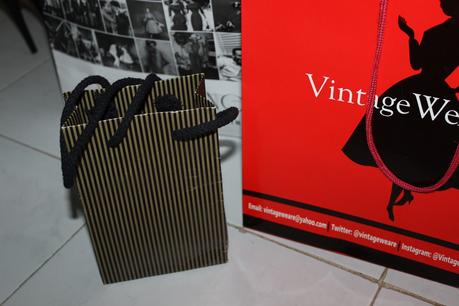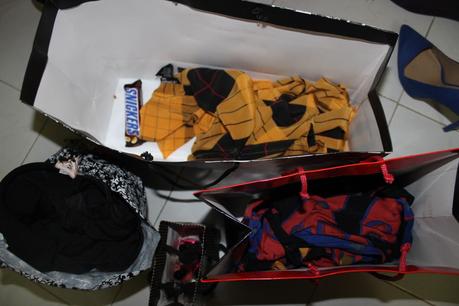 Chocolate!!!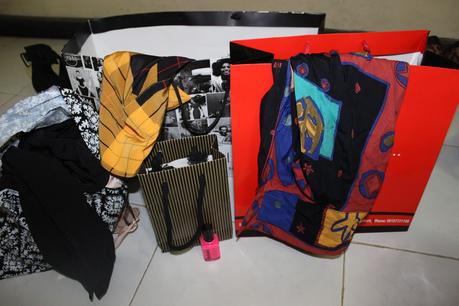 I purchased a yellow plaid batwing vintage top from Soul Orange Vintage that cost N3500 and another Vintage top from VintageWeAre that cost N3000 cos you know I love Vintage anything. And oh I didn't even notice that there was a bar of snickers in my shopping bag from Soul Orange Vintage until I took these pictures and I was like yay!that was sooo sweet of them...I mean what could be better than chocolate and shopping.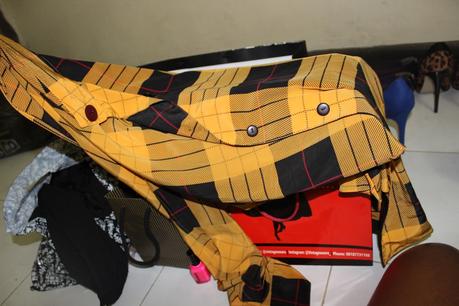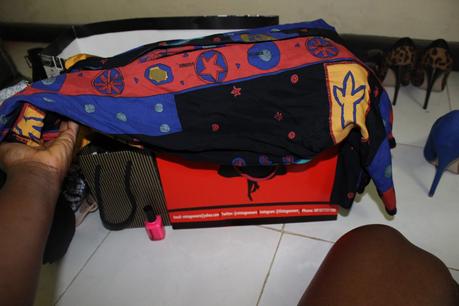 I've been in desperate need of a black skirt so I bought this high waisted number with a slit even though it came in a set with an off-the-shoulder, slash-hand black blouse. This was a bargain and it cost N4500 after I might have harassed the nice lady, please forgive me.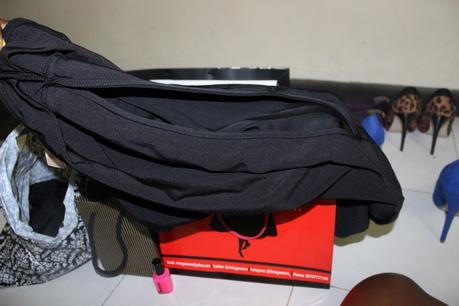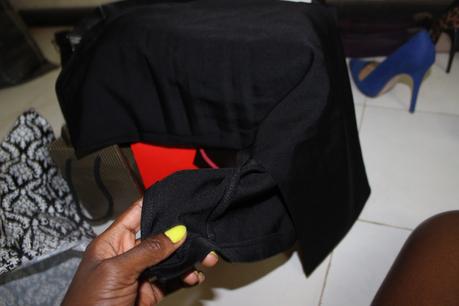 Lastly I purchased these nail polishes from Bolwin, a brand that has their own makeup line, nail polishes and even lovely bags that were so tempting. I bought these nail polishes cos they were so pretty and I needed some motivation to start doing manicures. A bottle sold for
N
250 (
super cheap for that quality
) but there was a sale and 6 bottles were being sold for
N
1000 so I picked out 6 of them. I did a bang up job applying it in a rush that night around 11pm just cos I wanted to try on the neon green color but I intend applying them properly later today.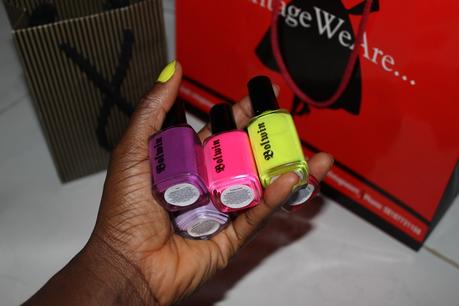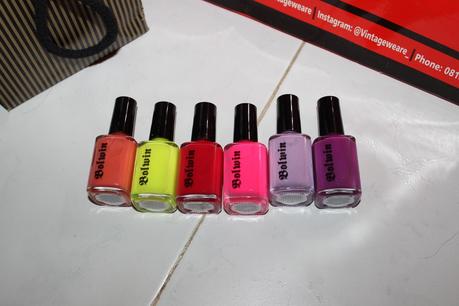 So that about rounds up the festivities of Mente de Moda, I certainly had a good time attending. The weekend is almost over so I'm going to get to doing the needful.
Hope you enjoyed reading this, promise to be on my best behavior from here on out so until my next post...
Hugs and cherry kisses,
Love,
Ify*