Mehndi Inspired Nail Art Tutorial
I am going to share with you a new nail art design that I tried. This is pretty simple stuff, just a mehndi inspired design with twirls and turns. You will just need orange and black nail polishes and a clear top coat. I added some glitter too to make some more dimension to this simple design.
What I used?
1. Coloressence nail polish Crimson Orange
2. Elle 18 Black nail polish
3. Coloressence glitter polish moonlight
4. Lakme Clear Glass transparent top coat
These are the items that are available locally in my area. You can choose any nail polishes in the above colours.
Step 1: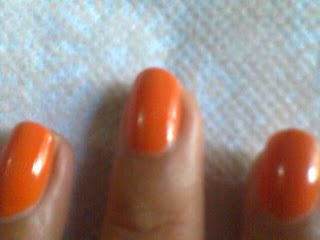 Paint your nails with an orange color. Put enough coats that the color appears completely opaque. Let it dry completely and then only move to the next step.
Step two: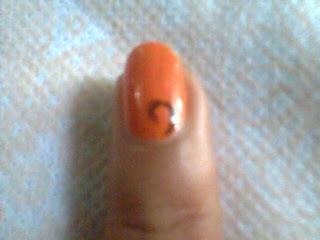 Using a brush with a thin pointy tip draw the first twirl. Use black nail color for this. You can use nail art brushes if you have them. Painting brushes with thin tips are also a good alternative. You can also clean the applicators from old eyeliners and use them. They make a fine choice.
Step 3: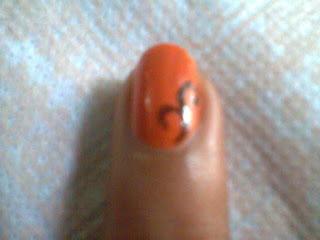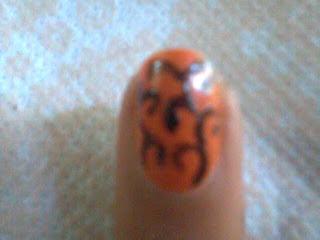 Continue on drawing the coils in a branched pattern till the whole nails are covered. Wait till the pattern dries completely and apply the clear top coat.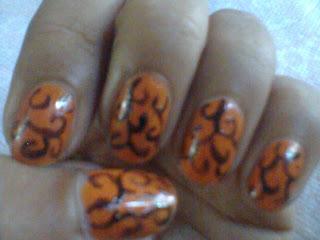 Step 4:
If you need some more drama to the whole look add some glitter. I used Moonlight by Coloressence which is a shimmery polish with gold and silver glitters. Using this color I created outlines for some black twirls.