So, not only did my Sunday consist of doing loads, and loads of laundry, doing some fall cleaning around the house, and furniture re-arranging, but for about a few weeks now, i've had this huge urge that I need something new to spark up my life.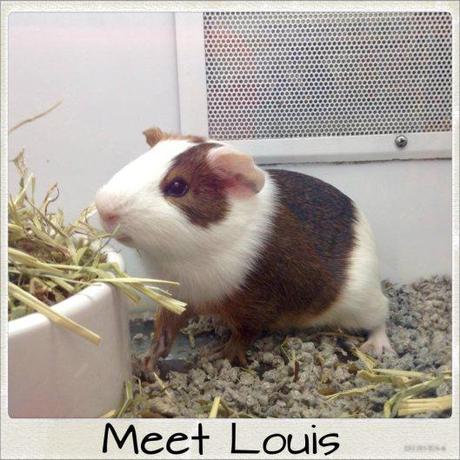 With that being said, yes I was bored, and was literally going to the pet store for a fish, and well…my mom talked me into getting a guinea pig.
Growing up, I had 3 guinea pigs, "Brownie", who was clearly all brown, "Midnight", who was obviously all black, and "Neo", who was pink, brown, and white.
Guinea pigs are my all time favorite animal, because it's basically like having a miniature dog, and yes, you can totally walk them.
I thought I would share with you guys a little bit about Louis, and a few facts that you should know before you get your own guinea pig!
1. ƒανσяιтє ƒσσ∂: ¢αяяσтѕ, ℓєттυ¢є & ¢єℓєяу
2. ƒανσяιтє тσуѕ: ρℓαѕтι¢ ιgℓσσ нσυѕє & ¢σℓσяє∂ вℓσ¢кѕ ƒσя тєєтн
3. αяє тнєу νєgєтαяιαηѕ?: уєѕ!
4. gυιηєα ριgѕ мαкє α "ѕqυєєку" ѕσυη∂ ωнєη тнєιя нαρρу.
5. gυιηєα ριgѕ ωιℓℓ єαт αℓℓ ∂αу αℓℓ ηιgнт.
6. тнєу αяє νєяу ѕσ¢ιαℓ αηιмαℓѕ αη∂ ℓσνє тнє ¢σмραηу σƒ σтнєяѕ.
7. тнєу ηєє∂ α ѕυρρℓємєηт ѕυ¢н αѕ αη σяαηgє ѕℓι¢є ∂αιℓу σƒ νιтαмιη ¢, αѕ тнєу ∂σ ησт ρяσ∂υ¢є ιт тнємѕєℓνєѕ.
8. тнєу αяє νєяу ѕєηѕαтινє тσ ℓσυ∂ ησιѕєѕ αη∂ ℓσυ∂ вαηgѕ.
9. тнєу αℓωαуѕ ηєє∂ тнιηgѕ тσ gηαω ση тσ gяιη∂ ∂σωη тнєιя тєєтн, ѕιη¢є тнєιя тєєтн αяє ¢σηѕтαηтℓу gяσωιηg.
10. мαкє ѕυяє тнαт тнєιя ¢αgє ιѕ ¢ℓєαηє∂ αт ℓєαѕт тωι¢є α ωєєк.