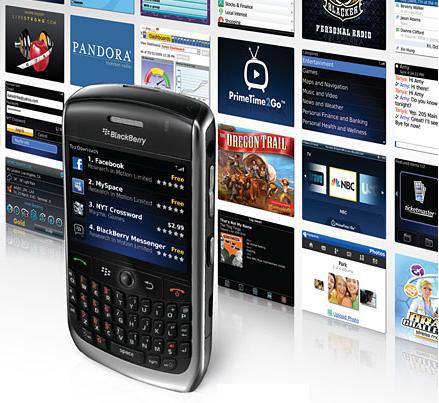 Since the 3-days downtime in service, RIM has been in big trouble with their users. They know that  this hit is not helping them at all against Apple or Google. This is why they have made a huge apology to their "loyal" users.
RIM announced that a compensation will be made to all user. The deal is to give $100 or €72 in free premium apps. This apps will be available to free download from october 19th to december 31.
Naturally, as a Blackberry user (which I deeply regret) I went to the Blackberry App World in my blackberry device trying to find those so called "thank you gift" apps. But I started to notice something bad.
For my surprise, I could not find anything. So I have to take the other choice (and no, it is not buying an Android): I had to use the Blackberry App World pluging in my browser to search for those apps and install them in my device. It is indeed a tedious process if you do not have the right device software installed on your PC/Mac. Each device software is a 150MB or more to download. Seriously RIM WTF!.
After installing everything, finally I could start browsing some apps, but this is what I could find: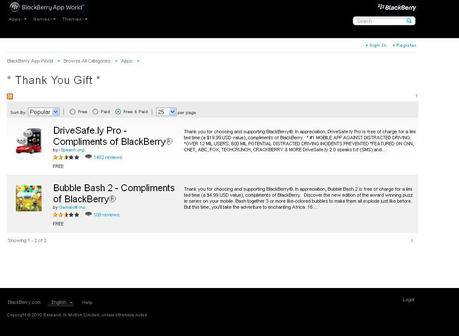 Click to enlarge
Ok, I know there are many good free apps, but Blackberry is supposed to give the premium apps for free as a compensation. Only TWO apps (and very bad ones BTW) are the ones that I could find. Am I missing something here? Am I not searching in the right way?.
This is the moment in which RIM has to give almost blood to retain customers. Only 2 apps? Jesus Christ and they still asking themselves: why are we losing market against Apple and Google?. Few reasons to give but I will sumarize it in two, like your apps:
Devices that do not meet customer needs.
Deficient App world. They work to improve the appereance of their App World which has no quality apps. the few good ones cost too much.
In my humble opinion, this is the moment in which at least 20 premium apps should be featuring as a "Thank you gift". I know that they also said that in the next four weeks, they will publish the full list of apps. Nevertheless, two apps published so far is an insult to the end users.
Let's see how this "compensation" turns out for RIM.