Back in the Summer when the rocket was first released I was quick to snap it up & it soon became one of my all time fave mascaras.
Last month my rocket was coming to an end & instead of repurchasing I remembered I had heard a lot of great things about maybelline the falsies, so I decided to pick one up to make a comparison & see if I had been missing out all this time.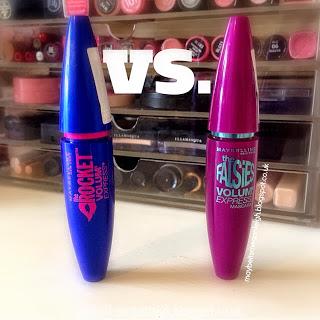 So here's a short run down of each mascara;
The Rocket has a very thick round plastic applicator covered in tiny plastic bristles & comes to a flat end. The Rocket gives me slight volume & instant length without having to put much work into it. The applicator really does the job for you, two layers & you achieve the perfect set of long clump free lashes. One down side to the mascara is that the applicator comes to a flat end, meaning it doesn't reach those little outer lashes.
The Falsies has a C shaped curved applicator, with long bristles surrounding & covering the tip of the applicator, the wand has a slight ridge in it making the applicator bend & glide with each application.
The curved applicator really hugs the lashes and gets to those little outer lashes, but it hugs my lashes so much so that they end up easily looking clumpy. I've worked out that the best way to apply this mascara is lots of very light thin coats, giving me nice volume & average length.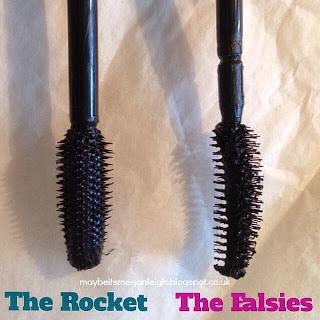 For me the falsies is a very time consuming mascara you really have to reapply & reapply in very thin layers to avoid clumpy lashes, I like the volume it gives but for me there's not enough length & it's too time consuming giving my lashes an effect I'm just not overly impressed with.
The rocket is a quick & easy mascara that gives instant effect, I love the length it gives my lashes. For me the rocket is the outstanding winner.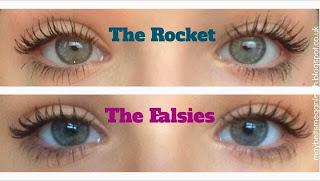 Have you tried either of these mascaras?