I've been looking at getting a new foundation for a while - I usually use Benefit's You Rebel tinted moisturizer but recently i've been getting a few more blemishes and needed something with more coverage. I hate the feeling of heavy foundations and powders, so when I saw this one on offer for £6.99 (instead of the usual £8.99) I thought i'd give it a go seeing as I tend to like Maybelline products.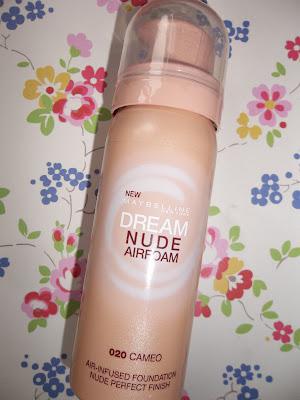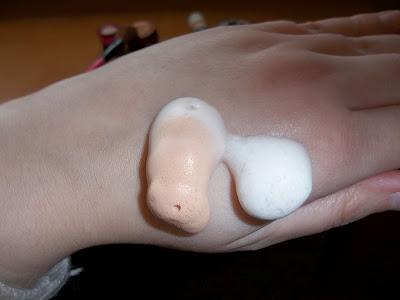 I'm going to try and find some positives with it...it has a nice design to the can and the actual shade I picked was nice... I think this is my first mostly negative post :( . You have to shake the can to activate the foam and as you can see from the above picture, if you don't do it enough it comes out just white with no color to it. Also it is quite difficult to know how hard to press down the pump; a couple of goes I had lots of it wasted. The longer the foam is exposed to the air, the darker the foundation becomes, so you have to apply it fairly promptly. It is very light, but when I applied it to my face, I noticed no actual difference to the appearance of my skin. I would actually have to apply this over something else I think. I don't think it's down to the shade I picked, it was the texture - it literally melted away! I am really disappointed with this, I was hoping my skin would look better but I couldn't tell I had any product on my face. I think this will work for some people more than others and I appreciate how my experience might be completely different to the next persons. For me though, I think i'm going back to Boots to get something a little less gimmicky.
What foundations do you recommend I could try? I have normal, sometimes dry skin, a few blemishes but mostly I need something to illuminate and make me look fresher. Any of you bloggers tried this product and liked it?