Both drugstore and high end beauty brands have gotten into the BB Cream phase here in the US. I recently purchased the Maybelline Dream Fresh BB Cream at the drugstore a week ago as seen in my drugstore buys haul post.
BB Creams has been famous in Asia for the past couple of years. It's initial purpose was to help people who have just undergone surgeries and procedures to protect their face and give them slight coverage. BB Creams, also called Blemish Balm, Beblesh Balm, Beauty Balm or Blemish Base is a hit since it has a lot of properties - moisturizer, primer, sunblock, foundation, etc. 
I am really impressed with the Maybelline DF BB Cream which claims to be an 8-in-1 Beauty Balm Skin Perfector. It says that it 1) blurs imperfections, 2) enhances, 3) brightens, 4) adjust to skin tones, 5) smoothes, 6) hydrates 7) SPF 30 protection, and 8) has 0% oils and other heavy ingredients.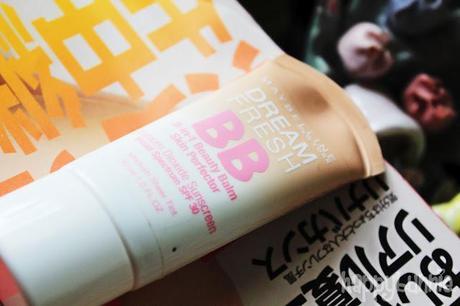 I believe that it does perform very well according to its description but it has a sheer coverage and although it does blur imperfections it cannot completely cover up blemishes or hyperpigmentations/acne scars as well as dark circles under the eyes. It does a very good job of evening out the skin tone though. 
I am really pleased that it has more shades to offer than Asian BB Creams. Asian BB Creams only has one or two shades to choose from and has a gray undertone that can make you look ghastly even if it claims to adjust to your skin tone. I am Asian but Asian BB Creams still is lighter than my skin color and does give me a lighter shade when I use them (will talk about that in another review). I got the Maybelline DF BB Cream in the shade Medium and it blends and matches perfectly with my skin. No ashy effect whatsoever. I am thankful that I have no pimple breakouts for quite awhile and thus making this BB Cream effective for a natural look. 
Watch out! The formula is a bit watery. Other than that I have no complaint about this particular BB Cream. Oh, and since this product has moisturizing properties I wouldn't really recommend this for people who has oily skin and it does have a slightly dewy finish to it.
Flawless Face Routine
Using the Maybelline Dream Fresh BB Cream I have attained a flawless natural look that I've been wearing a lot lately. Even though we're transitioning to the fall season, it is nice to wear something light, fast and easy that you could confidently walk out the door without putting a lot of makeup on.
I use my Ever Bilena Mousse Concealer (which gives medium to high coverage), with my ring finger, I just dab a little under my eyes to cover my dark circles and  the remaining around my nose to cover the redness and apply the BB Cream all over my face using my Sigmax F80 Flat Top Kabuki Brush. And that's it, I'm done - and well, fill in my eyebrows since they are so sparse. :)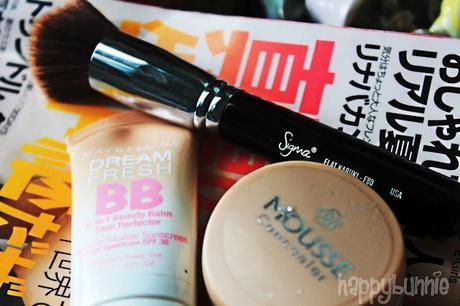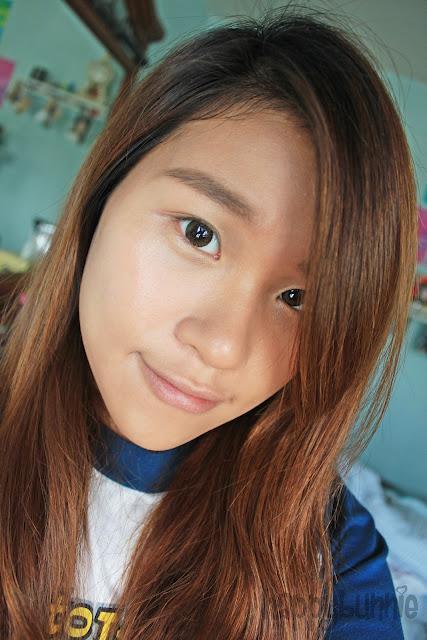 I was going out to talk a walk so I was just in a comfy shirt :)
I find that that using a brush gives you more coverage than just using your fingers to apply the BB Cream and it does help get you that flawless, airbrushed, natural look. 
I hope you guys find this helpful. ^^