Ever wanted to buy MAC Paint Pots but not willing to shell off 18 bucks from your wallet? Well, here comes Maybelline 24 Hour Color Tattoo! A drugstore cream shadow that is very similar and comparable to the MAC Paint Pots.
There are 10 pretty vibrant shades of the Color Tattoos but I only got two of them. Since they are in the permanent collection, I am in no rush to get all the shades but they all look so wonderful. I have Bad to the Bronze and Glitzy Gold.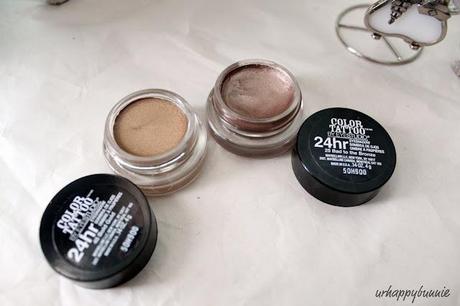 First of all the color pay off is amazing. They are highly pigmented and creamy. They blend pretty well upon application and can also be built up for more intense looks. What I love most about this product is when it sets after a few seconds of application, it stays put and doesn't crease throughout the day. I find that even without a primer the Color Tattoo is vibrant and long lasting. In fact, I even think it looks better without a primer under it.  Though I'm not sure if this product really lasts for 24 hours, it is indeed long wearing. You can see a subtle fading at the end of 12 hours and that is already a pretty long time for a drugstore product to stay on.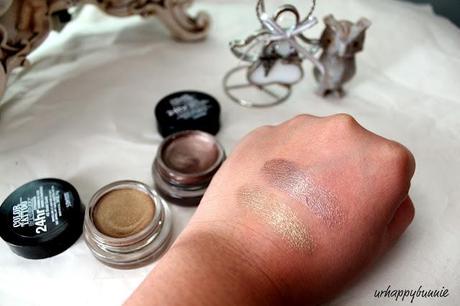 You can use the Color Tattoo on its own or as a base, or even as a gel line since it lasts all day. As a base, this gives the shadows an extra boost of color but it is also beautiful by itself. I always use Bad to the Bronze by itself and I never had a problem. It looks nice and perfect when you're on a hurry to go and just needed color on your lids. I use my finger to apply and blend it but I also find that using a flat synthetic brush to apply it works pretty well too.
I really don't have a complain about this product. At first, I thought that this was just a hyped up product and it wouldn't live up to my expectations that's why I only bought one at first but it turned out better than I expected it to be. The packaging is very similar to the MAC Paint Pots with a glass jar and a plastic cap. I like how you can clearly see the shades at the bottom and how the surface of the lid is flat unlike the MAC PP whose lid bulges up a little bit. Since I store my liners and paint pots upside down this is much more convenient. :)