Hello!
I have now had a chance to use (almost) all of the products from my May
Glossybox
so I thought it was time to do a review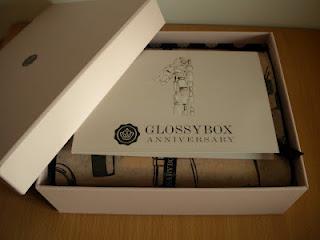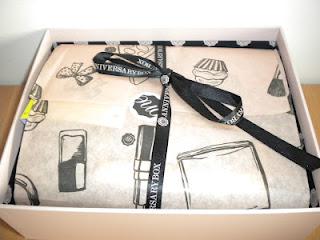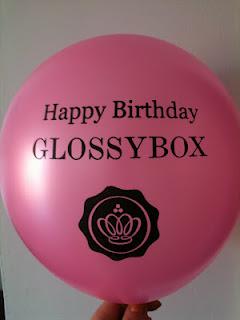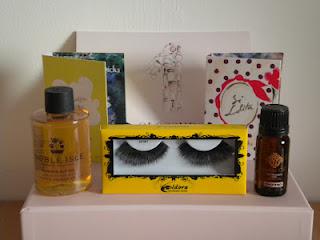 Back: Lolita Lempicka Eau de Parfum, Lolita Lempicka Si Lolita
Front: Noble Isle Summer Rising Bath & Shower Gel, Eldora False Eyelashes, Osmo Berber Oil Hair Treatment (Not pictured here - Apivita Express Beauty Mask)
I'll start with what I loved:
The free mirror - nice little extra, handy size, has now replaced my old hand-held mirror.
The balloon - who doesn't like a balloon?
My absolute favorite thing from this box is the Osmo Berber Oil Hait Treatment. As you know, I'm a little obsessed with hair oils, so I was thrilled to see this in the box and couldn't wait to try it out the next day. I was not disappointed - it's so lovely! This smells amazing, like cherry sweets. It felt quite thick on my hands, but when I put it my hair it felt lightweight and really nourishing. This sped up drying time, just like it promised, and left my hair looking super shiny and feeling really soft. I don't know if I'll be abandoning my beloved Mythic Oil (I would have put a link here, but they're updating their website) or Grapeseed Glossing Serum for this though as 100ml costs £19.99.
I quite liked the Lolita Lempicka perfume samples, they were right up my street. I know that a lot of people didn't like them as they were quite sweet, but I'm enjoying them. My only quibble would be that there wasn't actually much of the perfume in the samples I received - they were half empty, which was a little diappointing.
So on to the things I wasn't so keen on:
The
Noble Isle Summer Rising Bath & Shower Gel
. This was a nice size and smelt quite good, although a little unisex for my tastes. However, it contains Ammonium Laureth Sulphate. This isn't quite as bad for my skin as Sodium Laureth Sulphate, but it's not great. Other than that I liked this - I probably won't be using the whole bottle and I definitely won't be buying it, but that's more to do with the ingredients than the product not being good.
The Eldora False Eyelashes didn't thrill me when I saw them in the box. I don't really wear false eyelashes and I don't see myself starting to any time soon. Still, they're nice a full and would give someone a good flutter on a night out so I think they'll be passed on to my sister (who'll also be getting the set from my mum's box so she'll be set eyelash-wise for a while!)
(I realize this next product will look like it's included under the things I wasn't keen on, but it isn't! I liked it!)
Also included in the box, but which I seemed to forget about and didn't include in the pictures above was the
Apivita
Express Beauty Mask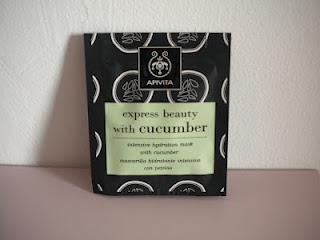 I received the Intensive Hydration Mask with Cucumber. I've never heard of this brand, but a little internet stalking (otherwise know as Google) tells me that they are a Greek company and create natural and holistic products. Wonderful! I love natural/organic goodies - they're always so kind to my sensitive skin.
I tried this mask out yesterday as those of you who follow me on Twitter will know and loved it. The instructions say to apply a thick layer, which I'll admit I found tough as it has quite a thin consistency and I'm used to masks being a bit thicker. However, once on it was lovely - very cooling (thank you Mr.Cucumber) which was heaven in the heat of yesterday afternoon. It left my skin feeling clean once it was washed off and so soft! I'm definitely going to be purchasing more of these products!
Overall, I enjoyed this box - it's always nice to get a box full of beauty treats!
Happy Birthday Glossybox!
Are you signed up for Glossybox - what did you like/dislike?
Grace