Another month's has passed.

If you missed my post on my April Faves 2013 it's 

here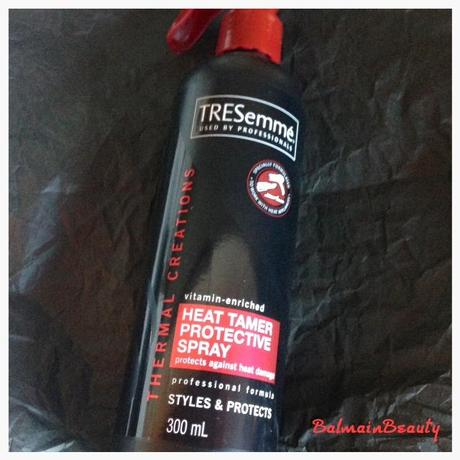 It's Winter so I don't want wet hair after showering because it's cold. I'm not a fan of hair drying. I have a

VS Sassoon Curling Iron

which I hauled

here

 and
the

VS Sassoon Wave Envy

 which my Australian friend Melissa

The Butterfly Diva

sent me for Christmas so I'm going to rotate both tools and I'll post some photo's on Instagram once I have managed to get my hair looking how I want. Up until now I haven't heat styled my hair regularly in 2+ year's so I have to learn how to do it all over again. 
I'm using 
Tresemme
Heat Tamer Protective Spray
 (
part of their Thermal Creation's line
) on my towel dried but damp hair from my ear's down to the end's of my hair to give it some heat protection before styling. 

I've already burnt the tip of one of my finger's on the curling barrel, but I've since found some really great Tutorial's on YouTube that's helping. I bought this based on hearing a lot about this on YouTube mainly from favourites videos or in Get Ready With Me videos (GRWM) so far so good. I've used about 1/4 of the bottle which I think cost under $15 (300ml) at The Warehouse. 

I'm definitely going to repurchase this. I admit when I've heat styled in the past I've been reckless and heat styled without using a heat protectant - that's probably why my hair's in such bad condition, we're talking long time neglect, so once I get a trim next week I'm hair masking twice a week to get it in good condition and I won't be stupid about not using a heat protectant on heat styling day's. Lesson learnt.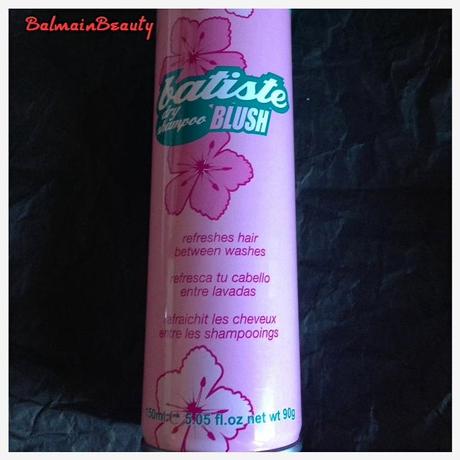 I've been using Batiste Dry Shampoo for 2+ year's, it's my fave dry shampoo! I've favourited this product in many monthly fave videos (on my old channel, as well as a few times on BalmainBeauty) basically it's an every month fave. It just so happen's the Blush scent was also in May 2012 favourites posted here as well as my Victoria's Secret Fragrance Mist Red Plum and Freesia (see below) so  these two product's are used and reused many times. The VS is the same bottle as May 2012!
This is my fave scent of their dry shampoo's. I managed to find this can in a box of thing's I'd not unpacked since I moved into my flat in August. I guess I'd forgotten about it so it's come in handy as I've run out of the Tropical one which is another favorite scent. It's 50% used so this should last me another 2-4 week's hopefully.
I use this on day's when I'm not washing my hair, sometimes I apply this to get a bit of volume and then I use my Tresemme Heat Spray and heat style. It dries up oil on my scalp sufficient enough that it doesn't make my hair limp or greasy looking so If you haven't tried this yet please do because I can't big it up anymore than I already have.
Batiste one of my Holy Grail product's! Blush is my fave as well as Coconut and Tropical and then Disco (which sadly I've not been able to find in NZ). $16.95 (150ml) from Countdown and Unichem.
Note:  If you want this particular scent you probably won't find it in this packaging, it comes in a pink and white design, which was introduced in the UK last year or in 2010/2011.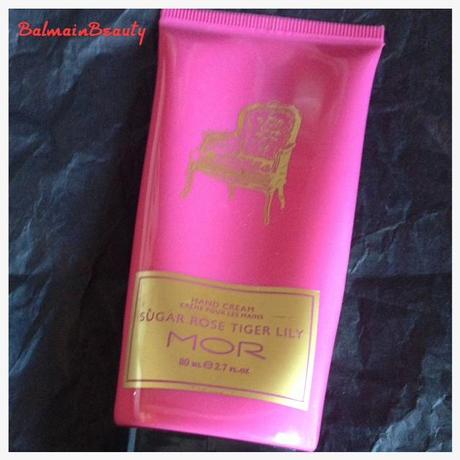 I received this in the first 
Goodiebox
 in January. I loved it from first application. It smell's devine, it's moisturising without feeling greasy and it soak's into your skin leaving your hand's feeling very soft.
I've never tried
MOR Cosmetics
 before so this is a good one to start with. MOR Cosmetics are a luxury Australian brand created by Dianna Burmas and Dion St. Mor. MOR create Bath, Body and Lifestyle product's. Sadly I'm running out of SRTL but I'll definitely repurchase and would like to try some of the other SRTL product's plus I'd also like to try candle's and body product's. I wrote about
Sugar Rose Tiger Lily
here
. $NZ19.00 (80ml) or buy from their website
here
. Worldwide shipping.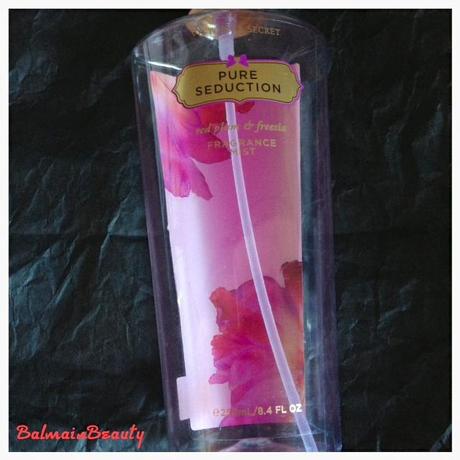 Victoria's Secret
Fragrance Mist
Red Plum and Freesia
. I've had this bottle since December 2011. I put it away during the Spring and Summer because it's a very strong scent but since Autumn started I've started using it again and I have about half an inch left at the bottle of the bottle.
I bought this as my very first VS product at London Heathrow Airport Duty Free for £20 (250ml) and I would buy this scent again but at the beginning of May I bought Love Spell so I hope Love Spell last's as long as this one has.
The next time you see this will probably be in my long overdue Empties/Product's I've Used Up in the next couple of week's. My last video for Empties was for December 2012 and January 2013, please click
here
to watch. I wish VS was readily available at shop's in NZ but I've since found a couple of seller's on
TradeMe
who offer quite a few affordable product's. The Red Plum and Freesia was also mentioned in my May 2012 favourites along with Batiste Blush. What a lovely coincidence.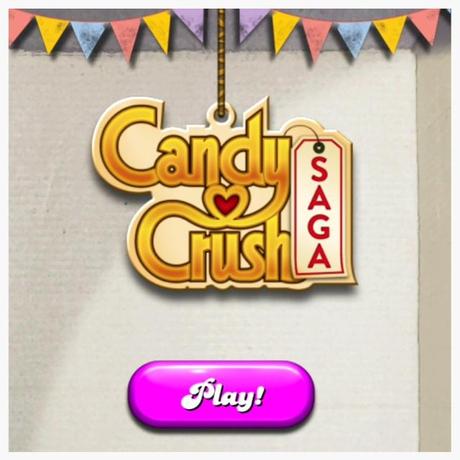 My final fave is a game I first discovered it on Facebook called
Candy Crush Saga
. I'm now up to Level 79 and I've been playing almost daily for 2 or 3 month's. I'm  finding it's getting harder and I'm getting close to cracking each level but missing out by one or two moves.
I find it can be quite addictive so you might have to keep an eye on the time if you have other thing's to do. It's available for iPhone in the App Store and also available on GooglePlay for Android phones as well as being on Facebook and at King.com (
link's below
).
King
describe it as a puzzle game. It's free to download and play but if you want tool's to help you crack the level then you need to purchase those or wait until an amount of time passes and you receive new Lives and you start the level again.
Play Candy Crash Saga online 
here
on Facebook
here
download the iPhone app
here
and the Android version is 
here
. 
So that's it for May and I hope you don't mind this being a post rather than a video 
but I'll make time to film a 
June Faves
 at the end of this month because I want to keep

my

YouTube channel updated.
What were your favourite's for May? Please comment below.


BalmainBeauty

 on Social Media: 

Facebook

,

Google+

, 

HelloCotton

,

Instagram

, 

Pinterest

,

Twitter

,

Tumblr

and

YouTube

. 


Disclosure

This post isn't Sponsored by 

any brand's I've mentioned. The above product's I've favourited were bought with my own money. All opinion's are 100% honest, are my own word's and photograph's! Please don't reproduce content, but you may post a link, Like and share this post on social media with a link to my original post and credit BalmainBeauty 

balmainbeauty.com.

 Thankyou.