If you are allergic to AHAs (Alpha Hydroxy Acids) or do not employ toning as a step after cleansing then move on from this post, it is not for you. If you're into acid toning and exfoliation have a seat, put up your feet, relax your face. Believe me when I say in all honesty I never thought I'd be blogging about Maxipeel on my site and this is NOT a sponsored post. I am a bit of a skincare snob because I have highly sensitive skin and am VERY hard to please when it comes to skincare. I don't test and try out EVERY single skincare facial thing which is for the face, my face is a sacred place. Especially, no offense, Maxipeel, *peace* but on this site honesty reigns, and well-fit pun unintended, let's FACE it, the brand is not primarily known for gentle skincare products. However, this new product they've launched, the Skin Purifier (cough* toner please) is on so many levels quite different from the rest they currently have. I've made the jump and patch tested it and so far it is crazy different in what could possibly be a very good way. Now available at Watsons is Maxipeel's Fresh and Natural Skin Purifier which LOL is essentially what they are hesitating to call a glycolic exfoliating toner. It is what it is, an AHA toner. It's got salycilic and lactic acid thrown in for good measure. Read thoroughly and I suggest wait for my PART 2 post before dashing out and trailing a cloud of smoke to buy it. I will tell you though, my first impression is good...quite good.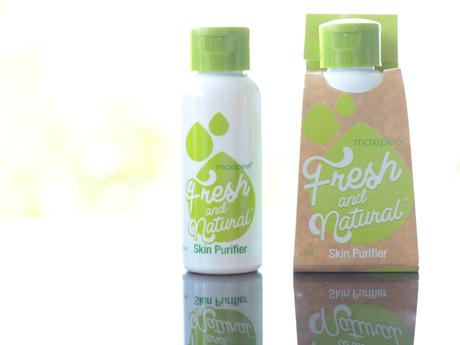 MAXIPEEL PURIFIER INGREDIENTS: Alcohol Denat., Aqua (water), Niacinamide, Glycolic Acid, Lactic Acid, Salycilic Acid, Glycerin, Caprylic/Capric Triglyceride, Sodium Ascorbate, Tocopherol, Retinol, PEG-40 Hydrogenated Castor Oil, Fragrance, Tetrahydrodiferuloylmethane, Bisabolol, Menthol For Sampleroom.Ph members the Maxipeel Fresh & Natural Skin Purifier is available for sampling here, last I checked there were 207 samples left, 53 had been taken already.
When the delivery of Maxipeel's Fresh & Natural Purifier arrived for me to review (they strangely refuse to call it a toner), I didn't think much of it at first glance, until I inspected the ingredients list. It looked extremely familiar. Upon my first overnight impression with this product today I phoned my mother asking what time she'd be home (my laptop is broken, repairmen say motherboard and processor will soon die) so I could put a post up straightaway. I was excited because of my overnight patch test experience. Along the lower part of my jaw only I swabbed this product on before bed last night and I woke up with that area being baby-butt soft and smooth compared to the rest of my face. For once, at long last, I believe Maxipeel may have hit the nail on the head with a NEW product that the local market has been thirsting for and needing to understand the use of, an affordable exfoliating glycolic acid toner, which apparently, Maxipeel prefers to call a Skin Purifier (wrinkles nose). My take on this product will be recorded in two parts, today you will have my first impressions from my patch test. This toner is not alcohol-free but effectively countered by glycerin for a non-drying soothing effect making the Maxipeel Skin Purifier somewhat comparable to the acclaimed Clarins Exfoliating Brightening Toner, a C. Hirons' favorite, but the Clarins one has more Glycerin. You can read about that Clarins product separately here and in her 2015 Top 10 Acid Toners here, she also somewhat defends its alcohol content.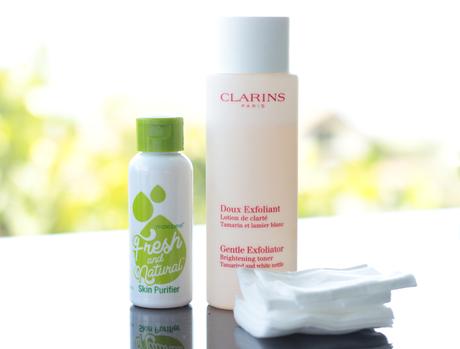 CLARINS EXFOLIATING BRIGHTENING TONER ING.: WATER/AQUA,ALCOHOL,GLYCERIN,BUTYLENE GLYCOL,TROMETHAMINE,GLYCOLIC ACID,PPG-5-CETETH-20,TARTARIC ACID,CELLULOSE GUM,ARGININE,TAMARINDUS INDICA EXTRACT,DISODIUM EDTA,SALICYLIC ACID,LAMIUM ALBUM FLOWER EXTRACT,PARFUM/FRAGRANCE,SAMBUCAS NIGRA FLOWER EXTRACT, HYDROLYZED OPUNTIA FICUS-INDICA FLOWER EXTRACT,PHENOXYETHANOL, SORBIC ACID, MIMOSA TENUIFLORA BARK EXTRACT, SODIUM BENZOATE,ETHYLHEXYLGLYCERIN,POTASSIUM SORBATE, BENZYL SALICYLATE, GERANIOL, CITRONELLOL, BENZYL BENZOATE,BUTYLPHENYLMETHYLPROPIONAL, HYDROXYISOHEXYL 3-CYCLO HEXENE CARBOXALDEHYDE, LIMONENE, HEXYL CINNAMAL
I know the Maxipeel team would rather not call it a toner for some odd marketing reason, but it is what it is, they should run with what it really is nalang in my opinion (so market won't be confused). So far believe it's an immediately effective and active toner for the price if used properly and sparingly. The brand claims a "purging period" where it may draw out sudden spots and an army of blackheads or whiteheads for some of you at the beginning, the Hirons, however, does not professionally believe in purging periods. She says if you begin breaking out you should stop whatever it is and move on. Skin tells you flat out what it does not like. Now, it's a different thing if the product that causes initial purging is medically prescribed by a dermatologist, that's where you can stay on board in a sense and allow the cycle to complete. The price of the Maxipeel Purifier is a somewhat scary only Php79 peso mark...but perhaps it's possible with a parallel example in the world of cameras, you never know, this toner could be our cheap nifty fifty (50mm), the effective but ever so necessary and usable lens you need all the time. We shall see. Click through to read the rest of my initial observations and thoughts.
I decided to make this post the first half of my experience because to REALLY be sure it's good and won't "turn" suddenly on my skin I'll need to try it out at least twice in a week together with my serum and moisturizer. In the shower today after my first Maxipeel Skin Purifier overnight patch test, I was amused because when the water hit my face the difference between the area where I had patch tested and where I hadn't was so obvious in an exceptionally good way. I am also constrained to only patch test for now because I just did my Paula's Choice Glycolic gel application the other night. When it comes to my face I will never live dangerously and overlap active AHA exfoliating products, believe me. My full PART 2 experience with this Skin Purifier by Maxipeel will certainly have to wait a couple of days to a week for my skin's sake.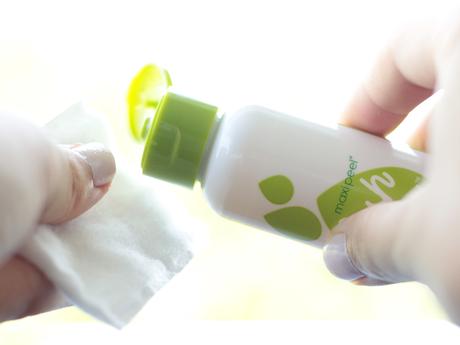 I believe that the rampant use of some extremely potent Maxipeel products is often misguided. Many Filipinas do not bother to read the specific instructions of avoiding the sun after the use of these types of toners (better nga before bed, then SPF in morning) and they end up with severely burned and damaged skin (like our neighbor's domestic helper, who our helper just told me about today). Sometimes the cost of ignorance delivers blackened, peeling faces as a result of wrong usage. In the instructions for this new "Skin Purifier" Maxipeel says it ought to be used twice a day...eep. I think that's too much. Even advanced global facialist and skin advisor Caroline Hirons with her friend Tom on YouTube here had to correct a misconception about the usage for acid toner Alpha H Liquid gold wherein a woman contacted Tom to ask because she was suffering after applying Alpha H Liquid Gold twice a day when it ought to have been only 3x a WEEK and at night. Exfoliating AHA toners are effective and can be a joy to use...IF properly used only a couple of times a week before bed. Acid exfoliation loves the dark and won't hurt you that way.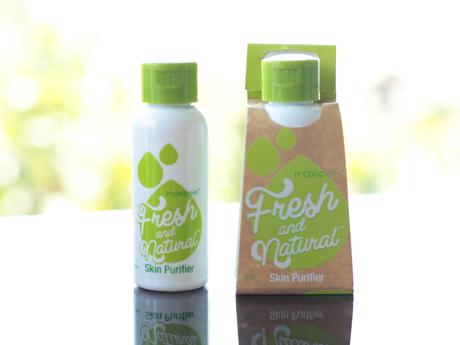 With the arrival of the luxury P50 toner here in Manila I think this Maxipeel Skin Purifier could possibly take the cake for the drugstore division in acid toning, let us observe. On a personal level I don't believe that 2x a day is the right sort of "dosage" for a skin product like this which is very active and potent. The Maxipeel Skin Purifier contains Glycolic, Salycilic, and Lactic Acid in undisclosed percentages suspended in alcohol countered by glycerin. Something as wonderfully powerful as this for me personally (which really reveals soft new skin quickly) ought only to be used twice to thrice a WEEK only, every 2-3 days. Even Miss Hirons believes the same of the comparable Clarins Toner as she mentions that in her top 10 list (Clarins one contains Glycolic, Salycilic, and Tartaric Acid from tamarind, also not alcohol free and countered by more glycerin).
Just please remember these important points, if you can't stand to wait for my PART 2 Conclusive post before trying this Glycolic toner:
-Please do a patch test first on a small area of your face to test for reactions
-Please only use with a cotton pad, swabbed on the face 2-3 times a WEEK (not daily) and preferably at NIGHT before bed.
-Please use high broad-spectrumSPF sunscreen the next morning to protect your face from UV rays after exfoliating.
For Sampleroom.Ph members the Maxipeel Fresh & Natural Skin Purifier is available for sampling here, last I checked there were 207 samples left, 53 had been taken already.