Last week I decided to buy some Topshop Matte Nail varnish, I bought two shades; Dress Up and Double Denim. However after wearing them for a day I found that they chipped really easily, so I needed a top coat that wasn't shiny. Whilst at work I discovered OPI Matte Top Coat - perfect. It's quite pricey at £11.50, however I read a few reviews and it looked good. So I decided to try it.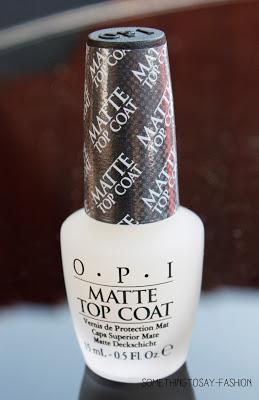 It is an interesting formula, which dries incredibly quickly and will also turn 'usual' nail varnishes into matte nail varnishes. Which is great so it gives you more versatility with your nail varnishes, so you don't have to repurchase the same shades in a matte effect.It also protects the nail varnish so you know it will stay on, just like other top coats.
I first tried it with a 'usual' nail varnish (a shiny one), I decided to use a standard black nail varnish, from Barry M. I am not a huge fan of Barry M nail varnishes, but for the purpose of this I used it. The right side of the image is with the matte top coat, which I prefer compared with the left side.
(Sorry for the horrible state of my nails, I just really wanted to show you the effects of the varnish)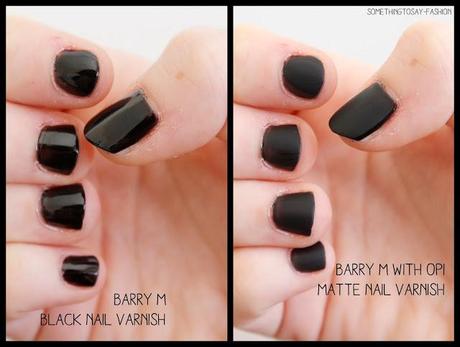 I then decided to try it out with the Topshop matte nail varnish, which I was surprised at, as it turned the varnish even more matte! The Topshop nail varnish is on a verge of being a true matte, however OPI just push it over the edge slightly, into a true matte shade. I love it, it was easy to apply and also as it dries so quickly you have the end result near on straight away. 
Again sorry for the state of my finger nails!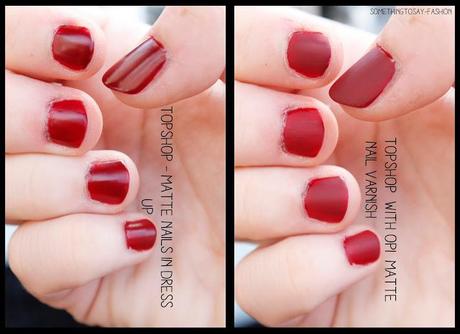 I'm a huge fan of a matte effect on nails, as I don't think the high shine look suits my style.What do you think about matte nail varnish, do you prefer a shiny finish or matte?x