On a flight back to London from Rome a few years ago I was sat across from a professional photographer.  He was reviewing his photos on an iPad and it was quite clear that he had recently been in Morocco.  I saw pictures of spices and tanneries and the colours drew me in straight away.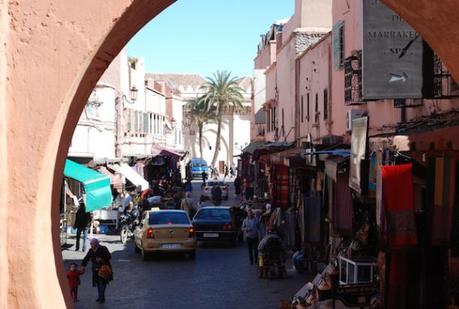 Up until that point Morocco didn't really rank on my list of places to visit.  However after getting that glimpse of those amazing photos and then hearing how much friends I knew who had visited enjoyed it, it soon shot to the top of my list.  When flights were showing at £78 return in December easy jet was basically begging me to go.
Below are my tips, observations and highlights:
Arrange your airport transport transfer ahead of time
Most riads operate their own transfer from airport to hotel service.  This is the easiest way to get into the city.  You can try to haggle for a decently priced taxi but I'd leave that until later once a local tells you how much you should be paying.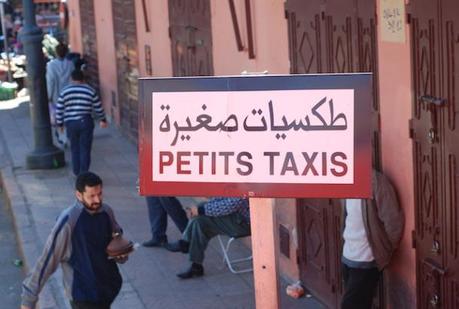 There is a bus that goes into the city and drops you off at the main square Jemaa el Fna but with all the small winding roads it might be helpful to be lead directly to your riad rather than trying to figure it out yourself.
Purchase currency in the airport – Moroccan Dirhams (MAD)

I always like to carry some currency before landing in a new destination and tried to purchase dirhams but it is difficult to buy outside of the Morocco.  You can, but the exchange will not be very good.  This was another point I tried to get clarification on with no clear answers on travel forums.
I few in feeling a little anxious about where to change money.  Well there was no need as there are kiosks to in the airport and they will most definitely be open whatever time your flight arrives.
Go ahead and drink the water

I didn't even think about this until a friend told me not to drink the water.  I scoured the internet when I arrived because it was late and I was super thirsty and just wanted to go to sleep.  I found a blog post that advised for a short stay travelers should stick to bottled water but that locals and expats alike drank the water.  I drank it that night and when I had no problems I continued for the trip.
Women traveling without a male will garner attention and remarks
When I told friends that I was doing this trip solo I was warned about the men and that they personally would have preferred to travel there with a male from their experience.  I took this on board and tried to do a bit of research on opinions of other solo female travelers.  I found one blog post from a male solo traveler who acknowledged this.
After going I have to say I agree with them.   Now this doesn't mean that women shouldn't travel to Marrakech solo.  I had an amazing trip, I recommend going and I never once felt unsafe.  However I felt harassed and extremely uncomfortable many times.  I was also followed by a staff member through Jardin Majorelle.  Any foreigner is viewed as a potential sale and people are hustling everyday to make money.  I get that so I expected to be asked to look at people's wares and aggressively pursued to spend my money.  I didn't expect to get a dinner proposal, almost get my ass grabbed, or have men and teenagers make lewd comments about my fully covered body.  Dressing conservatively doesn't make you immune although you should still do so.
On advise from a Londoner I met on the plane, who lived in Marrakesh for 18 months, I just ignored all of these things and pretended not to hear what these men said.  He also said if things got really intense to say really loudly 'does your wife know you are out'.  I kept that in my back pocket hoping I wouldn't have to pull it out, and I didn't.  The other side of the coin however was that I met many men who were helpful and respectful and left me alone when I said no thank you.  Every woman's experience will vary in this regard but be prepared.
You will likely pay too much money for taxis and that item you bought in the souks
If you are taking a taxi ask any locals that you might befriend doing your trip or even someone working at an attraction what you should be paying.  I did this so I knew a guideline price.  I only took one taxi and even though I got a good price I knew that I was still paying too much.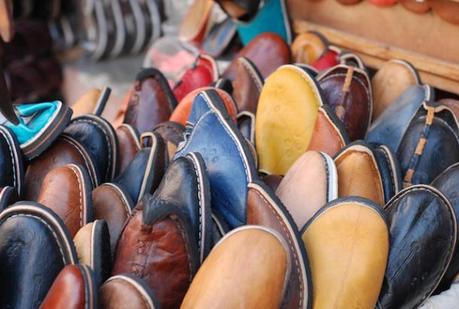 For this trip I didn't want much but a few post cards and gifts for D and his parents so I stuck to stalls that had fixed prices.  I'd suggest having a look at these stalls first to get an idea of costs.  The Londoner I met advised reducing the initial price a seller gives you by at least half and then go from there.
My highlights:
The Marrakesh Museum
Located a 10-15 minute walk north of Jemaa el Fna this museum is housed in a stunning nineteenth century palace, Dar Mnebii.  It opened as a museum in 1997 and houses exhibitions of Moroccan art and sculpture (heavier on the art and less so on the sculpture side) There is minimal English signage here with most being in French.  I saw that many visitors had brought guides with them but I did this on my own and still enjoyed it.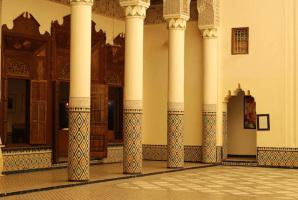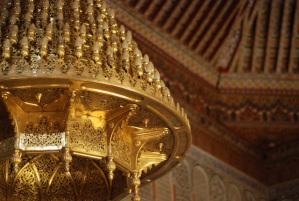 Mederssa Ben Youssef
I decided to get the combined ticket to visit the museum and the Mederssa which is a two minute walk around the corner.  It used to be a Koranic school attached to the Ben Youssef Mosque.  It is meant to be the most beautifully decorated building in Marrakesh and it did not disappoint.  Visitors can explore the entire building and see the old student quarters.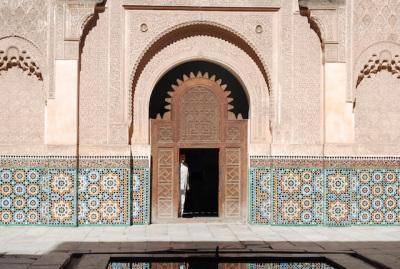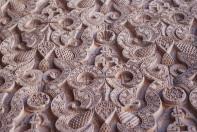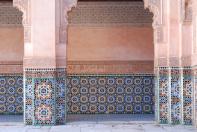 Jardin Majorelle
This is a meticulously planned botanical garden created in the 20s and 30s by French painter Jacques Majorelle and was subsequently owned by Yves Saint Laurent.  When YSL died in 2008 his ashes were scattered in the garden which now has a memorial to him.  The art deco pavilion is painted a striking cobalt blue, the color of french workmen's overalls.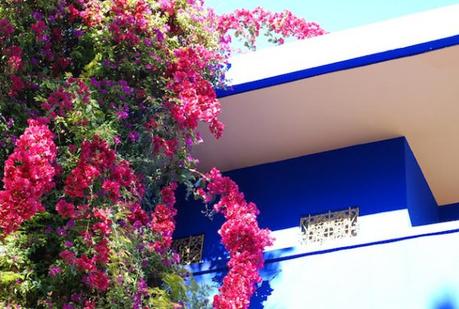 The Palmery
Marrakesh's palmery or oasis is a large area located outside the city walls has thousands of palm trees and is often 5 degrees cooler than the city.  There are more spectacular palmeries in Morocco apparently but I really enjoyed seeing this area,  it broke up the urban landscape and I saw camels!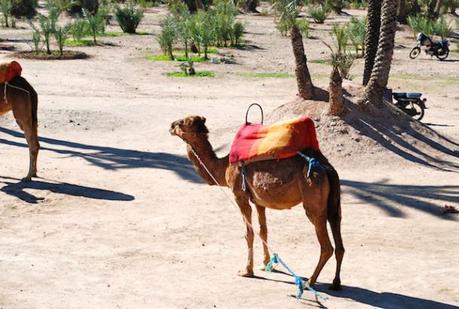 The Koutoubia Gardens
To the south of Koutobia Mosque (which cannot be visited by non-muslims) is an attractively laid out garden  with pools, fountains, roses and orange trees.  It is great for relaxing and people watching.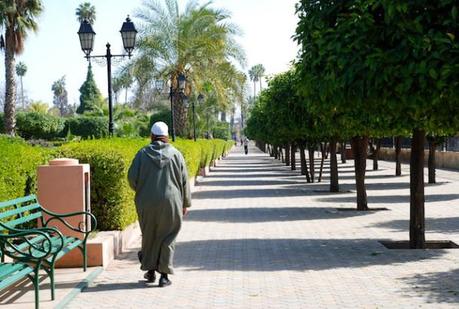 The Mellah
The Mellah, or Jewish quarter is the place to go if you want to pick up spices or just see them gorgeously displayed.  This area was more run down than others areas I had seen around the city and there were way less tourists in the area but that shouldn't stop you, it was lovely to stroll around here.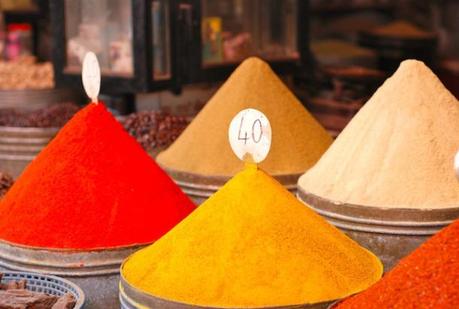 Marrakesh is extremely friendly on your wallet and can easily be done on a budget.  After my essentials flight – £78 and accommodation for three nights £75 I didn't actually spend that much.
A good meal can be bought for 30 dirhams (about £2.20) and a glass of fresh orange juice in Jemaa el Fna is 4 dirham (about .29!).  I purchased a few gifts spending about 500 dirhams (about £36.70).  I will return but likely to explore another city, oh and I will be taking D.