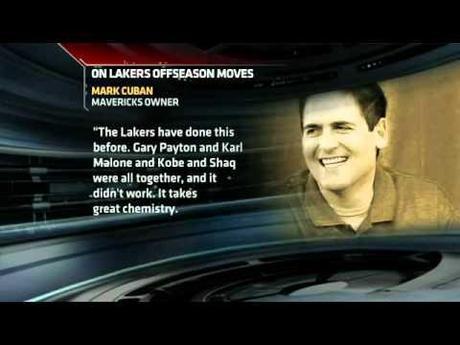 Image: espn.com
- Adam Parker
Dallas Mavericks' outspoken owner Mark Cuban is making headlines once again, and this time, it's because he's taking a shot at the Los Angeles Lakers.
Let's take a look at what Cuban said:
"The Lakers have done this before. Gary Payton and Karl Malone and Kobe and Shaq were all together, and it didn't work. It takes great chemistry. ... It takes guys wanting to be there. I don't know if all their guys want to be there."
Really, Mark?
I completely understand where you're coming from as you make a very valid point. Nevertheless, you can't honestly compare this current Lakers' squad to that one. Payton and Malone were in the twilight of their careers — big names whose big games were in the rear view and essentially joined 'Lala' to chase that elusive championship ring one last time.
This 2012 Lakers squad is different.
The two big pieces joining Kobe Bryant — Steve Nash and Dwight Howard — are still great at what they do on the basketball court, even if the former is 38 years old.
Granted, Kobe is a little older, but as we here at Beard and Stache have come to believe, the
Mamba
is
simply not affected by age like the rest of us. Pau Gasol, to be fair, has had a few bad seasons in a row by his lofty standards, but with the new free agent acquisitions (especially one in particular) coming to L.A., something tells me that won't be the case this season.
As for the chemistry concerns, yes, it did take the Miami Heat an entire season to really mesh, but something tells me, with veteran stars like Kobe and Nash in the fold, that won't be the case in L.A. In other words, with those two calling the shots (barring they don't step on each other's toes; which I know my man Nash won't let happen), there's no telling how far the Lakers could go even this year. The sky is the limit.
I assume the last part of that statement about "guys not wanting to be there" is a not-so-subtle stab at DH12.
He could very well leave for free agency after this season (and become a problem in the locker room before doing so), but the Lakers were confident enough to make a move for him because they believe he'll want to stay long-term once he has a taste of that 'winning atmosphere' and even though it pains me to say it as a Phoenix Suns fan, I think the Lakers' gamble will end up paying off in the end.
To me, this entire statement by Cuban was a boneheaded move. Not only did you 'poke the bear' and draw attention to yourself, you've also drawn attention to your team, which, last I checked, had one aging superstar surrounded by a bunch of second-tier players. Cuban can discount the Lakers' off-season free agency bonanza all he wants, but once the season starts, I'm betting that he'll be eating his words.
Maybe instead of spending so much time sounding off on the Lakers (who the Mavericks open up their season against) it would have made more sense to bolster your own ranks. Focus on your own team.
To me, this comes off as you being a little sour that your Mavs' missed out on Deron Williams and Dwight this summer despite you having a plan to add both.
A word of advice, Mark. Stick to taking care of what's going on under your own roof. Jealousy is not a good color on you.
Be sure to follow Beard And Stache on Twitter 
@BeardAndStache
, and also Adam 
@Adam_Parker43
, Like our Facebook page 
HERE
!