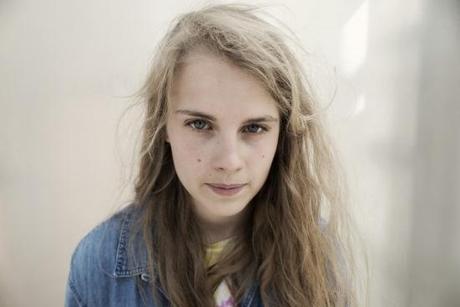 Yet again we have another iTunes single of the week which is also Zane Lowe's Hottest Single of The Week, I'm pretty sure they plan this. Despite this, this song is going to be a marmite track for many as it's part of that indie, quirky pop, folk scene which is becoming a bit same old same old….
So to Marika Hackman. She's what is considered cool in a very hipster fashion: Hampshire born but lives in Brighton, an indie-folk singer songwriter who was once the face of Burberry. That's the most that can be ascertained about her as her facebook page, website and soundcloud offer little information. Having perused the internet reading interviews with her we also discovered that many people are likening her to the German singer songwriter, actress, model and Warhol muse called Nico and, British musician and founding member of Pink Floyd Syd Barrett.
With all that background info lets delve into the track Bath is Black. It opens with this incessant plucked string motif in a really high pitch before the vocal comes in. The vocal has a lazy quality to it, in a 'I don't need to put much effort into this' kind of way. Just as the track is building up the bass guitar enters giving it some more depth and there is a soft sound that has a synth quality to it. The entire track continues in this 'cutsey' vein with shakers and light synth motifs. When we hit the bridge the track gets a very californian indie feel to it which reminds me of the tracks featured on The OC about 10 years ago now. The lyrics themselves are all very poetic and airy fairy with no clear meaning behind them.
For me this track simply put tries too hard. It's trying too hard to be kitsch, cool and on trend. With sounds that make you think of jewelry boxes with dancing figures, spinning tops, rocking horses or making daisy chains as if you were 6 years old. It almost has a childlike quality in the sound whilst trying to sound so laidback it's fully lying down in a onesie, and we won't be seeing it for the next 8 hours. If this were a tumblr page it would be pink with pictures of bows, kittens, jewelry and starbucks cups. Too much effort to appear to be no effort at all.
So for us this track just doesn't do it. You can't fault that there is musical talent there but in comparison to the gem we received last week, this track has brought us back to that annoying indie folk place where the music industry has gotten stuck recently.
We hope for another gem next week!
-TWSH
Download Bath is Black and The Iron Taste
Find out more about Marika Hackman:
Facebook SoundCloud YouTube Website