I always get so excited when it's Boxycharm time! Hurrah! What is Boxycharm, you may be asking yourself? Let me give you my short little shpeal before we get into this month's box!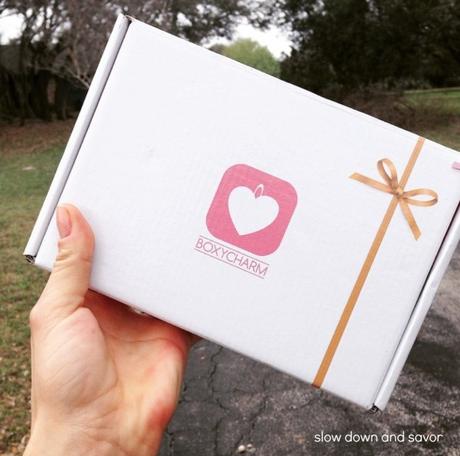 BOXYCHARM is a beauty box subscription service that surprises you each month with the best beauty products from popular and chic brands. From nail care, to the hottest hair products, to the top skin care and cosmetics, each box will have your head-to-toe beauty needs covered! So each month, subscribers like me receive a box filled with full size and luxury size beauty samples from their preferred well-known brands.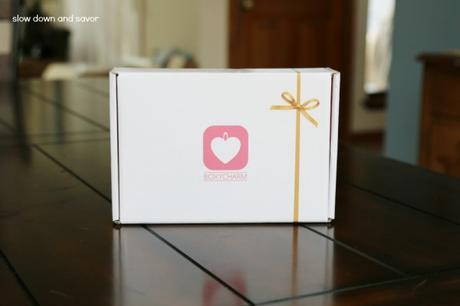 The subscription is $21/month, and that price includes shipping and handling. So while it's a bit more expensive than some of the other $10/month subscriptions out there, it's because this box contains 4-5 full-sized products every month, and sometimes 1 deluxe sample sized item.
If you are interested in subscribing, you can do so HERE. I'll put a link at the bottom too, in case you decide you feel like subscribing AFTER reading all the awesome stuff I'm about to share with you.
So, the official March 2015 Boxycharm box came on March 17. How exciting! Getting snail mail period is awesome but getting a box that you know is chock full of awesomness is even better. And this time, I didn't know EVERYTHING that was going to be in it. Yes, I did check out the sneak peaks from the Boxycharm Instagram and Facebook pages, but I held out on watching any other videos or checking out other pictures until after I opened it for myself. I usually don't like the element of surprise, but this time I thought it'd be a bit more fun. And it was.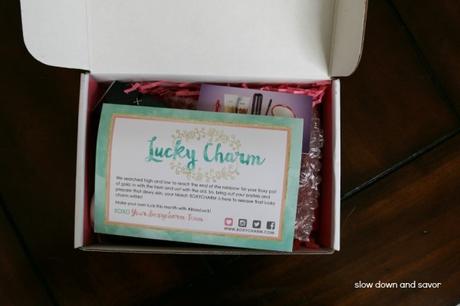 This month's theme was "Lucky Charm," and according to the card inside, the folks at Boxycharm "searched high and low to reach the end of the rainbow for your Boxy pot of gold. In with the fresh and out with the old. So, bring out your pastels and prepare that dewy skin, your March BOXYCHARM is here to release that lucky charm within!" Cute.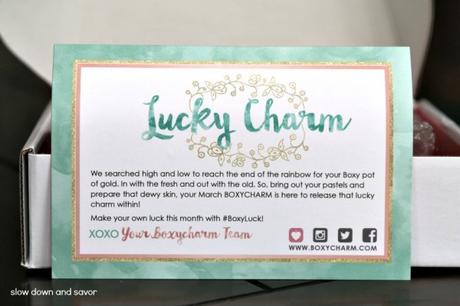 After lifting the handy-dandy little card which lists all of the products, descriptions and prices and setting that aside (remember, I wanted to be surprised), I got to unboxing!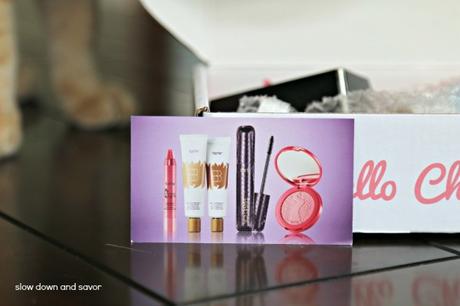 The first thing I saw was a Tarte Cosmetics card with a coupon code good for 20% off your purchase at tarte.com! Nice. So use the code BOXYAPRIL between 4/1/15 – 4/10/15 and grab 20% off anything on the site – boomshockalocka!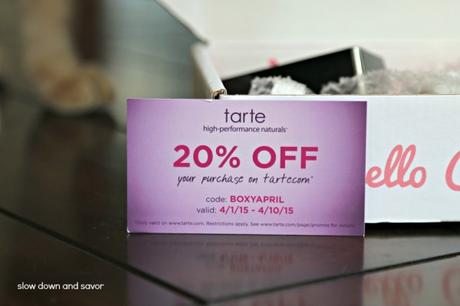 But you know what this means? Other than cool, 20% off? It means there's a Tarte product inside!!! Hurrah! I love Tarte Cosmetics. Everything I try from them, namely their Amazonian Clay blushes and the Lights, Camera, Splashes mascara, is amazing. We received a full-sized Maracuja Bronzing Serum in a previous Boxycharm box, and that was AWESOME. So to see that there was another Tarte product got my heart going pitter-patter.
But that wasn't the first product I saw, so hang on. We'll get to the Tarte beauty in a bit.
Product #1: Oscar Blandi Dry Shampoo, a pretty big travel-sized can at that, retails for $11.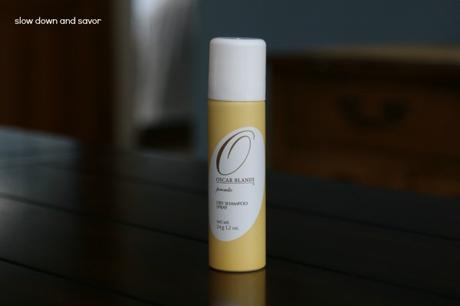 Oscar Blandi's styling solutions are inspired by his love of hair and his passion for helping you express yourself. Blending his extensive professional experience with innovation. Oscar launched his collection to renew and rejuvenate for "Oscar-Worthy" hair. Infused with rich botanical ingredients to provide a luxurious experience for the senses and for any hairstyle.
I mean, if a TRAVEL-SIZED dry shampoo is $11… I HOPE this is going to be bomb dry shampoo. I mean, the price tag implies it's going to be good so… We'll see!
Product #2: Full-sized OFRA Eyeliner in the shade "Navy," retails for $13.
Water resistant pencil suitable for the most sensitive eye and lip areas. Created with a synthetic beeswax base for a smooth, soft and long lasting application.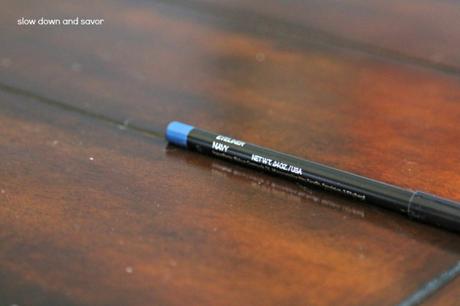 I was really excited I got the navy rather than the black eyeliner. I have a few black pencils, and haven't even opened yet, so I'm excited.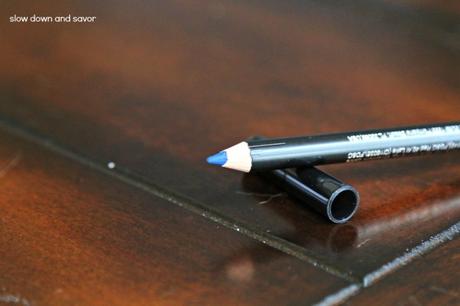 When I swatched the pencil, I wasn't sure how I felt about it. It was kind of dry, but I guess that's to be expected with a wooden pencil. I love the color though, and I will certainly have fun with the blue!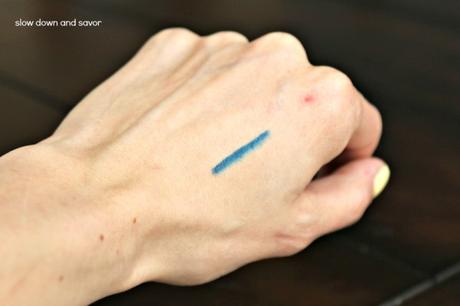 Product #3: LVX Nail Lacquer, a full-sized nail polish, retails for $16.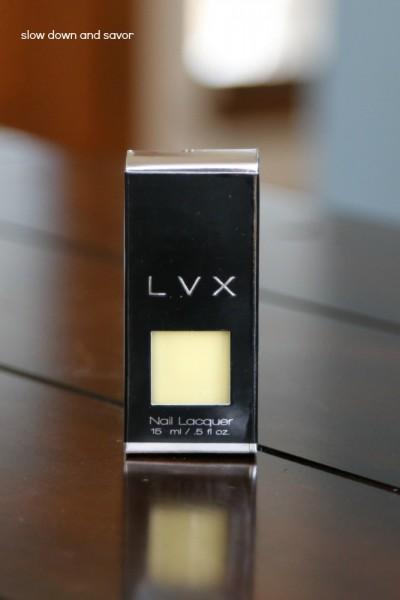 LVX brings you luxury and fashion without the compromise! This long lasting, chip resistant and gel-like formula is free of the 5 toxic and harsh chemicals found in most common nail lacquer formulas. LVX is dedicated to providing you with top quality and socially responsible and vegan-friendly luxury products.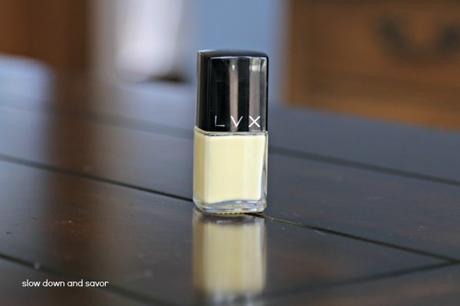 Now THAT'S a pricy polish! It came in the shade 049, "Lemondrop." I loved it. OH my gosh. What a pretty creamy pastel yellow?! It's just perfect for spring/Easter time, and for some reason, I have been loving all things yellow recently too. I was really excited about this. The packaging was classic and sleek, and actually sort of reminiscent of Chanel nail polishes.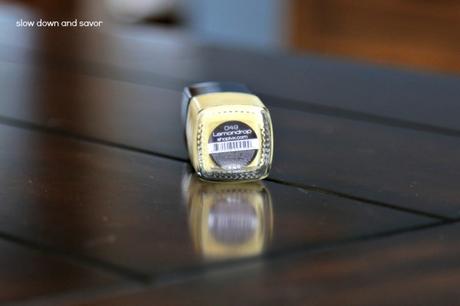 However, when I went to polish my nails with this, I was sorely disappointed. The polish went on super streaky, and not at all opaque. After 2 coats, my nails looked streaky and bubbly, and I had to go in with a 3rd coat! Which STILL looks streaky. I'm still loving the color, and I'll give it another go, but so far, I'm not super happy with the formula, and I don't see how this can be $16.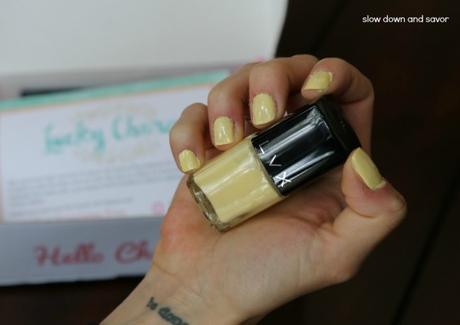 Product #4: Full-Sized tarte LipSurgence lip tint in the shade "charmed," retails for $24.
This award-winning 3-in-1 lip tint offers all the benefits of a lipstick, lip gloss and a creamy balm while delivering rich complexion-enhancing pigment, keeping lips hydrated and refreshed all day.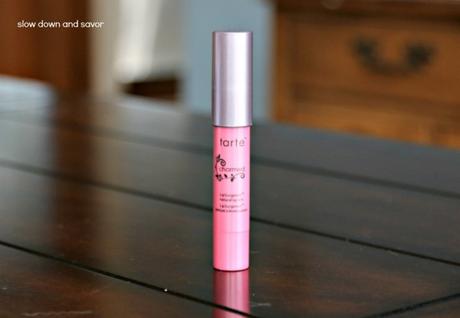 Yay! The tarte product! And it's a GOOD one! Woo hoo!!! I have been dying to try a tarte lippie, and I have heard nothing but awesome things about these LipSurgence lippies. While the color may be a bit "baby pink" or "bright pink" for my skin-tone, I'm going to make it work.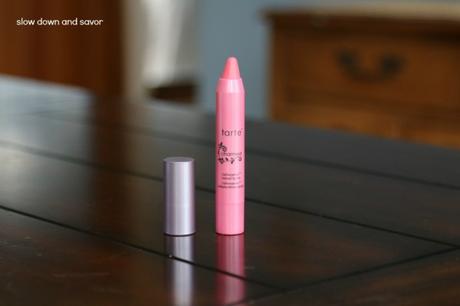 I LOVE how it feels on my lips, so moisturizing and comfortable, and surprisingly long-wearing. Blew my mind that it was STILL going strong after a few hours, including some eating and drinking. While I may not be super into the color, I'm FIRED UP about the product in general, and will for sure be repurchasing in a different shade.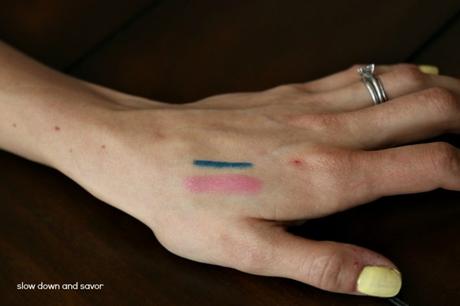 Product #5: Previse Nutrify Skin Type 1-6 Universal Tonic, Full-Sized, retails for $48.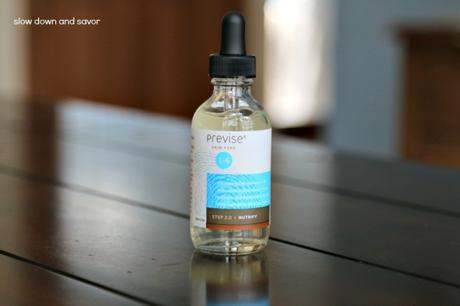 Free of parabens, silicones and skin clogging petroleum ingredients, Nutrify Skin Type 1-6 hydrates skin and speeds healing while fighting free radicals and surface irritants.
Whoa nelly. $48?! That more than pays for the monthly subscription all by itself. I mean, so does the tarte LipSurgence, but THIS… this pays for it a lot. But what does it do? I mean, I see that it says it hydrates and speeds healing, but what in the world?
I read on the Previse website that this stuff helps fight skin oxidization, promotes cellular regeneration, and evens skin tone while mattifying for a cleaner appearance for both men and women. Awesome. Well, what I CAN tell you about this stuff is that I like it. I've used it now twice a day for a few days, and my skin is already softer, smoother and my hyper-pigmentation has gone down enough for me to notice. I rarely expect to see any results this fast from a skin-care product, so I am very pleased.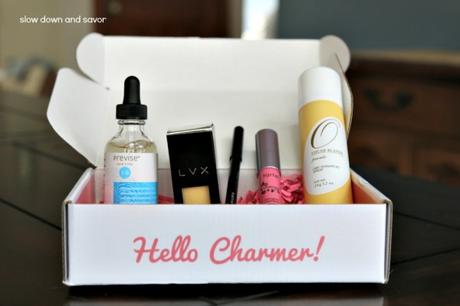 The total value of this March Boxycharm ended up being $112, and at the end of the day, it really didn't disappoint. Yes, the pencil is a bit dry, but I love the color. And yes, the lippie may be a bit on the bright side for my skin at this point, but I LOVE the way it feels and wears. The dry shampoo is a win, as is the Previse skin product. But that LVX nail polish… Not good at all. So 4 out of 5 of the products were winners in my book, and that's awesome by me. And where else would you be able to try $112 worth of products for only $21? No where. See, Boxycharm IS amazing!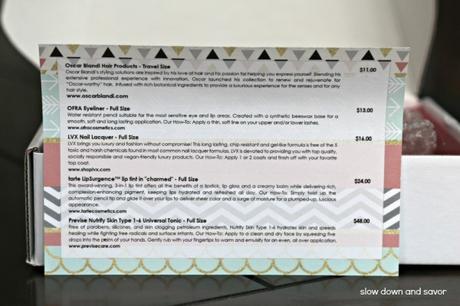 Interested in subscribing? You can here!