Happy Friday,
I've been spritzing
Eau So Daisy
on myself for month's every time I went into a shop stocking perfume so whilst I was browsing
LifePharmacy
at
Bayfair
a few week's ago I noticed the
Eau So Fresh
Eau De Toilette
and a similar one in a black box, which turns out to be Daisy Bloom so I picked up the testers to spray them (
I've had my heart set on Eau So Daisy for a long time
) I've never been able to find a small bottle. I decided upon
Eau So Fresh
because I like the scent and this bottle was $49.50. A 20ml Daisy Flower shaped bottle also known as 
Petite Flower on the Go
so it's perfect for handbag's.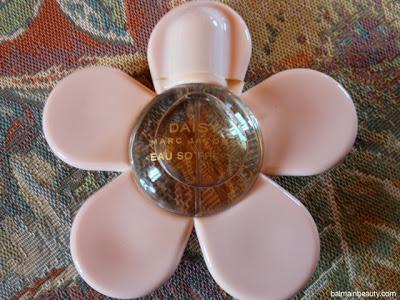 It's a cute daisy shape and it's Pink.  I like this scent, though not as much as Eau So Daisy. 
About the scent
There's no doubt that this is a floral scent and I can smell Citrus, Violet and Musk.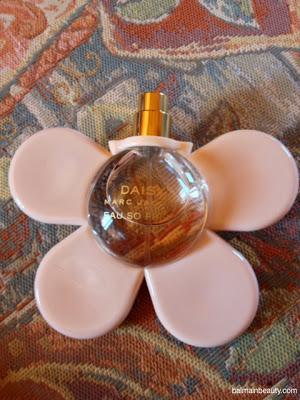 The Perfume Shop
 says: Heart Notes are: Wild Rose, Violet and Apple Blossom. Top Notes are: Raspberry, Grapefruit and Pear and Base Notes: are Plum, Cedarwood and Musk.
The Fragrance Shop
says: a sparkling, and fruity playful scent. Created by perfumer Alberto Morillas, its a youthful fragrance with notes of ruby red grapefruit, raspberry, green leaves, pear, violet, lychee, apple blossom, rose, jasmine with woody notes of musk and cedar.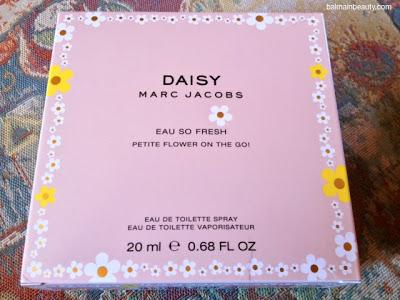 When it dries down I can definitely smell: rose, jasmine and musk and this is when I prefer the scent. It doesn't last on my skin all day but it does last a decent amount of time.
Would I buy this again? yes, but not before I manage to get my hands on Eau So Daisy, which is the original Daisy scent in this range, it has a white and gold daisy flower top.
Would I buy Daisy Bloom? it requires more spritzing but perhaps in the future. I haven't spritzed Lola, Oh Lola or Dot, or even the new scents Kumquat Splash and Hibiscus Splash so I'm keen to smell these and see if I like them as much as Eau So Fresh and Eau So Daisy.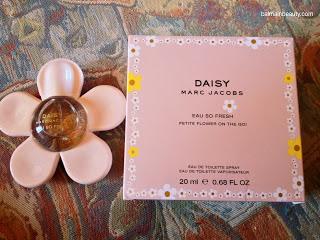 When can you wear it
?
Mainly Spring and Summer but perhaps in Autumn/Fall. I sometimes wear floral scent's in Winter to perk myself up. It can be worn all year round, it depends on personal taste but I don't see any reason why you can't wear floral scent's in Autumn/Fall and Winter. I wear pastel nail polish in Winter sometimes to shrug off the Winter blue's and bright accessories. I'm not scared to do my own thing.
My next post will be a #NOTD (nail of the day).
Until next time, I hope you enjoy the weekend,
Keep Calm and
Subscribe
to BalmainBeauty!