hey guys,
so if you watched my birthday vlog on youtube, i will leave the link for it here, please go check it out and subscribe!.
i made a birthday cake for myself, and it soooo tasty. I am going to show you how i made it and give you like a step by step guide on how i did it,
i did change the recipe a little bit but i got it from a cookbook called cake by Rachel Allen, who apparently is famous on the cooking station, i don't know sorry =[, but yeah, so i am in no way taking credit for it, i just want to show you how amazing this recipe is and then you might go buy it yourself, ay?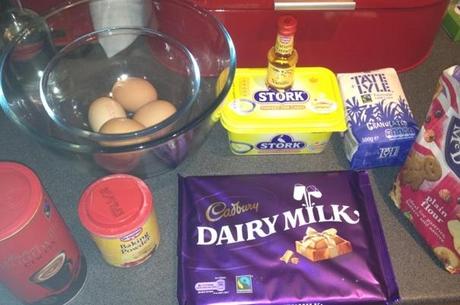 prep time: 25mins baking time: 50-60 mins ready in: 2 hours serves: 6-8
what you will need is: for cake: 225g butter 225g caster sugar 4 eggs 1 tsp vanilla extract 225g plain flour (or self rasing just dont use the baking powder) 2 tsp baking powder 50ml milk 25g cocoa powder
for crumble: 125g plain flour 75g caster sugar 75g unsalted butter (i just used the same as the cake mix butter) 75g of milk chocolate cut into chunks



so first up you need to make the crumble: mesure out the flour butter and sugar and put into a medium sized bowl, using your finger tips mix it together so it looks like breadcrumbs, it will be quite wet breadcrumbs, but just leave it like it, cover it over and pop into the fridge. set your oven to 180c or 340f, gas mark 4.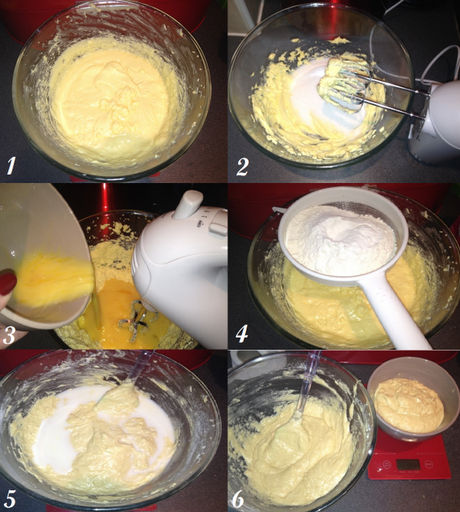 then the cake: using a electric whisk or like a hand whisk, cream together the butter until light and fluffy, then add the sugar and mix together aswell. then in a small bowl put the 4 eggs and a tsp of vanilla extract and just whisk together with a fork (like your making scrambled eggs) add the mixture to the butter, it says to do it slowly but i just put it in! and mix together the sieve the flour and baking powder together into the butter mixture and fold with a wooden spoon or something. remember to fold it in so you don't release any air. then add the mix and mix that in carefully by folding in. then you need to tip half the mixture in one bowl and keep some of he mixture in the other bowl.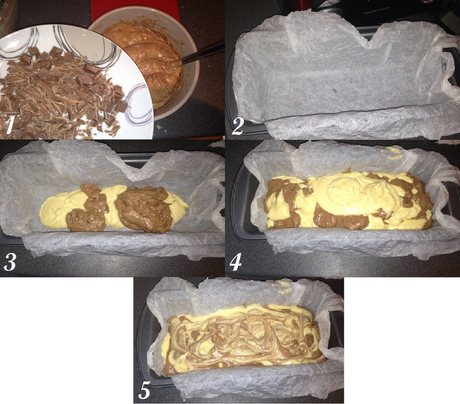 add the cocoa powder to one half of the mix and fold it in, then what i have done is got some chocolate and cut it into small pieces and added it too the chocolate section, you don't have to do this, but it tastes good! you need a deep cake tin and then line it with baking paper, or you could butter the sides to stop the cake sticking (i didn't have a deep cake tin so i had to use a too deep of a bread tin, my bad) then add a couple of spoonfuls of the vanilla mixture and a couple of spoonfuls f the chocolate mixture, and keep alternating until you have used up both the mixtures and they are in the cooking tin. then with a spoon or skewer draw swirls in the mixture to make a ripple effect, don't mix it up to much (like i have done with the middle) because you wont get the ripple effort.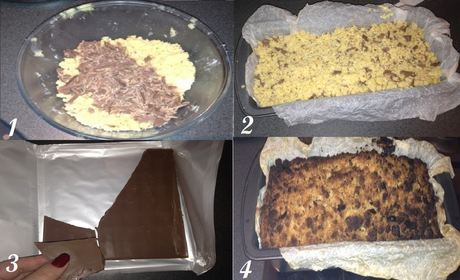 Then get the crumble out of the fridge and add abit more chocolate pieces to the topping. and crumble the mixture over the top of the cake.
eat the rest of the chocolate while the cake is baking, my fav bit :D
and after a really really long time 60 mins to be exact, my cake was ready, wooo
leave it too cool for like 10 mins and then take it out of the tin, mine was really easy i just lifted it out, and then i placed it on a plate and cut the end section off, it turned out really nice, it has a lovely marble effect and has a taste to die for :D
yes it does look burnt, and it kinda is =[, well the dish was abit too deep for it, so the outside burnt slightly before the middle was cooked, but you cant really taste it and it tastes fine, so that's a lesson ive learnt, make it shallower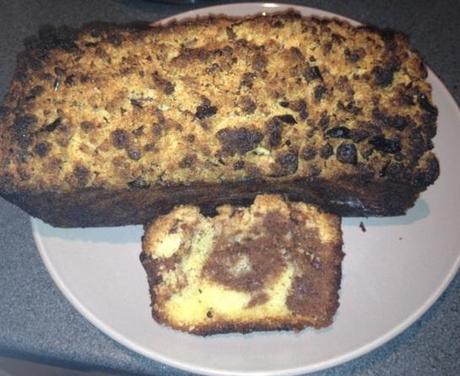 yum i love it, will you try this???