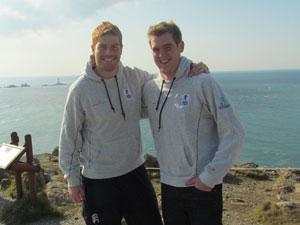 Marathon Men 2013 Tom Byrne and Tim Bliss
Marathon Men 2013 is a challenge being undertaken by two trainee teachers; Tom Byrne (21) and Tim Bliss (24). They have set themselves the immense challenge of running 12 marathons in 12 consecutive days from Land's End to Trafalgar Square this summer. The challenge will raise funds for the Mersea Island Festival.
Tom and Tim have been training and preparing for over a year for this event and have organised it from scratch. They wanted to push themselves beyond what they felt they would ever be capable of and are finding new levels of fitness and mental strength. Both the runners are balancing busy schedules with Tom taking a part time education degree whilst working full time as a Special Needs Assistant and Tim is studying for a PGCE in Bristol and plays in a number of successful bands. They have had to approach the run as professionally as possible and are delighted to have been supported with their nutrition by 24fit. The training is going well and both are feeling positive and a relishing the fast approaching start date of the challenge which will be on 31st July.
The two met whilst working as Special Needs Assistants at a Primary School in Guildford. The pair decided that they wanted to take part in an extreme sporting challenge having been inspired by their friend Callum Brenan. Callum is 17 years old and suffers from LeschNyhan syndrome; a rare condition affecting 1 in 380,000. In spite of the severe physical and psychological effects of his condition, the boys are blown away by his positive outlook and approach to life. Callum attends the Mersea Island Festival every year and it is something which is close to his heart. Tom and Tim are delighted to be raising funds for the festival which runs two camps each year for able bodied and disabled adults and children providing opportunities for outward bounds, music, social activities and much more. The camp enables the young people to have a well-deserved holiday whilst creating life-long memories and friendships.
For more information about the challenge or to find out how you can support the team visit www.marathonmen2013.com or checkout their Facebook page.
From Multidays.com, post Marathon Men 2013