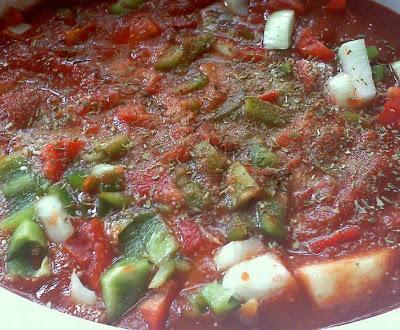 I discovered freezing meat sauce long ago. It freezes really well, and can be used for all sorts of items. I wait till there is a meat sale and grab a ton of hamburger. I will then brown it and start with a jar of regular spaghetti sauce (ie ragu, prego etc).  I buy the large container. I do this because I want to freeze several quart bags of it. I brown hamburger, add onions, peppers and garlic. Set it aside. Then in a pan I pour the spaghetti sauce in a pan. I add basil, Italian seasoning, Parmesan, garlic sea salt. I heat it up and drizzle in a lil bit of olive oil.  Cook on low and let it simmer.  Then you'll want to add in your meat. Cook on low and then shut it off and let it cool down. Once its cooled down you can grab your quart freezer bags. Fill and let all the air out of it. Lay flat and let it freeze. By doing this you'll have several bags of meat sauce in your freezer for spaghetti, ziti, etc. If your running low on time you can just grab a bag and thaw it out. Instant meal just add spaghetti. There is no real recipe for this....You can add as much or little as you want.  I hope this helps you! Below is a recipe I kind of go off of.
5-6 lbs of hamburgerLarge Jar of spaghetti sauce( biggest you find)1 chopped pepper1 chopped Onion3 TSP garlic1 can of diced tomatoes1 T Sugar1/2 Tsp Garlic sea salt1/2 C Parmesan 1 T basil1 T Italian Seasoning
Brown hamburger, peppers, onions and garlic.  Set aside. In a pan mix your sauce, diced tomatoes, sugar, basil, Italian seasoning, garlic sea salt, Parmesan cheese. Let it simmer.  Mix in your brown meat mixture. Let it simmer for half an hour. Let it cool off and pour it into baggies. It'll make 5-6 baggies of it. Lay flat to freeze.  This is just a loose recipe...The great thing about this is you can add what you want to make it yours.