Hello!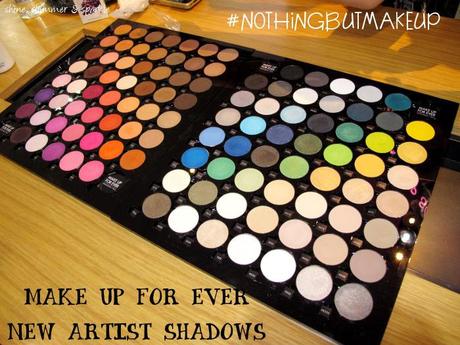 Make Up For Ever has recently revamped its existing eyeshadow collection and lo behold, we have 210 new eyeshadows to color our world with.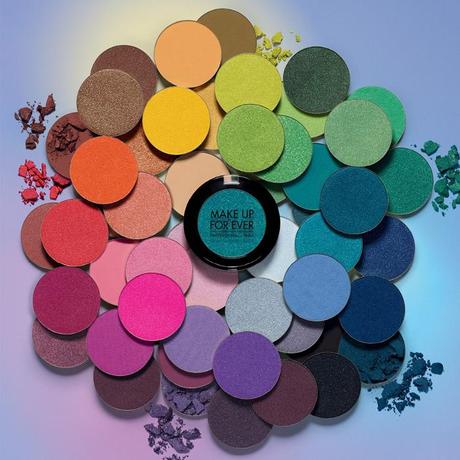 Billed as the Artist Shadows, these eyeshadows boast a very smooth texture, superior blendability, high impact color with 88% pigments and coverage.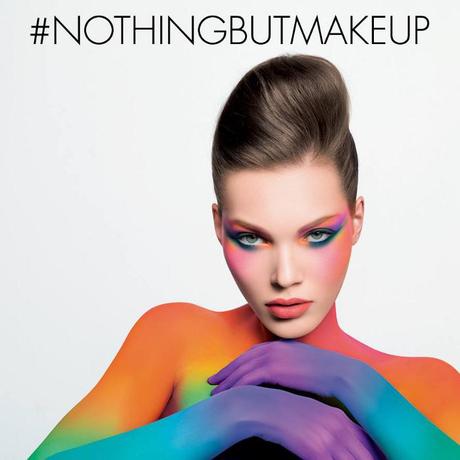 I love MUFE's tag #NOTHINGBUTMAKEUP which attests to the new Artist Shadow's pigmentation and blendability. Great texture is like a good tool – it lends to infinite possibilities in the hands of the artist and creator.
Another facet of the the new Artist Shadows I love is the freedom system MUFE uses – all the eyeshadows are available as refills and you are free to custom-create your own eyeshadow palettes.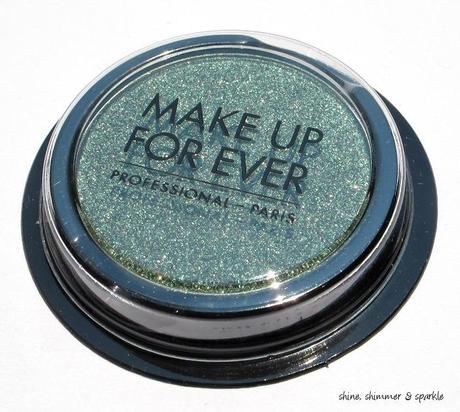 The MUFE Artist Shadows retail at S$26 a pop. There are 3 types of palettes to choose from – single, duo and triple pan palettes. Regardless of the size, each palette retails at S$9 (might as well get the 3-pan one!) and comes with a clear flip-top cover and magnetised wells.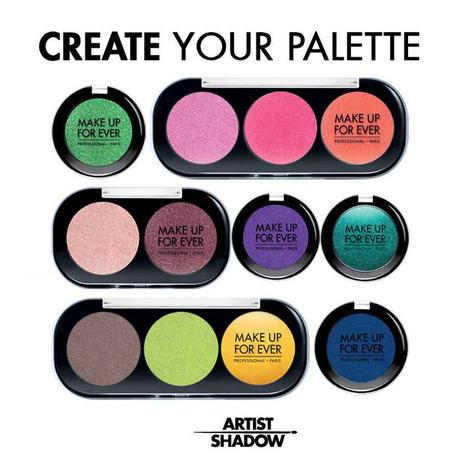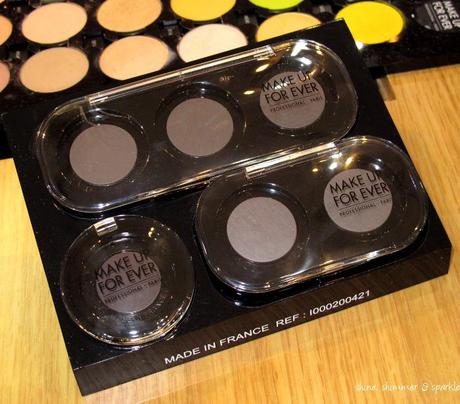 There are 210 shades of Artist Shadows but all 210 shades will only be available at the MUFE Pro Loft & Academy located at Armenian Street. I usually head there for my MUFE fix because that is where the complete range of powders, concealers, lipsticks and now Artist Shadows are available. MUFE will also retail the Artist Shadows at Sephora stores in Singapore. The MUFE MAKE UP SCHOOL located at Sephora ION Orchard and Ngee Ann City will carry 108 shades while the rest of the Sephora stores will carry 24 shades (the most popular!) as seen in the photos below.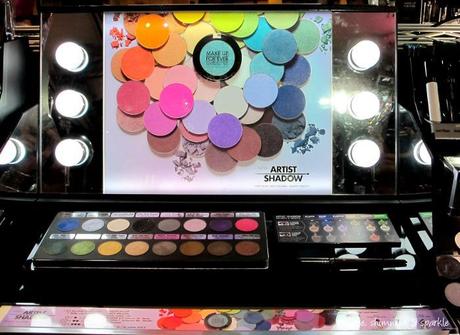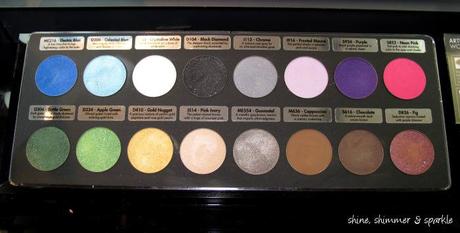 The Artist Shadows are available in 5 textures – Metallic (pearly and metal-like), Matte (opaque with no shine, sparkle or pearl), Satin (soft sheen), Iridescent (soft glimmer) and Diamond (rich color base with same-tone, gold or silver glittering accents). Each Artist Shadow's number is preceded by an initial indicating the texture – D104 is a Diamond series Artist Shadow while ME554 is a Metallic series Artist shadow My personal favourites are the Metallic and Diamond textures – the ones I picked up too were all the Diamond series.
Here are swatches of Artist Shadow shades that caught my eye.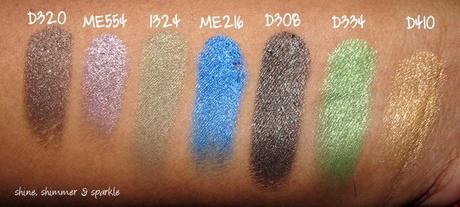 D320 Golden Khaki – a cool golden brown with a lovely sparkly finish
ME554 Gunmetal – looks more like a cool pearlised taupe with the slight hint of mauve
I324 Bronze Khaki – a soft golden-olive; the olive rather than bronze tone dominates on my skintone
ME216 Electric Blue – electric blue alright! Medium bright blue with blue pearl
D308 Aquatic Khaki – the base shade is actually more of a black-brown with green-blue pearl and sparkles strewn throughout
D334 Apple Green – yellow-toned bright light green with gold accents
D410 Gold Nugget – bright gold with gold sparkle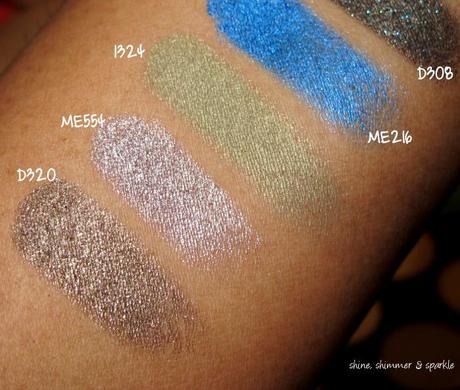 I added this photo because I wanted to show you the multi-dimensional effect of the pearlised sparkles, particularly in D320 and D308 (which I succumbed to temptation and bought, along with a few others). Also, the irresistible shine of ME554 is making me regret not picking that up!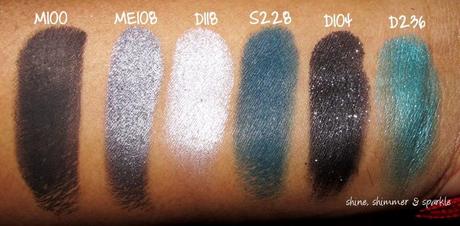 M100 Black – a good opaque, neutral matte black
ME108 Steel – cool metallic stainless steel shade
D118 Platinum – bright white-toned silver with sparkles
S228 Sepia Blue – reminiscent of the blue from the Blue Sepia palette a couple of collections ago, this is what I refer to as peacock blue.
D104 Black Diamond – deep satin black base accented by silver sparkles
D236 Lagoon Blue – pearlised teal blue with silver sparkles
Love how the sparkles dance in the light!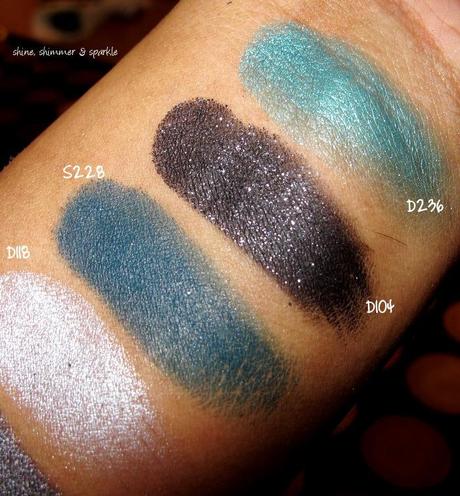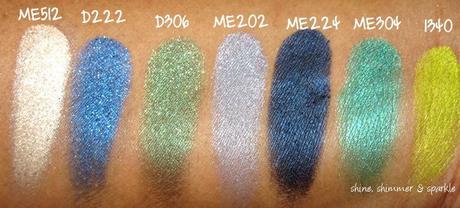 ME512 Golden Beige – Pale gilded nude (it's pulling a little silvery on me)
D222 Night Blue – a deep metallic blue with blue and silver sparkles
D306 Bottle Green – a deep metallic forest green with gold sparkle
ME202 Iceberg Blue – pearlised silver-blue
ME224 Navy Blue – metallic black-navy with blue pearl
ME304 Emerald – pearlised mermaid green (more green-toned than D326)
I340 Lime Green – acid chartreuse green with a very soft sheen
In the close-up shots, you can see that unlike many diamond or glitter eyeshadows, many of these Diamond-series MUFE Artist Shadows use a pearlised or soft-sheen base color in addition to the sparkles, giving the eyeshadow richer, jewel effect. I have since bought both D222 and D306 but now after seeing my own photos (!), I'm going to go back for ME224.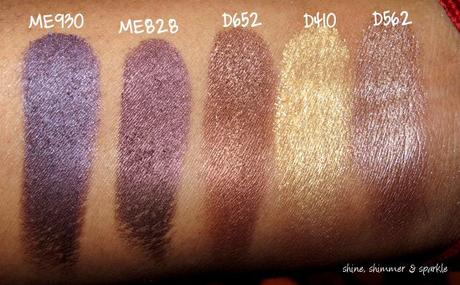 ME390 Black Purple – pearlised burnt purple
ME828 Garnet Black – pearlised blackened plum
D652 Celestial Earth – metallic copper-brown with gold accents
D410 Gold Nugget – neutral gold with gold accents
D562 Taupe Platinum – metallic warm silvered-taupe (this taupe has lesser of a mauve tinge than ME554)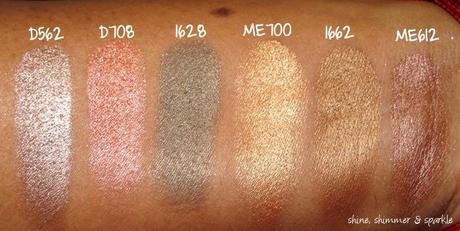 D562 Taupe Platinum - Well, I think I liked this shade so much, I swatched it twice!
D708 Pinky Copper – pearlised salmon-copper with silver accents
I628 Reptile – khaki-grey with a soft sheen
ME700 Amber – pearlised warm golden-bronze
I662 Amber Brown – warm golden brown with a sheen
ME612 Silver Brown – warm reddened brown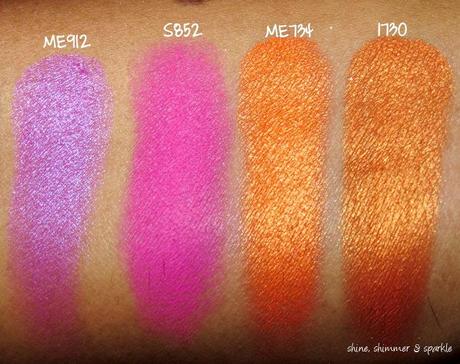 ME912 Orchid Artist – metallic pink-purple that is very reminiscent to MAC Pigment in Pink Pearl, only more intense
S852 Neon Pink – almost-matte neon pink that doubles up as a blush shade if used with the lightest hand
ME734 Tangerine – metallic bright golden orange
I730 Pumpkin – pearlised deep orange
I was lucky to be given a chance to play with all these eyeshadows and MUFE's press kit contained a 3-pan palette with ME216, S852 and S924 (a bright purple). However, makeup enthusiasts will not be content to just 3 Artist Shadows in their collection – I have since picked up 5 more and have housed all 8 Artist Shadows in another MUFE palette. My palette has space for another 4 eyeshadows and I don't think I'll have much trouble filling it up. I've road-tested these – particularly the Diamond series and like them very much. More on my custom palette and how the eyeshadows perform in my next post. Till then, I assure you, the wear very much like the swatch – intense payoff and comfort on the eyes.
Hope this entry was useful. Thanks for stopping by and have a great week.