Hello!
The Make Up For Ever Studio Case (S$99) is one of the few point makeup products I really enjoyed from Holiday 2014 and seeing that Sephora still has a good stock of the Sephora-exclusive Studio Cases (at ION and Suntec City definitely), I thought I'd share my (long overdue! Yikes.) thoughts with you. I really adore the new MUFE Studio Artist Eyeshadows (review and swatches HERE) – I've since purchased 7 individual pans (mostly the Diamond and Metallic shades). I think the Studio Case is a great way to try 12 of the eyeshadows in the new formula which I promise is stunning. Let's take a closer look at the Studio Case before I tell you why you should totally check this out, if you haven't already.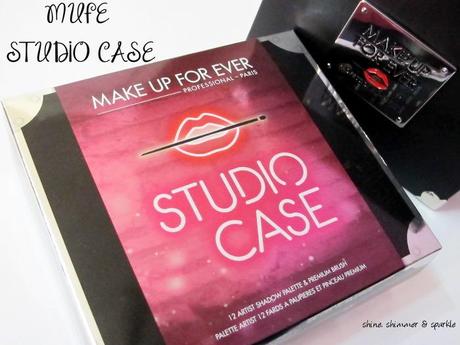 The Studio Case is designed like a sturdy box with a flip catch – it as big as my entire hand opened up. I love the metal fixtures on the edges and the flip catch that make it look like a professional make up train-case.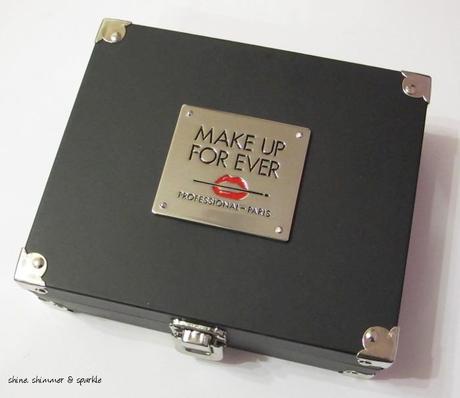 It opens up to reveal 12 deluxe sized eyeshadows (0.7gm each; for reference, the full sized eyeshadows are 2gm each. The 12 shades are split into 4 color palettes of Natural, Smoky, Bold and Chic for ease of use – you are of course free to mix and match the shades according to your wish. I like how there is really a good variety of shades making this a very versatile palette to have in your kit.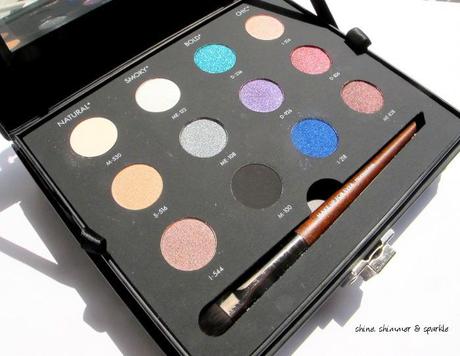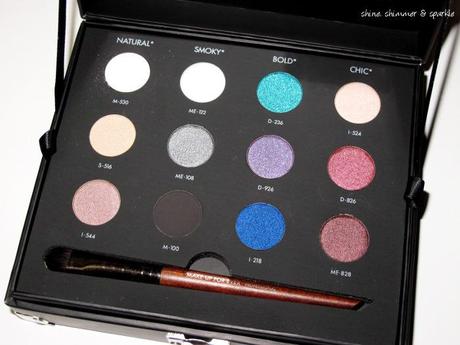 My only wish was that a nice green would have really upped the ante; otherwise, the shade selection runs warm and cool, allowing for various looks and will suit a very wide variety of skintones. The other awesome thing about the Studio Case is this – the quality of the 12 eyeshadows are absolutely consistent across the palette as well as across the full-sized Studio Artist Eyeshadows that retail. With some other brands, the quality of eyeshadows in the palettes sometimes are different and suffer from pigmentation or texture issues. This is not the case with the Studio Case – the swatches below (1 good swipe, dry, no primer) below will prove that.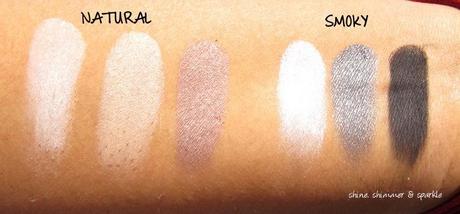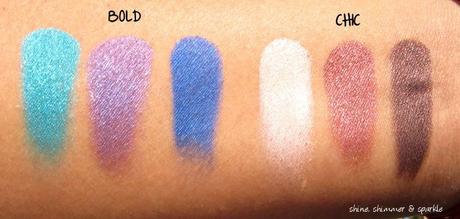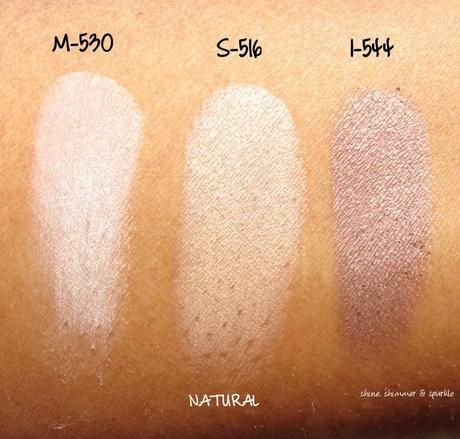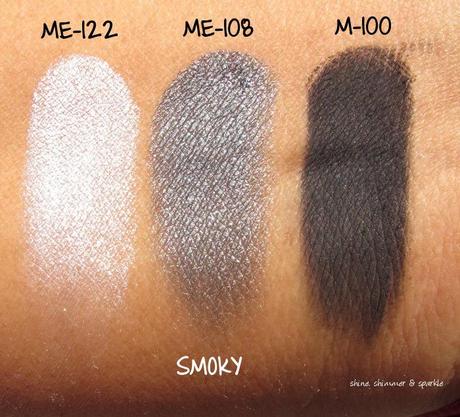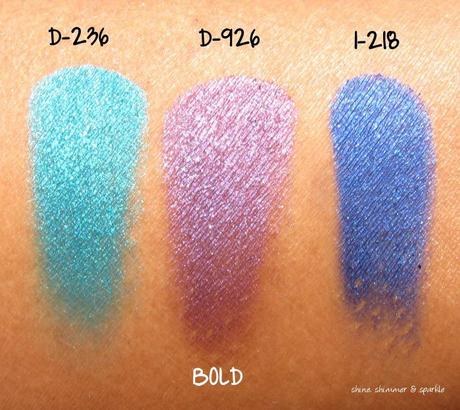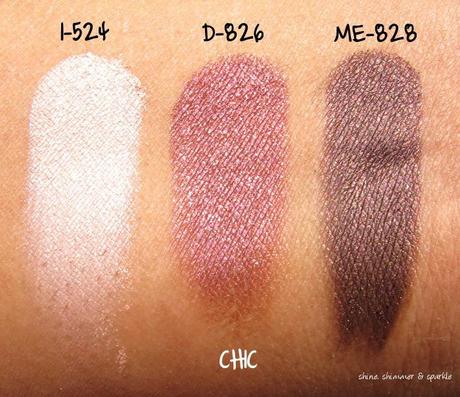 A couple of shades in particular really stand out in this palette and here's a quick rundown:
I-218 Indigo Blue is stunningly beautiful and anyone who loves blue eyeshadow should really check this out (I'm getting this in full size – I already have ME-224 a navy and 2 bright blues D-222 and ME-216) – MUFE really does the best blues.
ME-108 Steel is a deep chrome silver which is very smooth and pigmented – it almost feels like a cream eyeshadow. This shade with lots of black eyeliner and mascara will make for a stunning statement eye.
M-100 Black is a matte black. I don't like mattes but this matte black is stunning. It applies like ink, carbon and coal all rolled into one. Rich and not patchy or powdery at all, this would also be perfect to set a pencil or creme eyeliner.
ME-828 Garnet Black is a rich blackened plum that has some brown undertones. This shade is one that looks different on everyone, depending on your skin undertone. If you're afraid to take Pantone Colour of the Year 2015 Marsala (wine) by the horns, Garnet Black might be one way to ease yourself into the shade.
Here's the other thing that is great about the Studio Case – I find it quite travel-friendly. Ok, I know mostly people prefer a small compact palette for traveling but given that I love almost all the shades in this palette and this can create day, night and day-to-night looks, I would pack this for a trip. The plate housing the 12 Artist Shadows can be removed and other products can be stored underneath.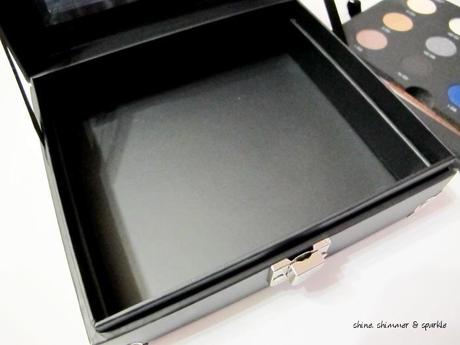 Here, I've put in a couple of eye makeup products I would take along with me on a trip (although silly me forgot to put in my mascara here when I took the photograph – but you can see, there is space for a tube of mascara still)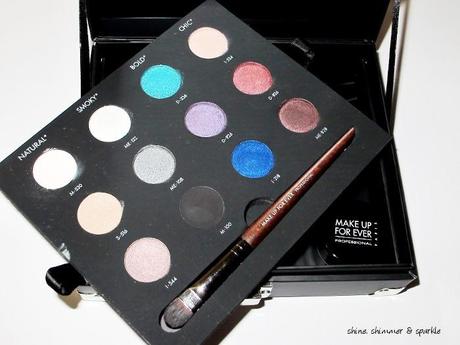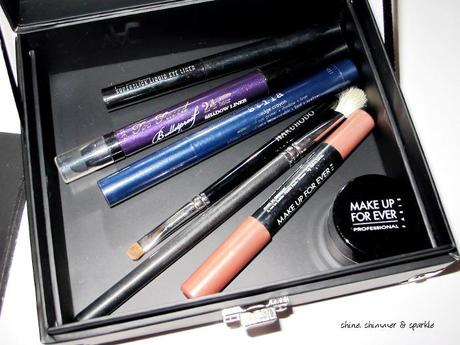 I packed in the MUFE Aqua Black (creme eyeliner), the MUFE Aqua Shadow in 28E (rose gold), Stila Smudge Crayon in Midnight, Too Faced Bulletproof Shadow Liner in Purple Rain (all to use as eyeshadow bases), MAC Superslick Eyeliner (upper lashlines), the MAC217 Blending Brush and the Hakuhodo B005 Eyeliner brush (you could use brush sleeves to protect the brushes too). The Studio Case already comes equipped with a proper eyeshadow brush – the Medium Precision Shader Brush in 228S as opposed to a scratchy brush or tiny sponge applicators which I usually throw away the moment I open the palette.
The only thing I couldn't get in was my eyelash curler – the box wouldn't close). For a quick getaway and if you want to organize your makeup (base makeup, eyemakeup and lips all kept separately which is a better idea for me really, instead of mega-rummaging in the morning), I think the Studio Case would come in handy.
Even if you're not interested in the Studio Case as a traveller's item, the variety of eyeshadows, the versatile shade range and the consistent quality of eyeshadows and brush really make this worth your time and money. It also makes this a great gift for yourself or someone who's just starting out with point makeup. Do take a look at the MUFE Studio Case before it gets totally snapped up – the MUFE BA at Sephora ION told me that it will retail while stocks last.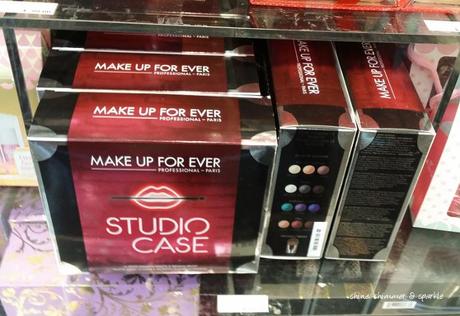 Thanks for stopping by and have a great week ahead!