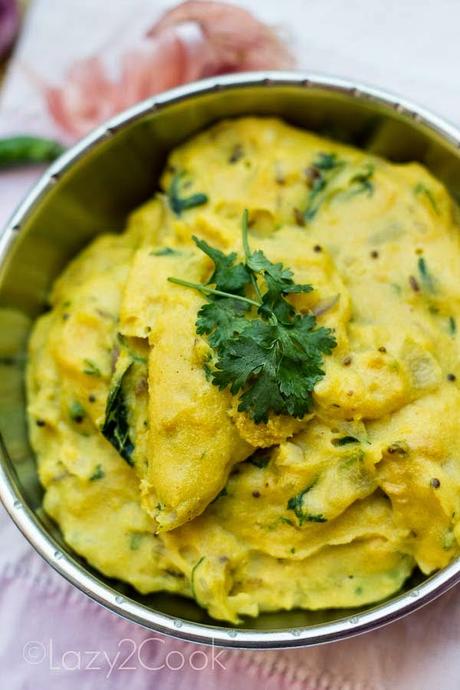 Pithale, means Besan Curry, is one of the basic dish in Maharashtrian Cuisine. In fact, Maharashtrian food must have Pithale-Bhakari. My family loves Pithale and I must say they are crazy about it. Because when pithale is made at home, they eat it like special dish , just like I am going to restaurant and I see any paneer dish. My uncle , takes extra oil on pithale, this is special way to eat in villages, and have it with Jowar or Bajra Bhakari.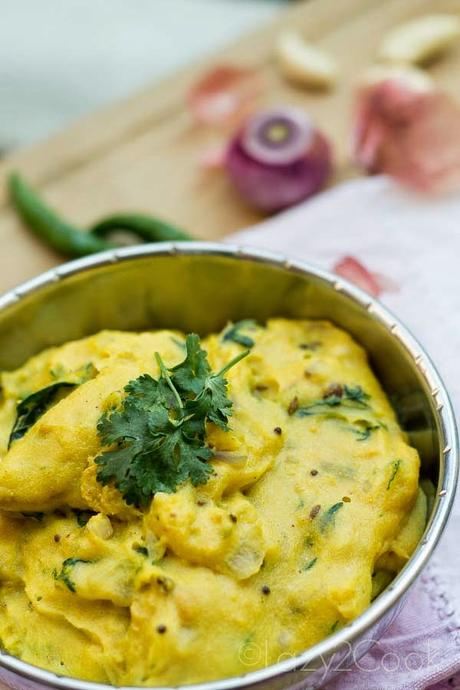 It is mostly prepared in villages for dinner. My grandmother used to tell us, after tiresome day by working in farm, when they come back and have hot pithale with hot Bhakari, the tiredness will just go by eating this food. Such a special attachment of farmers is there with this special Maharashtrian Pithale Recipe.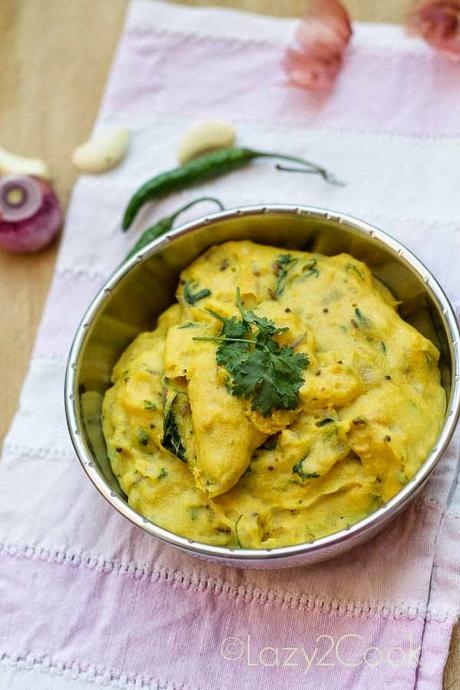 Pithale is basically Besan curry with onion and green chilly. It can be dry or curry and we name differently like guthalich pithale or zunka or patal pithale, all names in Marathi. We can eat this with roti and rice, but Bhakari has special importance in this recipe ;-)

1/2 cup Besan/chickpeas Flour
1 medium Onion, finely chopped
6-7 Garlic cloves, finely chopped
1/2 tsp. mustard seeds
1/2 tsp. cumin seeds
pinch of hing/Asafetida powder
1 tsp. Turmeric Powder
3-4 curry leaves
2-3 chopped green chilies
2-3 tbsp vegetable oil
Salt to taste
water as per need
Few coriander Leaves, for garnish

1.Mix besan and water in a bowl to make thick batter and whisk to have smooth batter.There should not be any lumps.
2.Heat 2 tbsp oil in kadhai/pan. Add mustard seeds, cumin seeds, hing, curry leaves and green chilies. Saute for few seconds and add chopped garlic. Saute till they turn to golden brown .
3.Add chopped onion and cook till onion become golden. Add turmeric powder and salt.
4.Add besan batter slowly and keep stirring as they will start making lumps. Add little hot water and keep stirring to avoid lumps.
5.Keep stirring for another 3-4 minutes till it will start to boil and make it smooth but thick curry as shown in pictures.
6.Give a nice stir and garnish with coriander leaves.
Serve with Bhakari or rice. Onions are always served as salad with Pithale.