MaGerk's. MaGerk's. That's a fun word to say, isn't it? But I have to say, MaGerk's Pub on Charles St. in the Federal Hill neighborhood of Baltimore is much more than a fun word.
MaGerk's was "established in 2000 by John and Paul Dolaway. MaGerk's Pub gets its name from John Dolaways' three daughters. He took the first initials from their first and middle names and arranged them to get MaGerk('s). It was the perfect name for the Pub. John was determined to have the best Cheese Steaks outside of Philly and the Dolaways had a vision for Philly Cheese Steaks in a gentrified neighborhood of Baltimore called Federal Hill."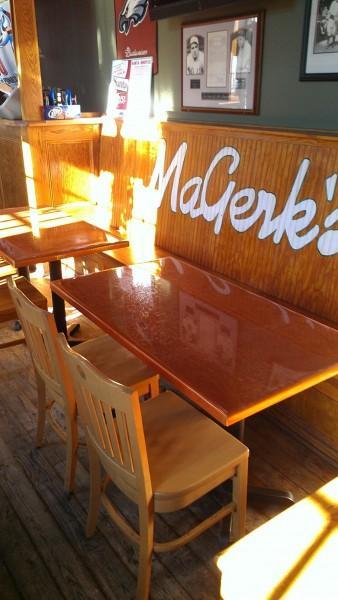 Now, if you know me and if you've been here on Slow Down and Savor for a little while, then you'll know that I have a SERIOUS affinity for cheesesteaks. I mean, extremely serious. I love them. I love them so much. I've even been known to have dreams surrounding getting, eating and enjoying cheesesteaks. Having grown up in southern New Jersey, I like to think that I've had the best of the best from their homeland, thus making me a picky steak eater. You can't just call meat and cheese on a bun a Philly Cheesesteak and think that it's OK. It's not.
Anyway, the point here is that when I heard that there were real deal, authentic Philly Cheesesteaks here in my neighborhood, at an Eagles bar no less (fly Eagles, fly!), I knew that we HAD to check it out. When I told my husband what they touted, he was on board too. Both he and the little one love cheesesteaks, and have had one of the best during our Philly trip last December, at my personal favorite place for steaks, Jim's. Once I learned they had a kids menu, it was set. A family-friendly spot with cheesesteaks, great specials and with a Philly vibe?? Yep. We were GOING to MaGerk's, and we were going to see how "real deal" they were.
So two Thursdays ago, the four of us set out for our Philly-inspired meal, and I was fired up. I couldn't wait. I had been dreaming of cheesesteaks all week, and was hoping that these cheesesteaks wouldn't disappoint.
We arrived, and made our way past the bar into the seating area, found an empty booth, got situated, and were promptly greeted by a cheerful waitress/bar-back who was more than helpful in assisting us in our drink decisions, as well as in deciding what to order for our appetizer.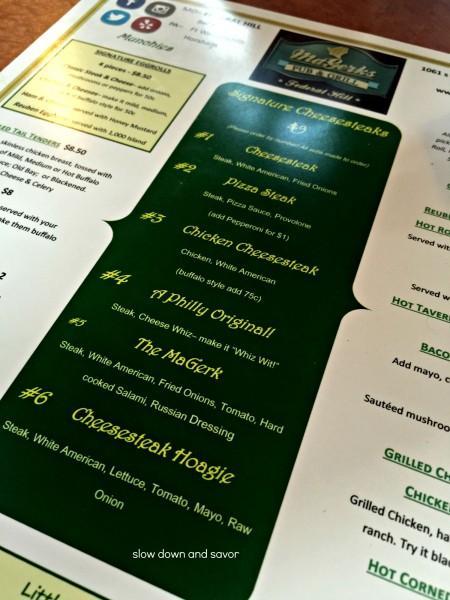 Pumpkin IPA's, a root beer and reuben egg rolls were ordered, and we were left to make a decision on our entrees. Like I said, we already decided to stick with Cheesesteaks, including the little one, but what we didn't realize was that MaGerk's also had a, get this, sushi menu. Yes. A sushi menu. And from what I've heard, their sushi is not just good, it's great.
But it wasn't the time for sushi. It was the time for cheesesteaks. There's 6 signature cheesesteaks to choose from, they're all $8.50 and you order by number. The traditional cheesesteak, the #4. 9th & Passyunk is served "wit" Cheese Whiz sounded the closest to what I grew up on, and was the steak of choice for Michael. He added some hot peppers to the mix. Yum. The #2 Pizza Steak was the choice of Major, with provolone, pizza sauce and added pepperoni. That's right, no kid's meals today! I decided on the #6 Cheese Steak hoagie with American cheese, raw onions, lettuce, tomato and mayo (with no mayo) and added hot peppers (since they sounded so good on Michael's). We also ordered a basket of fries to share.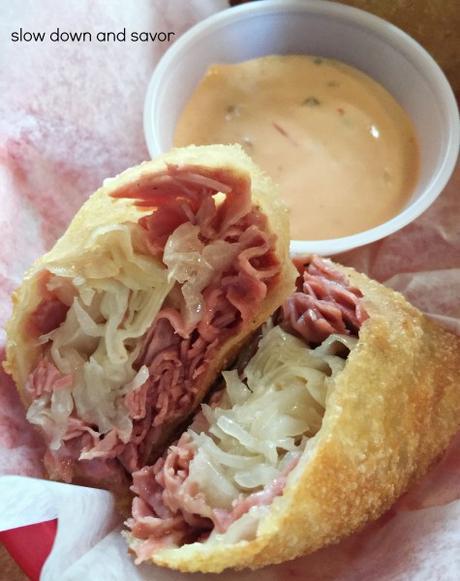 Our Reuben egg rolls arrived and my GOODNESS they looked good. At first I have to admit I was a bit skeptical. Reuben egg rolls?? But yeah, they were incredible. The roll was crunchy and the filling was just what you'd expect from a delicious Reuben: sour and crisp from the sauerkraut, warm and peppery from the pastrami, creamy and sharp from the cheese, and sweet and tangy from the thousand island.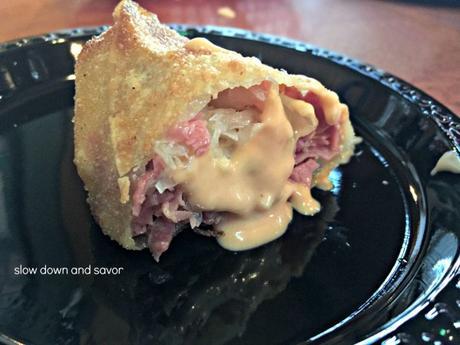 Perfection. Major even said that next time we go, he wants to order these for his meal! And that's coming from a 7 year old!!! Yeah, they were scrumptious.
Soon, our cheesesteaks were delivered, and they were impressive. Large and in charge, these sandwiches came with a bag of UTZ potato chips and a pickle. And of course, our fries. Yum.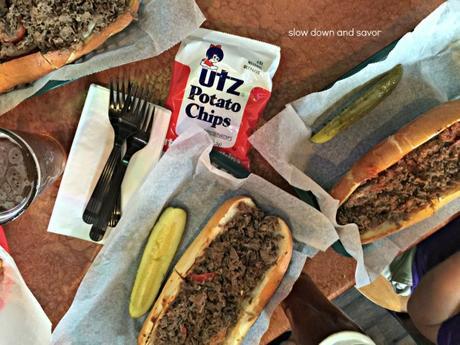 All of the toppings were mixed in with the meat rather than stacked, which I liked. Each bite was juicy, cheesy, and jam-packed with flavor. Plus, the rolls were great, not Amoroso roll great, but great just the same.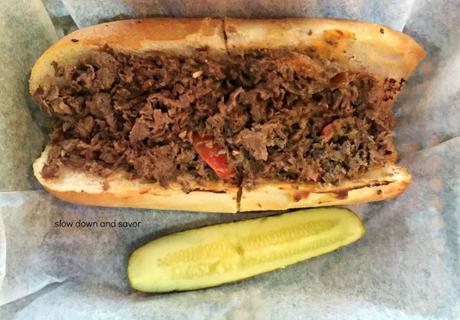 Major was ultra happy with his pizza steak, and ate an entire half of his monster! Michael's traditional steak with peppers was a huge hit, and I was more than pleasantly surprised with the cheesesteak hoagie I opted for. I had really been craving the crunch of the lettuce, onion and tomato, and after my first bite, I was in love. Yep. I was a happy girl.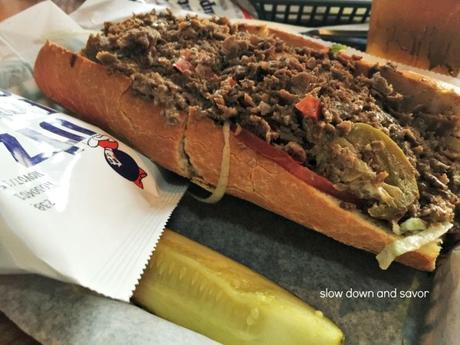 In fact, MaGerk's Pub is now home to the #3 cheesesteak in my personal list of Top 3 cheesesteaks, coming in just behind my #1 Jim's Steaks in Philly, and #2, my beloved Way South Philly food truck in Austin. So, it's safe to say I REALLY liked these.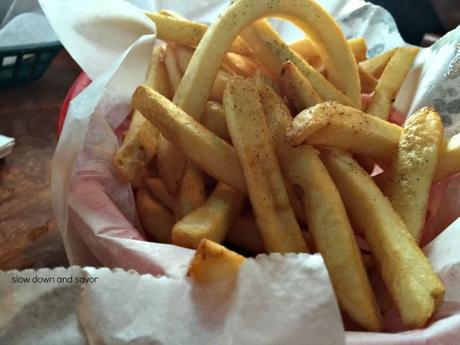 And guess what? I'll be back super soon, thanks to the fact that I won an Instagram photo contest, landing me the prize of a free cheesesteak and draft beer. Toot, toot! That's me, tooting my own horn. I can't wait to go back for another. Maybe I'll try a different steak on the list of 6.
Have you been? What's your favorite?