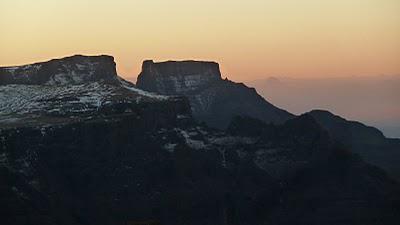 Cathkin peak and its other companions just before dark.
Charly from Belgium was coming to South Africa to take part in the
Big Five Marathon
 in the Entabeni Game Reserve. But he wanted to take the challenge a little further and hike to SA's highest peak a few days after the marathon. He admitted it would have been better if he had had a few more days rest in between. He had done Kilimanjaro by 3 different routes and according to him that was a child's play in comparison with Mafadi.
If you would like to do this hike contact us at
[email protected]
or have a look at our website
www.spanafrican-adventures.co.za
for other exciting options.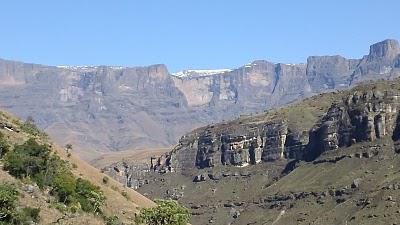 A panoramic picture of the escarpment in the Injisuthi Area, with the Injisuthi Triplets, Red Wall and the Lesser and Greater Injisuthi Buttress.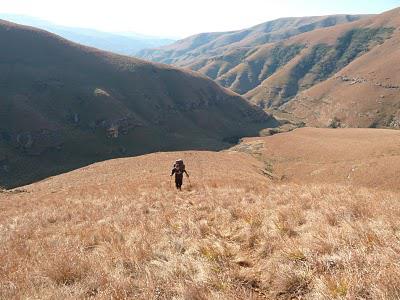 On the big climb of the first day on our way to Centenary Hut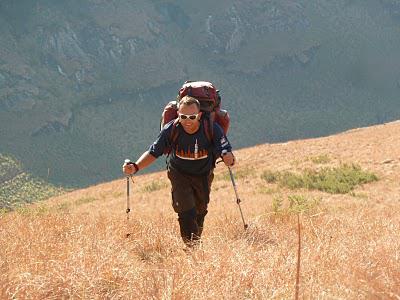 Charly keeping the smile despite the strenuous effort.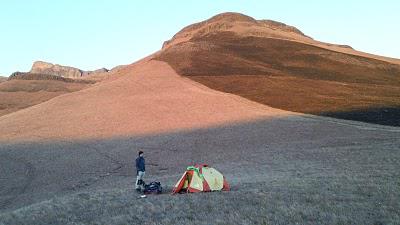 Our campsite by the Centenary Hut.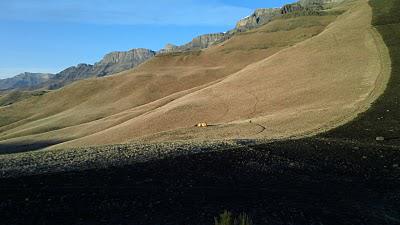 Early winter is the burning season in the Drakensberg. The park is divided into different sections that are rotationally burned on a biennial basis.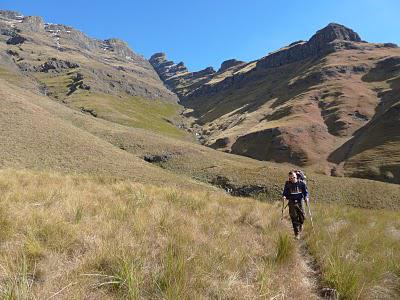 Following the contour path on our way to Judges Pass.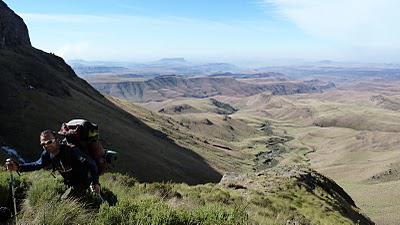 Up Judges Pass. The smile is still there.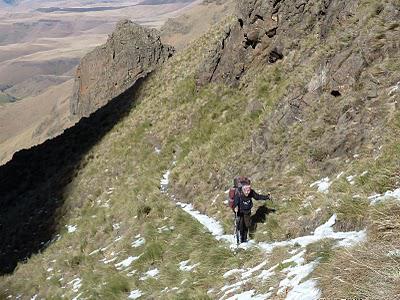 The path was iced up in some sections so some care was needed.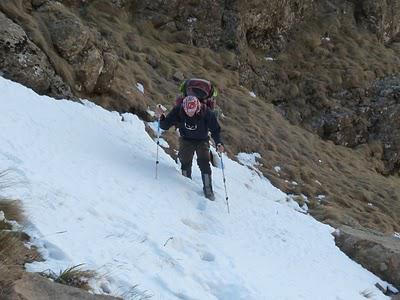 Somebody had been through the snow before us. We just had to follow their footprints.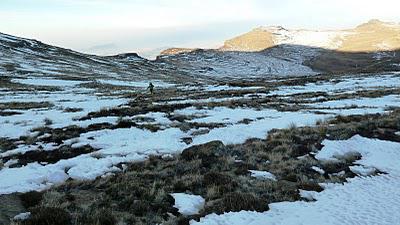 On the southern slope before the hanging valley where our cave was. Fortunately the snow was quite hard and didn't demand any extra effort from us.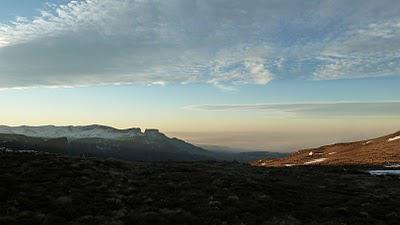 On top of the saddle at last! The cave was not far from there.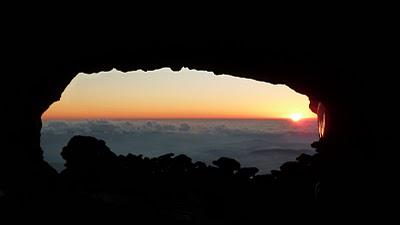 Sunrise from Upper Injisuthi Cave.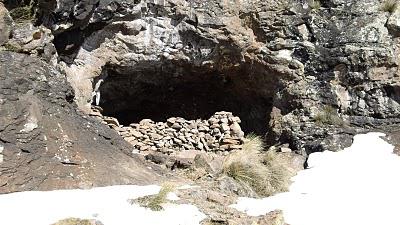 Upper Injisuthi Cave, our cosy shelter. At 3300m it's the highest cave in the Drakensberg.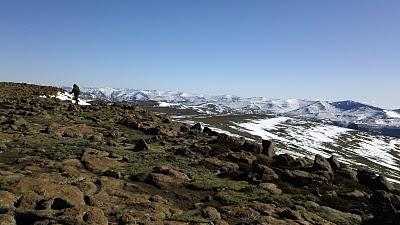 On the Mafadi platform, at 3450m above sea level, with all the southern snowy slopes in the distance covered in 4 week old snow.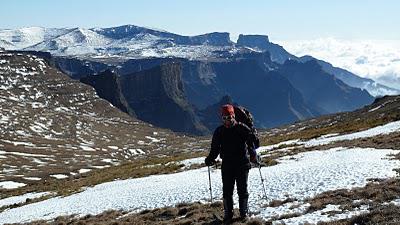 Despite the freezing winds the vistas were well worth it.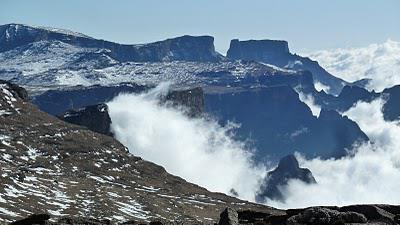 An unusual for winter layer of clouds was quickly rising.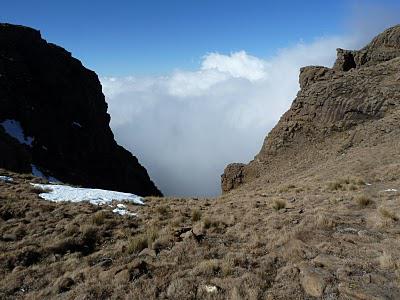 The head of Leslies Pass. It's hard to believe it's possible to walk down there.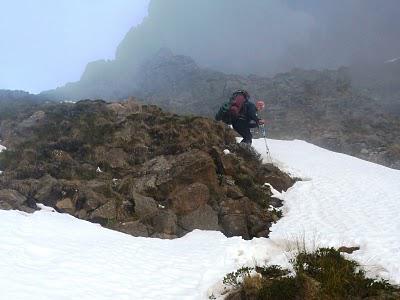 I was worried about the pass being full of snow but it wasn't too bad after all.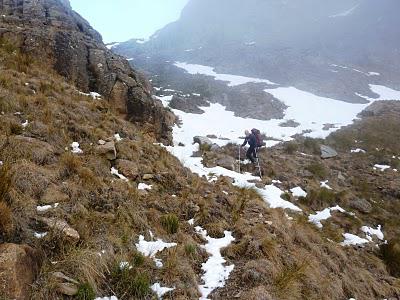 Once we were past the top section the pass was free of snow.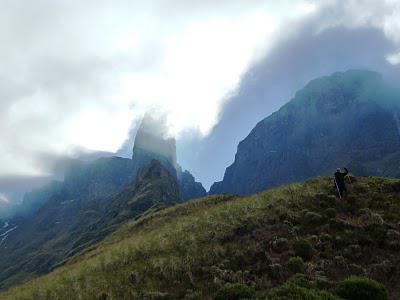 Something different: the escarpment casting a shadow on the clouds.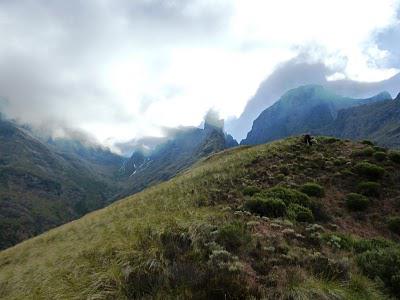 The final metres of Leslie's Pass.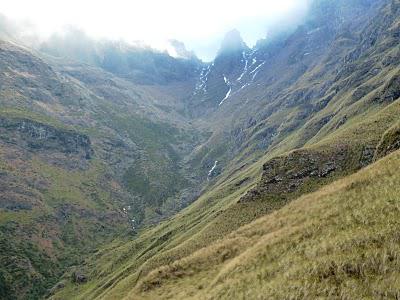 The scary looking Leslie's Pass in full display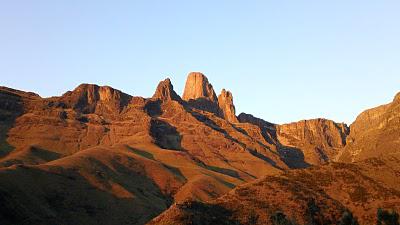 The clouds quickly dissipated during the evening and this is how it looked the next morning.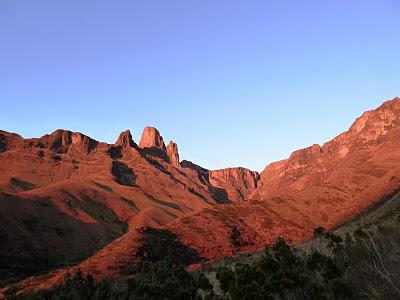 The escarpment in that typical pinkie light after sunrise.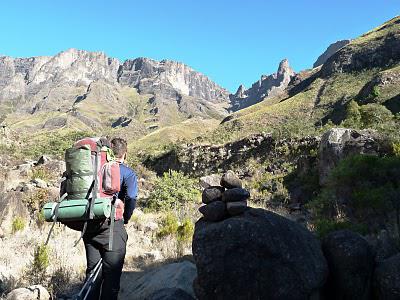 Looking back to where we had come from.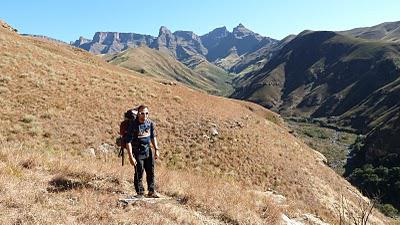 The Ape and Old Woman Grinding Corn in the background.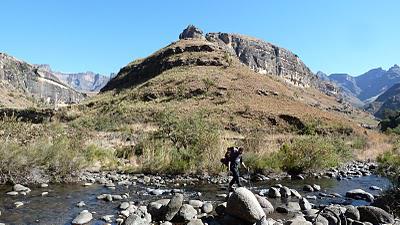 The confluence of the Injisuthi River and the Marble Baths Stream.