Writing and pictures by Charles Hughes, 2016 participant.
Going to bed with the sound of rain hammering down on my (not very watertight) tent, was rather depressing, but not nearly as bad as waking up, in my now damp sleeping bag, to the sound of even heavier rain still pounding down on the flimsy structure. I tried comforting myself with the thought that a tent always makes the rain sound worse than it actually is, but still, I was disappointed that our last riding day in Mongolia looked to a wet, cold and muddy affair.
Perhaps the pleasantly warm and dry weather we had had up until then was making me soft. A little rain and mud was nothing to what the locals experience in winter, when a blanket of frigid air sweeps down from the arctic, crosses Siberia and malignantly settles over Mongolia, causing temperatures to plummet down to -40 C.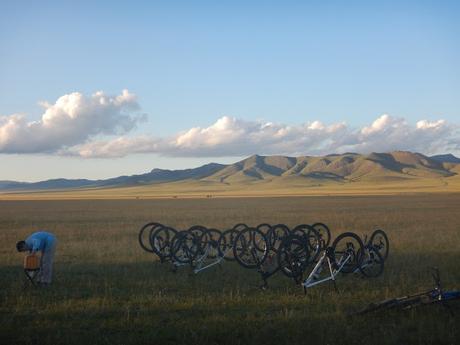 A campsite with a view.
Braced with that thought, I leapt out of bed, which is an impressive feat when sleeping on the floor, and joined the other 11 riders as we prepared to splash off into the rain. The group's resolution to ride every flipping inch (EFI in touring jargon) of the trip only lasted until the tea break, at about the 30km mark, when a quick pow-wow resulted in most of the group deciding to end their tour in the dry of our quaint, but spectacularly unreliable, Russian made support vehicles.
The thought of relaxing in the dry of the vehicles was tempting, but was a bit too much like giving up, so I joined Tristan and Carlos in riding on, but with some trepidation. My legs were not in great shape following the mini race Thys and I had had the previous day, up some surprisingly tough climbs. Mongolia is famous for its endlessly flat steppes, but in the North West, where we were riding, it was definitely more than a little hilly, at times reminding me of the Rockies with its pine covered mountains.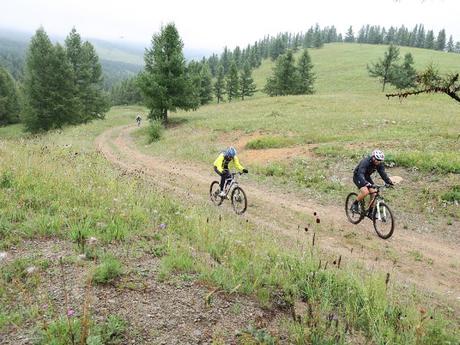 As always, it's hard to avoid a bit of surreptitious racing on the hills.
Our pocket-sized Mongolian mechanic and guide, Turu, was probably less than thrilled that some of us felt impelled to ride on, and that he would have to join us in this foolishness. But with Turu it was hard tell, and he simply mounted his (extra small) bike and, like the wrestling champ he is, led us out for another 50km of wet and mud. The only time I saw Turu's demeanour slip a bit was when Cheryl and Rose were going some minor surgery on his ankle, unfortunately without the benefit of any anaesthetic. It clearly hurt like hell, but it was clearly necessary as his ankle was a bit of a mess, and it healed quickly after their painful attentions.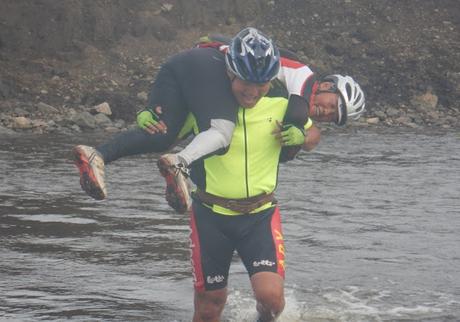 Some Mongolian teamwork on display - Turu being playfully assisted by his boss.
Part of the reason I persevered in riding those last, muddy, 50kms (other than plain bloody mindedness) was because there was the prospect of hot showers and a dry bed that night. We were heading for a 'Ger Camp', a collection of the round, wooden framed and felt covered tents that are elsewhere known as Yurds, but in Mongolia are known as Gers. Being surprisingly spacious, warm and pretty water proof, sleeping in a Ger was going to be a bit of an improvement on a two-man tent.

The design of the Ger is fairly standard, and is thousands of years old, and yet they are still the only form of accommodation used by the local nomadic herders, and are the only structures that are seen outside of Mongolia's few towns - and in rural Mongolia they even serve as motels.
As we peddled into our Ger camp on the outskirts of Karakorum (originally the fabulous capital of Genghis Khan, but now a sleepy backwater) it struck me that the Ger is a symbol of the significant contradictions that are evident in the modern Mongolian state. Gers are quite practical, and very picturesque, but also a bit archaic, and look strange, if not a bit ridiculous, when there is a late model Land Cruiser parked outside and satellite disks and solar panels decorate the roof. It is evident that the Mongolian herders, for all their ancient nomadic lifestyle, have done very well out of the burgeoning demand for protein from their increasingly wealthy Chinese neighbours. Although large herds of horses still grace the landscape, ever fewer Mongolians are riding them, and today motorcycles and jeeps are the preferred mode of transport.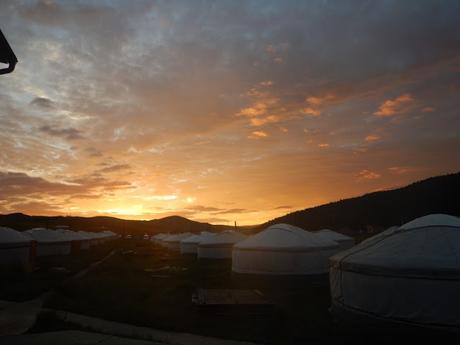 Sunset over a Ger Camp motel
If Land Cruisers and Gers make strange bedfellows, then so too do other aspects of the Mongolian lifestyle, as is vividly displayed in the land ownership issue. In order to support their nomadic lifestyle, the herders have to be able to travel where they please, unhindered by farms and fences. This means that outside of the few Mongolian cities, there is no private ownership of land, and hence no farms and no fences.
With no private ownership of the land, there is little but local custom inhibiting herders from expanding their herds beyond the capacity of the available grazing. This has not yet developed into a social and environmental problem as Mongolia is one of the least populated countries around (next only to Namibia), with the harsh climate having previously limited herds (and herders). In more modern times a communist system limited herd sizes, but the introduction of a democratic government in 1984, and the un-leasing of free market forces, has resulted in Mongolia becoming vastly more prosperous, and the national herd growing very much larger. Competition for grazing rights is therefore likely to strain the current harmonious relationships between families and clans, and without private ownership of the land, resolving future land disputes is likely to become a major headache.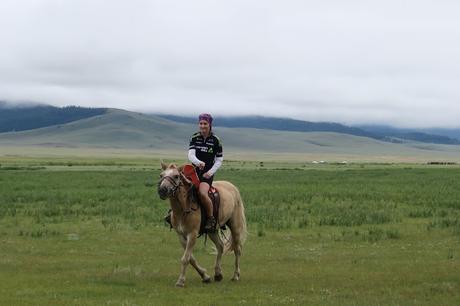 Not normal horse riding gear – and check out that horrendously uncomfortable saddle (Mongolians understandably  ride standing-up)
BUT……… that's a problem for the future - for now it's heaven for mountain biking and outdoor types. It's like the whole country is just one massive public park. Roads are scarce and most travel is by a bewildering web of jeep tracks crisscrossing hill and dale. Just turn off the road and ride where you like, camp where you like, and you do this over THOUSANDS of kilometres. You can also get horribly lost, so a guide is not a bad idea, as are support vehicles, as food and water are not readily available. The locals are friendly, but mostly just ignore the odd mad mountain biker, so you can just get out there and do your own thing - and above all, it's big, beautiful and unspoilt.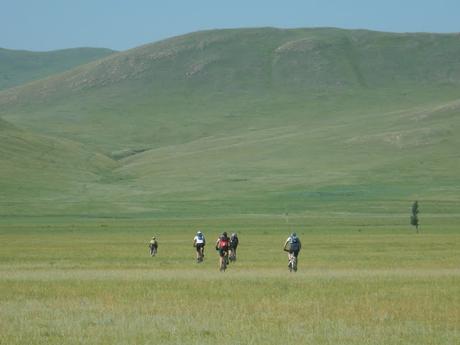 Some hard-to-beat MTB territory
So, as we came to the end of our brief MTB tour of Mongolia (we only had time for 650 kms of riding), it was with some regret that I abandoned my hired bike (a not too bad giant 27.5) for the flight home and the looming chaos that is Beijing airport. Almost predictably, two of our group missed our connecting flight to JHB, and for some time we feared that they might be lost forever in the airport chaos.
Now for that Moroccan trip……