Mom just got back from Phuket and Bangkok.  I didn't want to send a list over there with her even though she told me to give her one because it was a business trip and she hardly had any time, but last minute yesterday she texted that she'd be at the Duty Free (tax free shopping) area and she asked me what I wanted.  I told her to choose from my pre-selection of 2 MAC brow pencils and a Studio Fix powder, a full coverage powder foundation.  She got both in Bangkok, 'coz in Duty Free Phuket there wasn't a MAC store in sight, and she threw in a pair of the highly acclaimed gel  Bobbi Brown as a surprise bonus from in-flight Duty Shopping on board Thai Airways.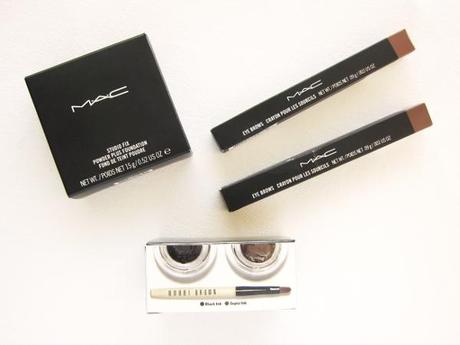 CLOCKWISE: MAC Studio Fix Powder NC30 – Price in Bangkok: THB 1190.00, Php 1666.00, US$38 (Orig cost in the U.S. $27),

MAC automatic Brow Pencils "Lingering", "Brunette"  – Price for each Bangkok: THB 595.00, Php835, US$20 (Orig cost in the U.S. $15)

Bobbi Brown Long -wear Gel Eyeliner DUO SET "Black Ink" and "Sepia Ink" – Price on board Thai Airways : US$47 (Orig individual cost in the U.S. $22 each pot)
That Bobbi Brown bonus was exactly what I wanted to have and I didn't even tell her that I secretly wanted that.  The truth is I'VE NEVER OWNED ANYTHING BY BOBBI BROWN COSMETICS IN MY ENTIRE LIFE because the price always put me off and I could never part with that much money (by myself)  for just one or two items.  Moms are cool like that and duty free is the best way to go for luxe cosmetics.  She probably remembered that I complimented a friend's wife at a reception who claimed she was wearing Bobbi Brown gel eyeliner.  I'm super excited to review these items for you.  Happy Holy Thursday!