MAC Alluring Aquatic Collection

is gonna be hitting the counters soon in India in all its teal, water-splashed glory!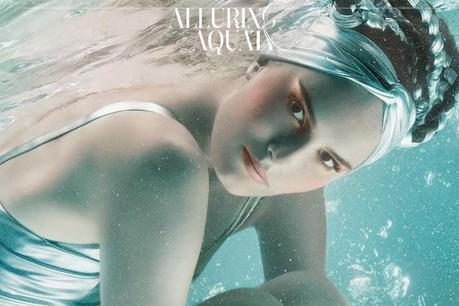 Now the packaging is killer, every one knows & yearns for it! How about the products in the collection?
That is what I am exactly gonna help you with in this post today!
Packaging:
Shiny, metallic teal finish with water droplets speckled all over the packaging is a delight to look at it! I don't remember any other brand/product that had come with such a refreshing-killer packaging!
This was launched for Summer 2014 in the US, whereas with its apt packaging, its hitting Indian shores now over the monsoons (or the lack of it!) :D
Products in the collection:
The entire range in the MAC Alluring Aquatic Collection includes -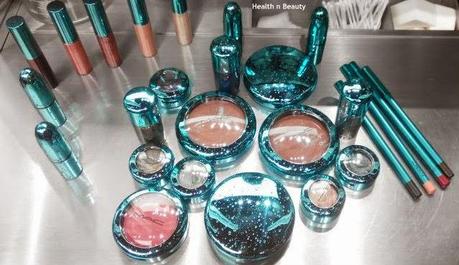 Lipstick - 5 shades
Lipglass- 5 shades
Lip Pencil - 2 shades
Extra Dimension Eye Shadow - 6 shades
Pearlglide Intense Eyeliner - 2 shades
Bronzing powder - 4 shades (2 shades are extra dimension)
Extra Dimension Blush - 2 shades
Nail Lacquer - 3 shades
Makeup Bag - 1 variant
Makeup Brushes - 2 variants (Split Fibre Face Brush, Split Fibre Eyeshadow Brush)
Of these the makeup brushes, makeup bag seem to be not launched in India.
Also only 4 of the 5 lipsticks & 1 of the 2 extra dimension blushes are to be launched here!
Continue reading the post, to more details on what is launched & not! :D
LIPSTICK - INR 1350
Following lipsticks are to be launched in India -


Enchanted one

- Neutral peachy-coral.


Pet Me Please

- Shimmery peachy-beige. Has a frost finish.


Siren Song

- Champagne-beige with frosty finish.


Goddess of the Sea

- Berry with purple undertones.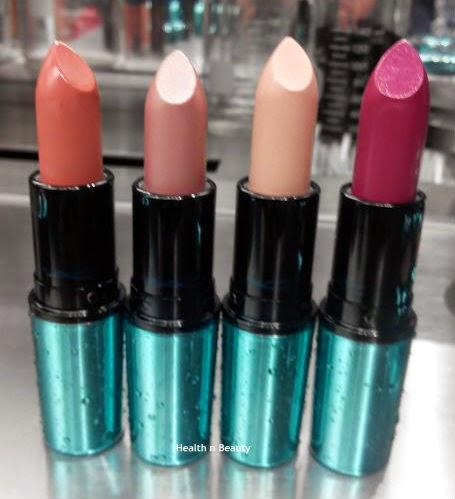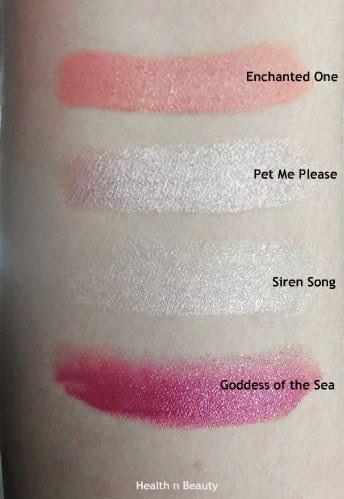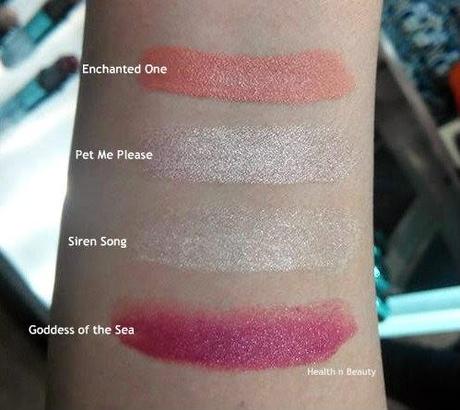 Shade

"Mystical"

appears to be not launched here - atleast in Hyderabad!
I like Goddess of the Sea obviously in this collection! :)
LIPGLASS - INR 1350
The entire lipglass collection will be available in India.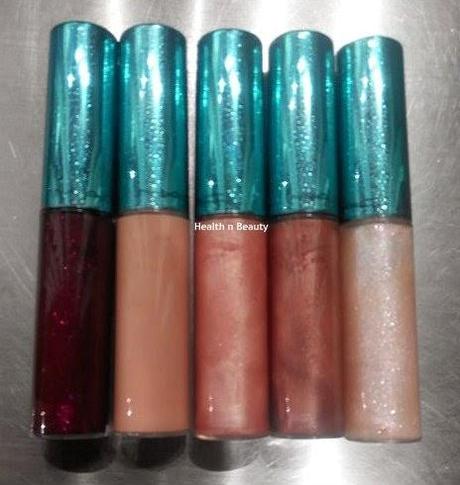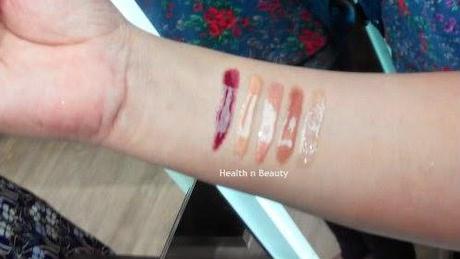 Swatches L to R are -


Modern Lure

- Berry-red shade with pink shimmer.


Peachstock

- Peachy nude.No shimmer.


Water Deities

- Light brown with beige & bronze shimmer.


Seducing Sound

- Plummy-bronze with bronze & plum shimmer.


Clear Water

- Sheer beige with silver & white shimmer.
Modern Lure suits my taste amongst the lipglasses though I'm a no gloss person.
LIP PENCIL - INR 1350
2 lip pencils are launched in this collection being -


Half Red

- Plum with light red undertones.


What Comes Naturally

- Peachy-beige shade.
Half Red has to be my pick from the lip pencils.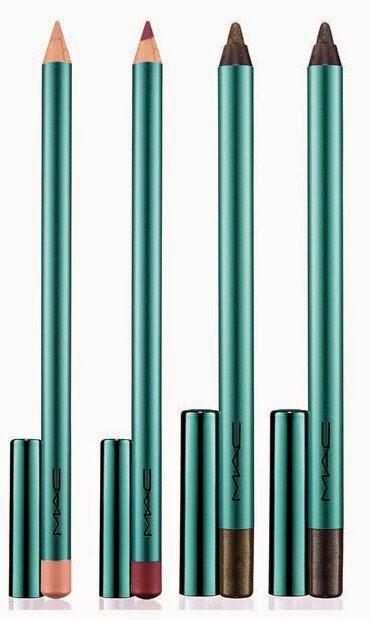 PEARLGLIDE INTENSE EYELINERS - INR 1250
2 shades have been launched in this line -


Black Line

- Black with golden olive shimmer.


Black Swan

- Black with silver shimmer.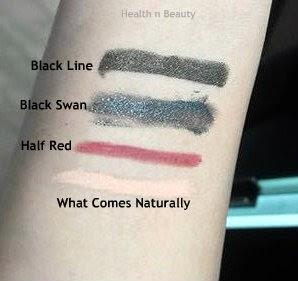 Both the shades are absolutely stunning!
EYE SHADOWS - INR 1500
6 eye shadow singles are part of this collection, of which I could spot 5 at the store.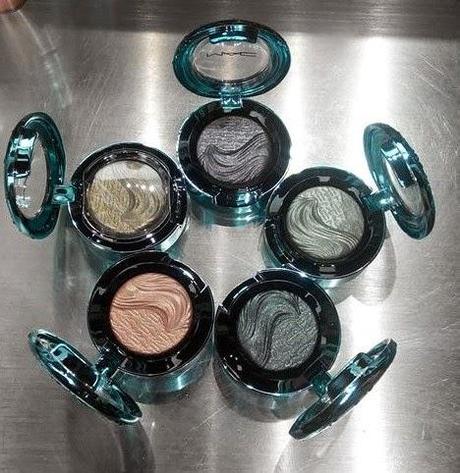 Fathoms Deep

- Gunmetal with hint of blue.


Lorelei

- Golden beige with hint of peach.


Legendary Lure

- Tealish gray.


Silver Sun

- Dirty green.


Sea Worship

- Yellowish olive with golden sheen.
Swatches without flash -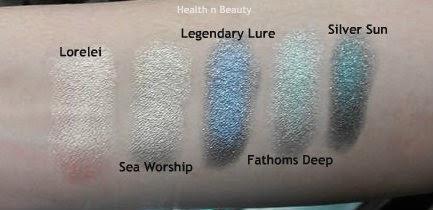 Swatches with flash -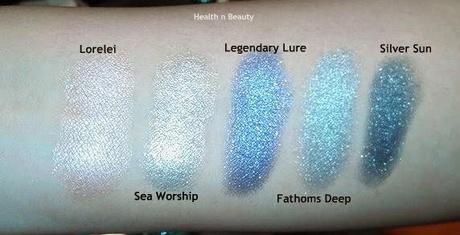 I could not spot shade

"Soul Serenade"

at the stores.
I like all the eyeshadows from this collection. They are crazily pigmented and ideal for party/festive wear.
EXTRA DIMENSION BLUSH - INR 1850
There are 2 extra dimension blushes in the collection. Only 1 of 2 is launched here.


Sea Me, Hear Me

- Warm coral with pink undertones & satiny finish.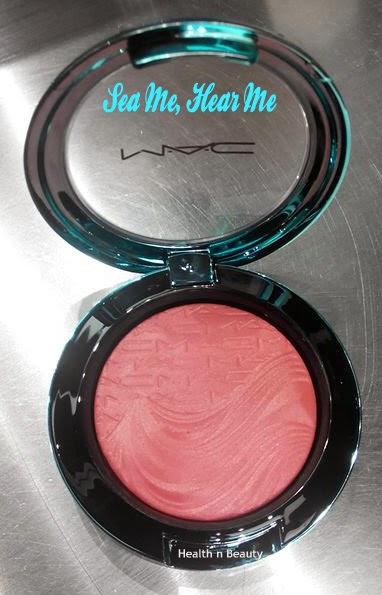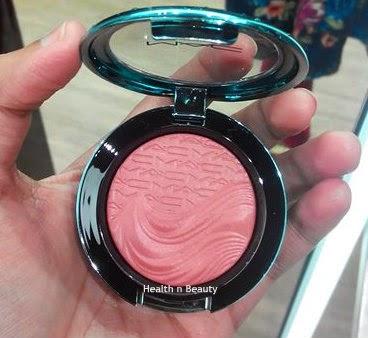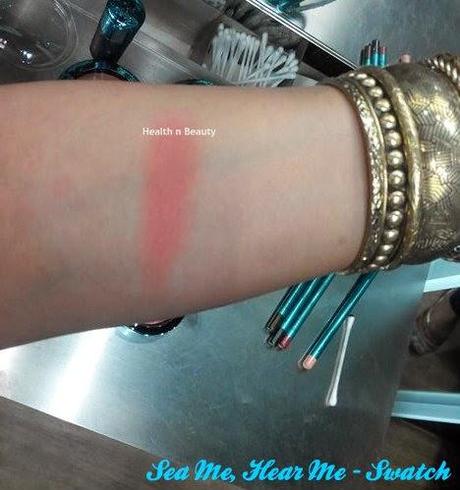 The other one missing is

"Seduced at Sea"

. MAC describes it as "mid-tone neutral plum".
I was all out for Sea Me, Hear Me ever since it launched in the US, and glad that it got launched here too!
BRONZING POWDER - INR 1950
There are 4 bronzing powders launched of which 2 belong to the extra dimension range.
The two extra dimension bronzers are for INR 2100 each.


Aphrodite's Shell

- Golden bronze with a fine touch of shimmer.


Delphic

- Fine brick tan with a hint of shimmer.


Golden

&

Refined Golden

are the other two shades of bronzers.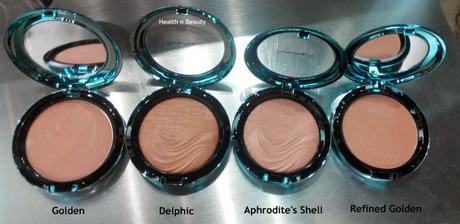 I couldn't manage to take the swatches since they didn't seem to show properly in the store lighting across my skin.
NAIL LACQUER - INR 1050
The 3 nail lacquers in this collection include -


Neptune

- Frosty yellowish-antique gold with brown undertones.


Shimmerfish

- Metallic silver with bronze shimmer.


Submerged

- Blue & teal duochrome shade with teal shimmer.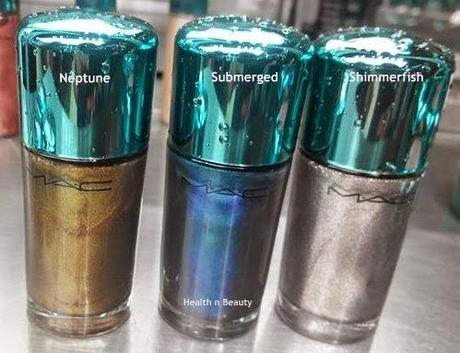 Neptune has to be my absolute favorite in this range! Have not come across a shade like this before! :)
The makeup bag & makeup brushes don't seem to be launched here.
This completes my post on MAC Alluring Aquatic Collection. And this has launched this Friday already (July 25).
What products are you looking out from this LE collection?