maa vathal milagu kuzhambu - dried mango pieces in pepper based sauce
maa vathal milagu kuzhambu recipe is my favorite recipe and in our family we make this with more peppercorns and fennel seeds.This is the perfect kuzhambu for cough and cold and this is the perfect comfort food for winter.I already shared milagu kuzhambu recipe here with chicken,check it chicken milagu kuzhambu.
This is milagu kuzambu recipe with some dried mango pieces which we make in large quantity during summer.In some households in our hometown,they separate the seeds and chop into some big chunks and dried them and then pickled it using spices.Dried mango pieces are made by using mango pieces and salt,mix them roughly and then sun dry them till it dries completely.You can use it in your recipe,by soaking it in recently boiled water and water for sometime to soak and then mix it with your kuzhambu recipes.

Those days makes me nostalgic and Amma make mango kuzhambu everytime i visit hometown after marriage.The kuzhambu making is really an art and everyone has their own version of kuzhambu making.This time i achieved making this kuzhmabu perfectly and you can store it for upto 3 days.Make this kuzhambu the day earlier and then consume it on next day.This is the medicinal based kuzhambu,so must add garlic and peppercorns and these are the two ingredients which enhance the taste to the kuzhambu.lets move on making this recipe.,
maa vathal mizhagu kuzhambu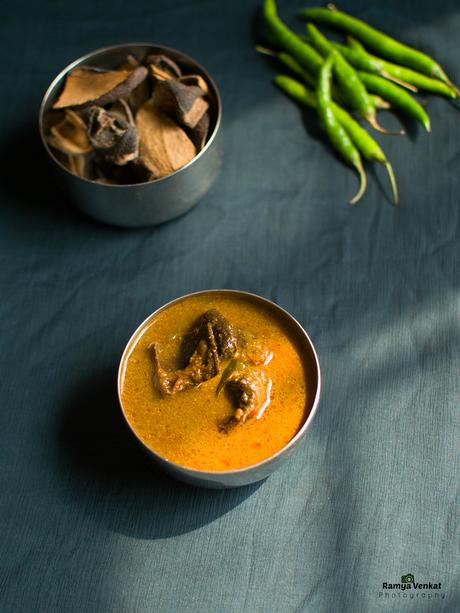 dried mango pieces cooked in pepper based stew

Ingredients

maa vathal/dry mango pieces - 1 cup
onion - 1 roughly chopped
tomato - 1 roughly chopped
garlic cloves - 10 nos
turmeric powder - 1/2 teaspoon
red chilli powder - 1/4 teaspoon(just for flavor)
coriander powder- 2 teaspoons
coconut,fennel seeds,peppercorns - for making paste
tamarind pulp + water - 1/2 cup
curry leaves - as needed
mustard seeds,black gram seeds - for tempering
hing/asafoetida - a pinch
salt - to taste
water - as needed
sesame/gingelly oil - as needed(use this oil for better results as it is medicinal based kuzhambu)
Instructions
Boil water according to your mango pieces quantity.Take the dry mango pieces in a bowl and add the boiled water.Wait for 15 to 20 minutes to get that ready.
Heat sesame oil in the kadai,then add mustard seeds,black gram seeds and curry leaves to it.Once they splutter,add garlic cloves,onions to it and saute it well.
Now add tomato to it and cook till it get done.Now add coriander powder,red chilli powder,turmeric powder along with tamarind water.
add enough salt here just for onions and tomatoes,because the mango pieces already has salt in it.
Now add the paste made from coconut,fennel seeds and peppercorns.Dry roast them and then make the paste for long lasting capacity.
add enough water to adjust the consistency.Add hing/asafoetida to it and then mix it well.
Finally add the soaked dry mango pieces and simmer it for 5 to 6 minutes and then switch off the flame.