javvarisi pasiparuppu payasam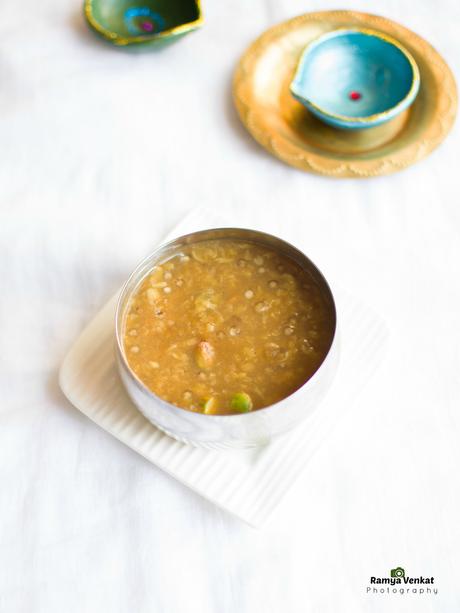 pudding made with sago pearls and lentils

Ingredients
pasiparuppu/moongdal - 100 gm,cooked
sabudana/javvarisi - 50 gm
jaggery - as needed
cardamom pods - 3 nos
almonds,cashews - as needed
ghee - 1 teaspoon
coconut - 2 tablespoon
Instructions
Take the moong dal/pasiparuppu in a kadai and dry roast them gently.Add water and cook them till it get done.Mash it well with the masher and keep it aside.


Heat 1 teaspoon ghee and roast the cashews and remove them once it get browned.Now add the sago pearls or javvarisi to it and roast it till it pop.Now add water to it and cook till it get done or it becomes translucent.


Once the javvarisi get done,add the cooked pasiparuppu and mix it well.Add enough jaggery as per your sweet level and give a mix.If you are adding crushed jaggery,you have to wait till it melts and combines well.


Now add crushed cardamom pods and mix it well.Add little boiling water to adjust the consistency.
Finally add the coconut powder or roasted grated coconut to it and switch off the flame.Top it with sliced almonds and serve.