Ola!  Here I am, about to feature the best drugstore priced lipsticks I've encountered in a department store.  After my recent frustration with Maybelline's "Bold Matte" lipstick range I concluded only for awhile that Wet & Wild Megalast matte lipsticks were the only available products worthy enough to be called top drugstore matte lipsticks locally…but their lipstick tubes suck and I have cleaned up a mess of lipstick in my pouch as a result.  Apart from the cheap packaging, the Wet & Wild ones are pretty good or maybe even perhaps the Jordana matte range.  However, Jordana is inconsistently available in local "Dollar Stores" and if you think about it those are both US brands.  Today I've got some lovely Filipino lipsticks to rave about.  M & Co., a direct selling Filipino fashion brand endorsed by the lovely Mikee Cojuangco, have been around for a long time supplying clothes and apparel.  Their cosmetic range has been around for a year or two but it seems like it's only been a few weeks or months since they suddenly were made available in department stores.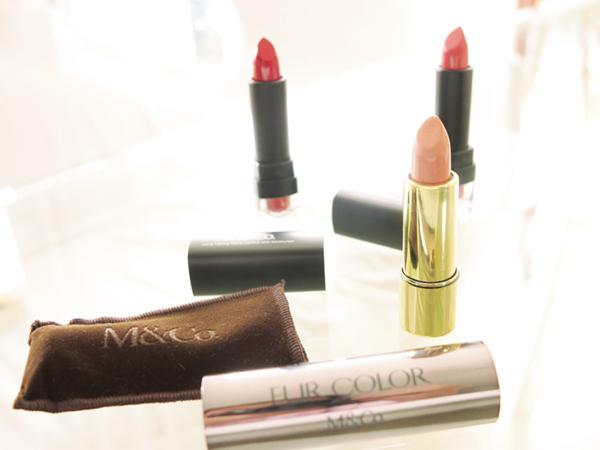 All 3 lipsticks you see here are M & Co. matte lipsticks.  The two colors behind ("Scarlet" and "Blazing Coral") which cost Php170 are from the cheaper range and the Php200 gold one in front is the nude shade "Biscuit" from the Eur Color Collection.  The M & Co. Eur collection is a mixed more luxe-ly packaged collection of frosted, matte, and satin shades with smaller, elegant lipstick bullets.

I never saw this range in public retail before so bite me if they've been there awhile.   These look glossy on the outside only when they're brand new but upon use they lose that outer sheen and they're matte lipsticks through and through.  Along with this range I also discovered my absolutely PERFECT spot on coral lipstick, Blazing Coral.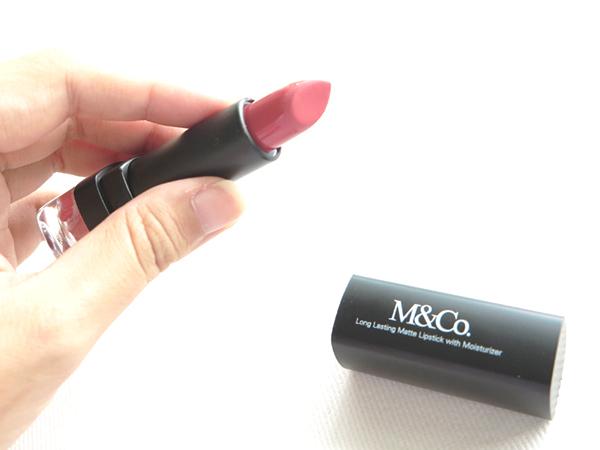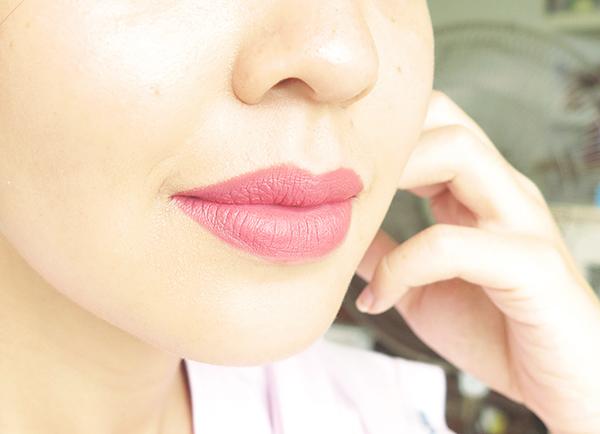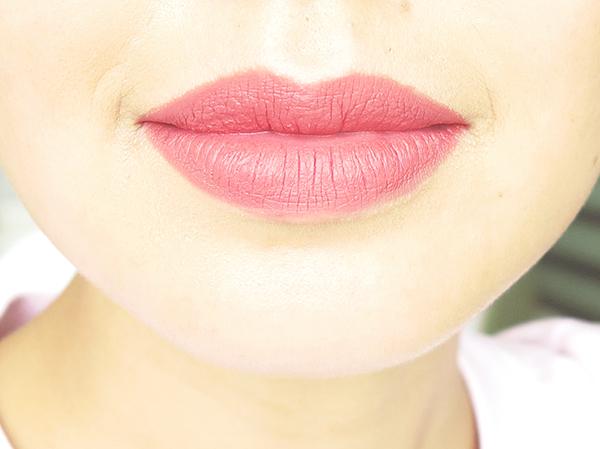 Before I mention any of the others I have to begin with this particular matte shade from the cheaper range, which even topped my ecstatic encounter with the also lovely Maybelline 14-hr shade, Stay With Me Coral, (a cooler hued coral).  M & Co.'s Blazing Coral is the perfect could-have-been bright warm coral that's been subdued just enough but not too much (so it isn't Grandma) and as a result it still makes a pretty bold statement on my lips without waxing garish against my MAC NC30 skin.  This shade in my opinion could look good on skins as deep as NC40, but it would probably behave like a medium coral nude against tanner skin.  Click read more to see more photos of the other shades and see my kiss test after blotting to check just how matte these can really get.
In addition to that winner of a coral choice I picked up a must-have red called "Scarlet" which is anything but blah…it's a blend between something like MAC Ruby Woo with a bit of the deepness of Russian Red.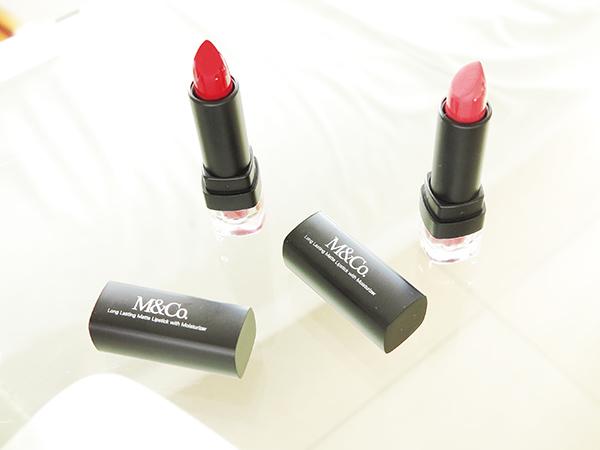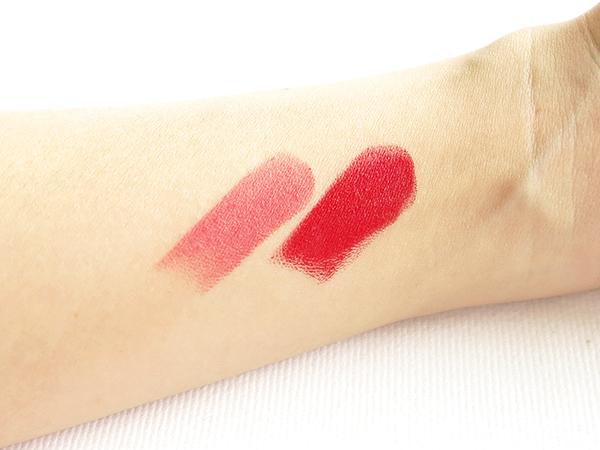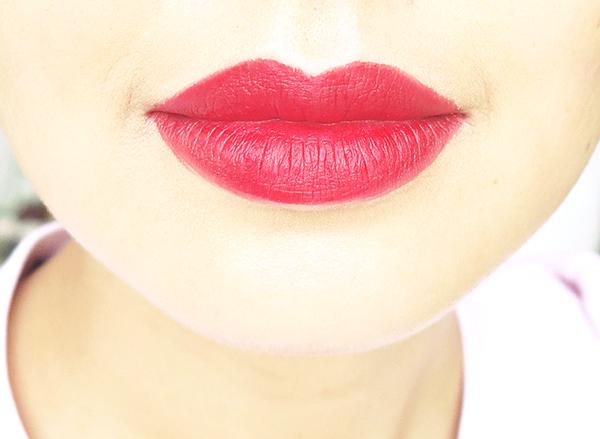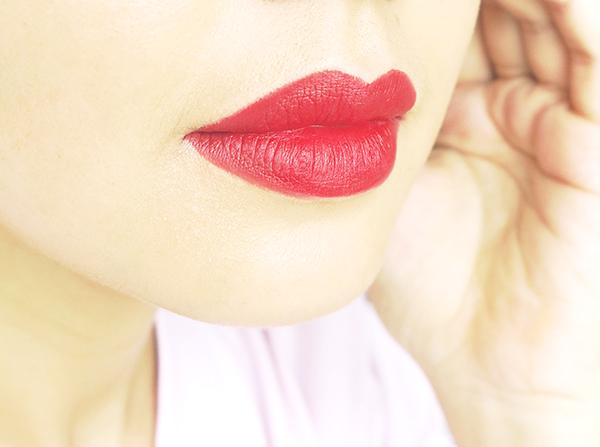 Scarlet just after application: a thin layer with a lip brush first, then a strong layer direct from the bullet…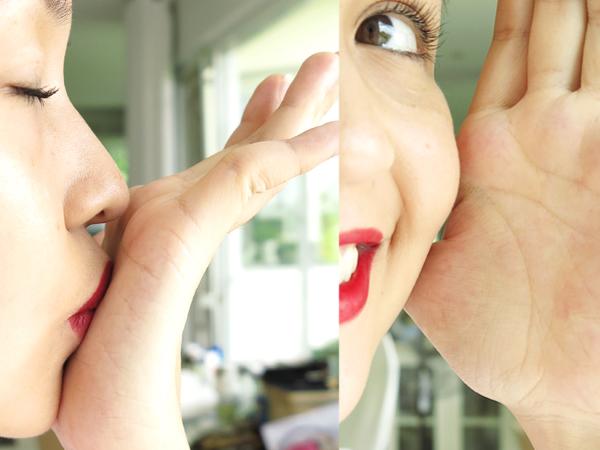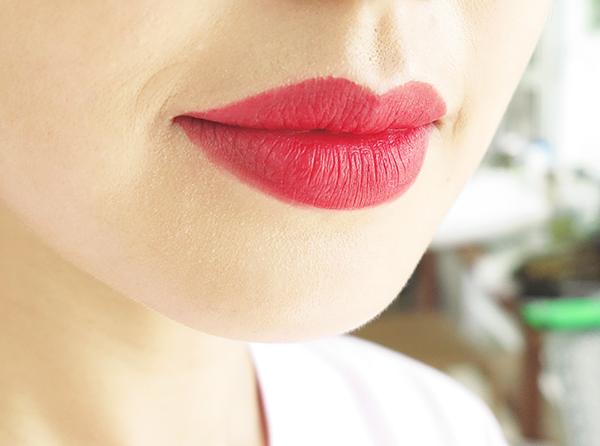 M & Co. Scarlet (Php170) matte lipstick after blotting tightly with tissue is very, very nice.  Once blotted you can confidently still eat with this shade on and it will fade a little but won't go everywhere around your mouth.  If you're morena in color and like it deeper they've got an ox-blood red deeper than this which is a warm dupe of MAC Rebel.  There were 2 other popping pink shades but if you're not someone who's fairer than me in complexion I'd advise against them.  M & Co's Scarlet goes on semi-matte on the lips but once it's set or blotted it's completely matte.  Next up is the nude shade from the Eur Collection, Biscuit.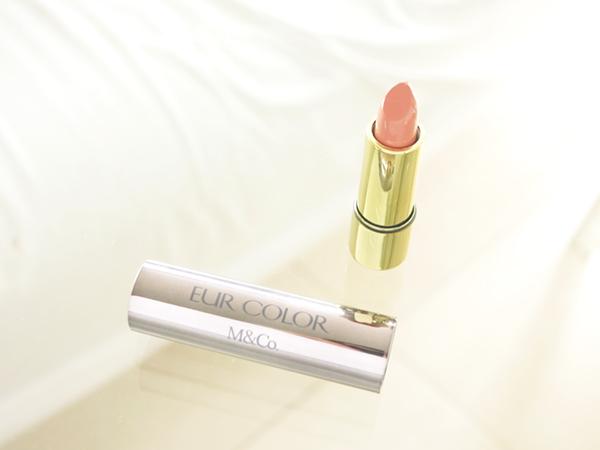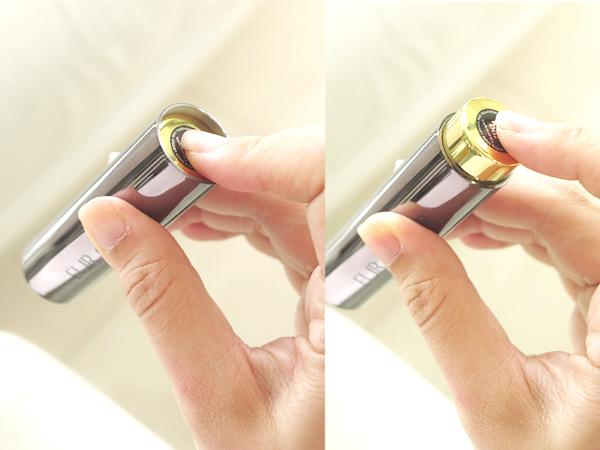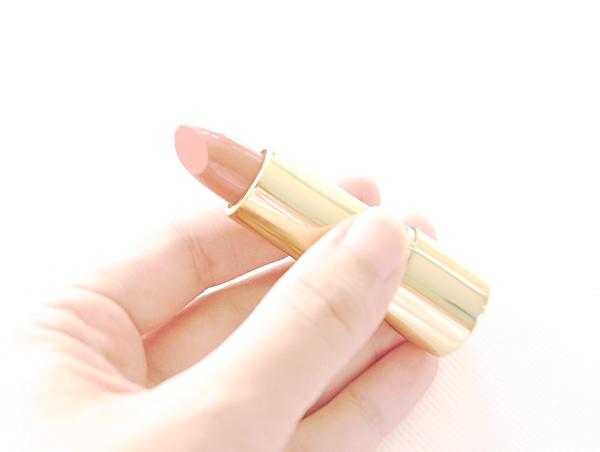 The peach tinged nude shade "Biscuit" is still called M & Co. Matte Lipstick on the box, this comes in a more special metal tube but the lipstick bullet is smaller…in my opinion it's certainly petite and less in gram weight but looks more elegant tossed into a clutch or evening bag.  The tube is really unique as well, you withdraw the lipstick from the tube just by pushing the bottom so the applicator pops out, to return the lipstick push it back in…it's a unique spring sort of mechanism that's very chic and quite a novel way to unsheath your secret weapon.  "Biscuit" is a nude shade that's perfect for me when I'm not tan, and I'm an NC30 girl at my palest.  The cheaper matte range in black casing also has a nude called "Skin" but I found "Skin' to be too cool for me so I opted for "Biscuit" instead even if it was from the Eur Collection.  Biscuit, which is one of the few matte shades among the Eur colors has a softer, velvety matte finish that doesn't drag too much but you need to layer twice to get it completely solid or opaque.  It also wears quite well while eating.