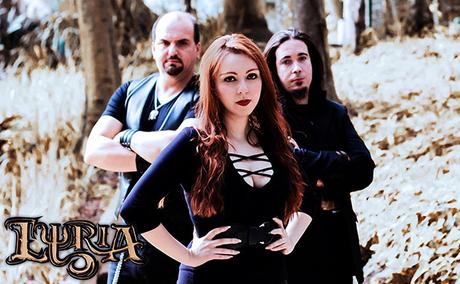 What's new Metalheads! I'm going to introduce today a new Symphonic Metal band from Brazil, they are called Lyria and they have released a great debut album entitled "Catharsis".
Lyria was founded in 2012 in Rio de Janeiro by the singer and songwriter Aline Happ, who immediately composed the first Lyria's song entitled "Reflection", inspired by the Narcissus Myth. This first song achieved very good feed back around the world, and the next goal for Aline, was to define the band and have the opportunity to record the Lyria's debut album.
Eliezer Andre (drums) and Thiago Zig (bass) joined the band as official members in 2013 and Lyria was finally embodied as a band. After several concerts, these guys decided to focus on the first Lyria's album, which was born after a successful crowdfunding campaign in 2014, where fans from around the world contributed to the recording of this debut album called "Catharsis".
With influences from bands like Within Temptation and Evanescence, "Catharsis" album shows us a fresh and melodic sound plenty of symphonic elements, heavy guitar riffs and the beautiful and sweet voice of the mezzo soprano Aline, offering us a deep world of emotions and sensations.
All the lyrics in the album talk about bad moments in life, but there is ever a light at the end which make us to see the things with a positive point of view, and all songs in the album transmite us good vibes and, as the album's title says, they mean a particular "Catharsis", keeping us away from negative feelings.
"The True War" song has a cool symphonic surrounding sound with nice Aline's voice and great male backing vocals. The second track "Revenge" with fantastic guitar riffs and some alternative metal elements, as well as a great guitar solo is really another good song in the album.
"Jester" song is a beautiful and catchy track with an excellent Aline on vocals and powerful and heavy guitar riffs, which makes this song, without doubt, a great single from the album.
Aline Happ is absolutely amazing in the next song entitled "The Phoenix Cry", this is a sweet and quiet track with nice changes of peace, very good riffs and guitar solo… and I assure you that you will fall in love with the voice of Aline, if you have not done so yet!!
"Reflection" is a very good and catchy track with nice solo and great guitar riffs, and "Insanity" song has a powerful base on drums and guitars, with a nice symphonic background sound.
"The Phoenix Rebirth" spreads the wings of a great way and the sweet voice of Aline flies over good and heavy guitar riffs completing another great song in the album.
One of my favorite songs of "Catharsis" is "Light And Darkness", Aline is excellent and the track has really a great feeling. You can enjoy this song by clicking the following link.
LYRIA – Light And Darkness (VIDEO)
by MetalWind
The next song entitled "What Do You Want From Me" is a great track that I also recommend you, with nice guitars and a cool solo, and closing the album there is "Craven, a beautiful song with a fantastic begining, the perfect combination between acustic guitars and sweet Aline's voice is really amazing!!!
Ok, guys, here is a great Brazilian Symphonic Metal band, which has released a very good debut album, that I absolutely recommend you!!
I invite you to listen to "Catharsis" album and discover to Lyria band. Enjoy and leave your comments!!
I send greetings to my friend Aline Happ and Lyria!! Fantastic works, guys!! Well done!!
Follow Lyria:
http://www.lyriaband.com
https://www.facebook.com/lyriaband
https://www.youtube.com/lyriaband