We can say that iPhone added a touch of grace and elegance to its owners, and we are sure that you will agree with us. Why wouldn't you complement its look with some modern and functional accessories? If you are a fashion-conscious iPhone owner, we have a wide range of stylish cases to go with your iPhone, and one of such cases is Pipetto Luxury Leather Wallet for iPhone 4 / 4S.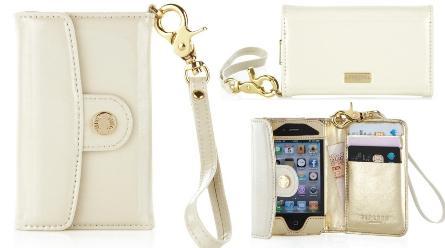 Luxury Leather Wallet iPhone 4 / 4S Case - Pearl
If you go out in a hurry, you might forget your wallet, or even worse your iPhone. Or bringing a wallet in one pocket and iPhone in other is utterly unnecessary. Why wouldn't you combine these two? Leather wallet iPhone 4 / iPhone 4S case by Pipetto is perfect for carrying your smartphone, cash and cards everywhere with you, and it can even be used as an interesting key chain if you simply detach wrist strap. When you don't feel like carrying a bag with you, all you need is this kind of a case, where you can safely tuck away valuables along with your phone!

Luxury Leather Wallet iPhone 4 / 4S Case - Black, Purple, Red
Pipetto cases for iPhone 4 / 4S are made of highest quality Italian leather, and they are available in four attractive colours: pearl, black red and purple. The only drawback is a lack of opening for a rear camera, but it will take you only a second or two to remove the phone from the case, so this shouldn't really be  a problem.