Now, I'm not going to lie - I didn't wait to use this until after I took a photo...Oops, sorry! I've actually had this product for a while, which you can definitely tell from the picture below.
I have used this every week since I got it, it's fantastic!
You apply Roots to dry hair and massage it in, leave for 20 minutes and then shampoo it out. It's designed for fine and thin hair (or 'thine' hair as Lush call it!) and gives a conditioning, thickening and voluminous boost to hair.
Roots tends to be my go to Saturday or Sunday morning product as I have the time to wait for it to work it's magic before hopping in the shower. It has a really fresh smell and is a little minty, which makes it feel quite tingly when it's been applied (this always makes me feel like a product is working!)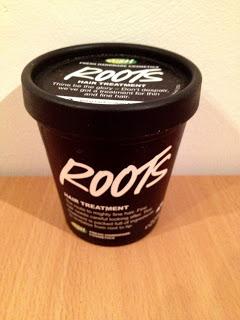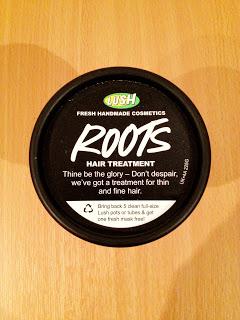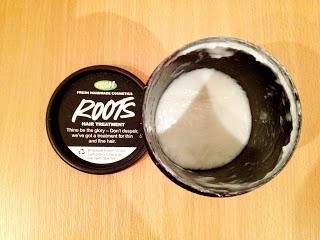 The consistency is a little strange, it's very thick and feels slightly grainy at first, but you don't notice this when you're massaging it in. It's almost like a balm for your hair and it really has helped my hair get into a better condition after the change in seasons (sun and sea frazzling to cold, wind, rain and central heating frazzling, neither of which is great for my tresses!).
Lush products always smell good, but what I love about the hair products is that they leave your hair smelling wonderful for hours after using them. Roots is absolutely no different!