-
SNEAK PEEK ALERT-
An Egg-ceptional collection of inventions for Easter 2014.
I love Easter as it gives me a great excuse to eat my own weight in chocolate but I have noticed lately once Easter has been and gone there is just soo much left over and ends up getting thrown away. I swear I still have some chocolate in the pantry from last Easter.
This year I will not be buying family and friends chocolates or candy, instead they will find super cute Easter inspired goodies from LUSH.
And IF my Mr ends up reading this…. All I want for Easter is a super cute Lush package
J
Please and thank you.
Lush's new bath products especially for Easter ... much kinder to the waistline and the environment, as Lush bath bombs, bubble bars and soaps are solid which means they are preservative free and packaging free. And to top it all off, Lush don't test on animals either, preferring instead to dedicate products to bunnies as opposed to testing on them.
This year's offerings include brand new inventions as well as returning favourites, with a focus on offering value for money. We like to think of it as 'values for money'.
NEW! Golden Egg
bath melt ballistic
($6.50)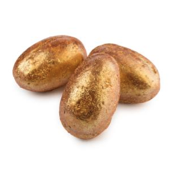 A brand new 

invention, this egg is a bath bomb coated in bath melt mixture. It will unexpectedly sink to the bottom of the bathtub while the outer layer dissolves, popping to the surface as the fizzing center is revealed. The outer bath melt mix is made using our beautiful fair trade, organic, Colombian Peace Village cocoa butter and olive oil from a brand new permaculture project we're working.
I can just imagine 
sinking
 into a bath that has a beautiful gold glow about it and leaves me glowing when I hop on out. This is like Easter gold a super cute release from LUSH, one that is on my list.
NEW! Bunny
bubble bar
($5.95)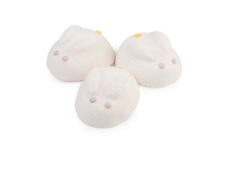 A cute little bubble bar
shaped like a white rabbit, made with a brand new formula. This one has a similar mix to a bubbleroon, with shea butter and coconut oil. This means you get a more condensed bar that can be broken in half and used over two baths. Or you can use the whole things for masses of softening
Creamy Candy
scented bubbles. Inspired by the white rabbit in Alice in Wonderland, this sweet little fellow has a pink tummy containing little cornstarch flowers to float in your bath water. 
Scented with the best selling
Honey I Washed the Kids
fragrance, it's coated with
with in Palestine.
PET free golden luster.
Inspired by chocolate cream eggs, we reverse it and coated the hard bath bomb center with a creamy bath melt shell.
Pretty sure as soon as you mention Honey I Washed the Kids I am completely SOLD! It is one of my favorite scents released by LUSH.
NEW! Carrot
soap
($6.95 for 100g)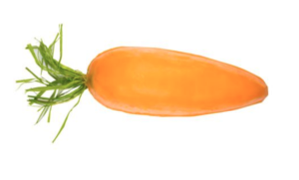 A spectacular
carrot-shaped soap with a bunny hiding in every slice! The orange part is made with carrot oil to moisturise; while the white bunny inside is made with cocoa butter to soften. The fragrance smells nothing like carrots however, as we've used fruity essential oils such as buchu, lemon and bergamot to really make your mouth water.
Bunch of Carrots
re-usable bubble bars
($9.95)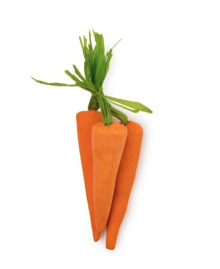 B
ack
from last year, this time as a bunch of three smaller carrots, so each one can be used quicker when it's at its freshest. As a re-usable bubble bar, place under the running taps to create lots of bubbles, then pop it on the side for another time. Fragranced with the same fruity oils as the Carrot soap, there's also a little bit of nutritious carrot oil in each one, which is rich in vitamins and an extraordinary skin soother and rejuvenator.
Super cute and will look fantastic hanging from my bathroom, although this may attempt the kids to climb on the vanity to get to them as I have created mini LUSH monsters (they are also becoming obsessed.) I love that there are three in the bunch and each carrot can be re-used again in the next bath as long as you don't let it crumble away.
Brightside
bubble bar
($10.50)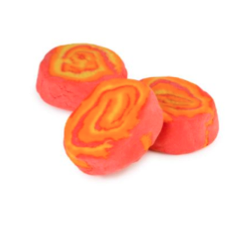 B
ack this year and this
time to stay, as it joins our all year round range after Easter! A bright and cheerful swirl of a bubble bar to give you a fresh and cheerful perspective. Scented with a trio of uplifting and invigorating oils, there's: Sicilian mandarin, tangerine and bergamot oil and just a squeeze of lemon. All are energising and also incredibly toning oils that will lift the spirits and clear the mind. Crumble under the running taps and watch as the water turns into a hazy red and orange sunset with frothy white clouds of bubbles.
 This was my favorite release from last year and had about 3-4 in my collection. This bubble bar reminded me very much of our Aussie Summer sunset with its orange and red color.  
Fluffy Egg
bath ballistic
($5.50)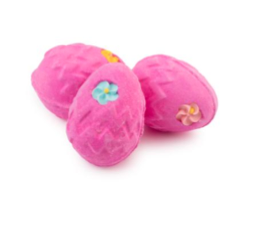 A 
 best seller every
year, this sweetie scented pink egg is adorned with a candy flower. It's like bathing in a bubbling mass of marshmallow, candy floss and jelly bean scented water ... you'll get your sugar fix without anything passing your lips! Available in spots or zig- zag patterns. 
I will be buying a cane basket, filling it with shredded paper (worms) and then popping two of these and two of the immaculate eggs in there to make the perfect Easter gift for the girls each. I don't want to encourage them in eating junk and rotting out their teeth and tummies with too much chocolate and sweets.
The Immaculate Eggception
bath bomb
($11.95)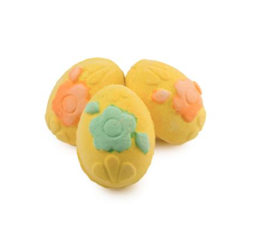 O
ne of Lush's innovative double-layered bath ballistics, these are hollow eggs with a surprise inside ... crack
the outer layer bubble bar and ballistic mix to reveal either a mini chick or bunny ballistic inside! You can then throw the outer eggshell and its inhabitant into the bathtub and enjoy a vanilla absolute, lemon and grapefruit scented soak. There are two
colours to choose from, the yellow egg with green decoration contains the bunny; while the pink egg with yellow or blue decoration contains the chick. They both make for a cracking great bath!
 This would have to be the one I am most excited for as I love a cute surprise. I love the fact you can use this at once, or each bit used in separate baths making the $9 worth it. The price would be the only thing that would deter me from this product but apart from that I am keen. 
There are also a couple of super cute Easter Gift Packs.
All these super cute products will be available in store on the 3rd of April, but may be able to find them online earlier depending on how long it takes to HANDMAKE them
J
Www.lush.com.au