I first wanted to try this in May but I wasn't able to buy it in the Queen Street, Auckland shop as they were out of stock and then I tried looking online and it was out of stock. It's only within the last month or two I remembered I still didn't have one so I bought one online and have been using it at least once or twice a day.
It's a handmade product, preservative free. Good for 14 month's but it's best used fresh. 
Ingredient's
Castor Sugar, Organic Jojoba Oil, Methyl Lonone Favour, Colour 45410 & 45380)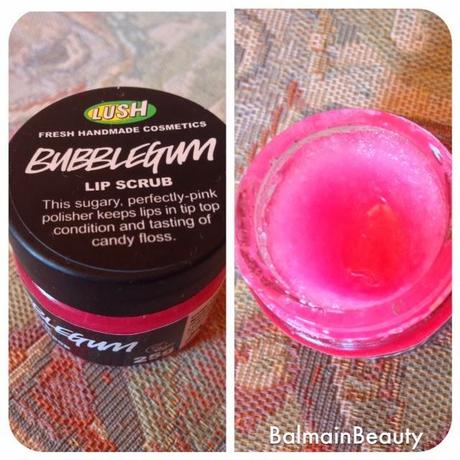 The first thing you notice after you remove the packaging is the devine scent, a bubblegum sweet sugary scent which is nice without being overly sweet. The second thing is the color and the taste. I find it really hard to keep this on my lip's because it smell's amazing and I want to eat it and you can, don't worry you won't get sick from anything in this product.
How to Use It
1. apply to dry lip's; scrub and buff into your lip's to softness; lick it off
2. leave it on as long as you can.
I find applying this first before applying my makeup really help's because the final thing I apply is lipstick and by then my lip's have had 10+ minutes with the lip scrub on working it's magic to get rid of dry skin and it'll make my lip's nice and smooth.
3. or you can remove with a damp cloth and apply your lip balm, lipstick or lipgloss.
It was two day's after I forgot to use this I woke up and the center of my lower lip had split, it was sore. I wasn't sure if applying the lip scrub would make it sting, but I found it didn't hurt and it helped smooth my lip's and then overnight the split healed (it was tiny) and now I use a little bit it every morning. I don't think the lip scrub was to blame for the split lip, I was out in the wind and forgot to apply a lip balm.
This little pot cost's $12.50 and I like it but I'd like to try the Mint Julips one next.
Storing
I recommend screwing the lid on tightly otherwise it'll dry out a little and I've only noticed recently that it's very attractive to sugar ant's so I've started storing it in my fridge which keep's it nice and cool.
Have you tried the Bubblegum lip scrub?