I was way, way excited to be invited for the first time to the LUSH Christmas 2013 product launch.  If any of you have read my LUSH cosmetics posts from last year, you'll know that these UK vegan handmade cosmetics (mainly bath and body) are most enticing around the Holiday season.  To really get the most out of their stuff though you've got to have a tub, a well-loved inflatable kiddie pool (these excite kids, seriously), or try to gatecrash someone else's 5-star hotel visit just to use their tub.  Their playful fragrant creations never cease to put smiles on people's faces.  With shapes that are delightfully and colorfully crude rather than overtly refined, many LUSH products capture that multi-colored childlike wonder which tends to float in and about during Christmas.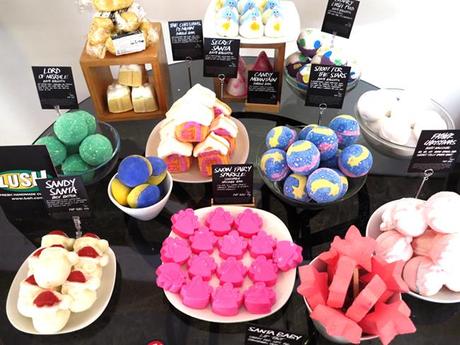 What's nice about this year is they've brought back the Christmas releases from last year in addition to the added new Holiday items.  Some of the new ballistics include Lord of Misrule (Green) Php275, Secret Santa Php395 (pink and orange house), Bombardino Php195 (not in photo),  Shoot for the Stars Php245 (blue)…and example of an old one I like that's back is Golden Wonder Php275 (yellow gift box).  Not included in photos is the CELEBRATE Body Cream Php995 which is a new release locally and limited edition for Christmas, it was originally only sold in Japan, if you like the scent of Golden Wonder ballistic the Celebrate Body Cream has the same scent.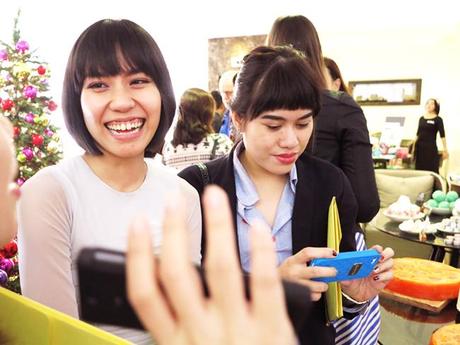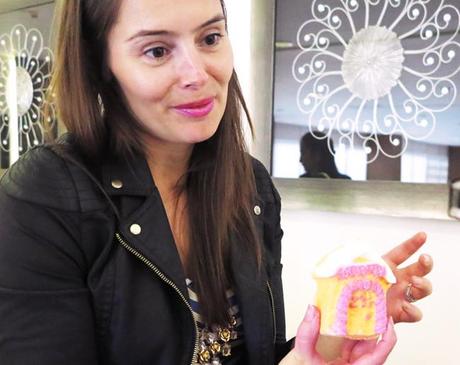 Retail Manager for Hong Kong, Japan and the rest of Asia, Annabelle Baker, shares the story of the new Secret Santa ballistic (bath bomb) which breaks into 3 pieces (2 parts of the house and a Santa) so you can have 3 baths using it.  It was created by a LUSH Colleague as a present for his/her Secret Santa and is a replica of the very first LUSH store. LUSH thought it was so clever they decided to include it in their Holiday Collection.  It smells of sandalwood and lime.

There were so many lovely activities set up for us, even a hand massage corner where we could have massages on both hands!  Read more to see what else we did

and see some more products.
Here's a bit of fashion at a beauty event!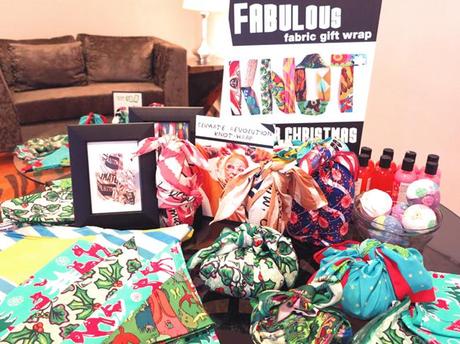 These are fabulous scarves or fabric wraps you can use for yourself or to wrap gifts in.  They even have a special Vivienne Westwood edition with her signature on it.
What was admittedly quite fun was the soap crafting area.  They set out a handful of their handmade soap bars, special LUSH "cookie" cutters and other tools to cut and shape your own LUSH soap.  The "why-so-serious" beauty at the bottom  is my niece, Erin, hehehe, we see each other often at beauty & style events.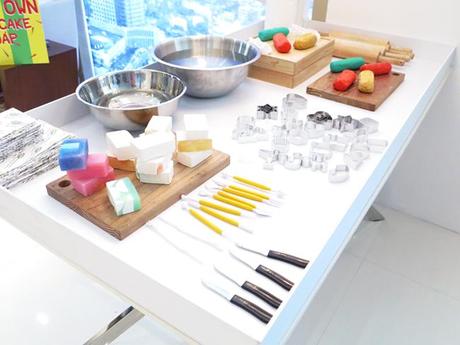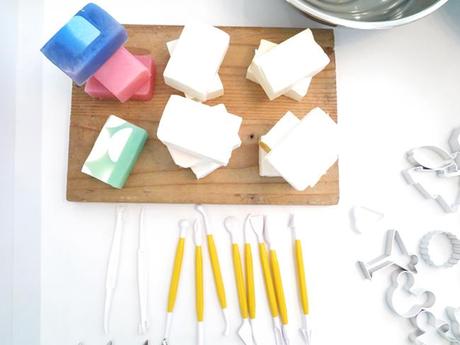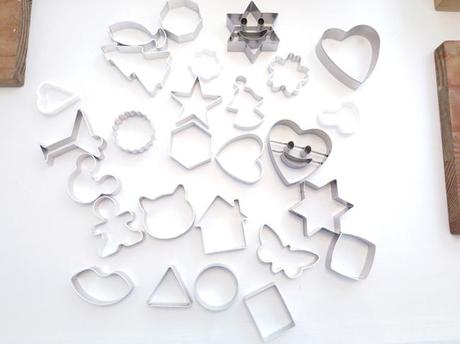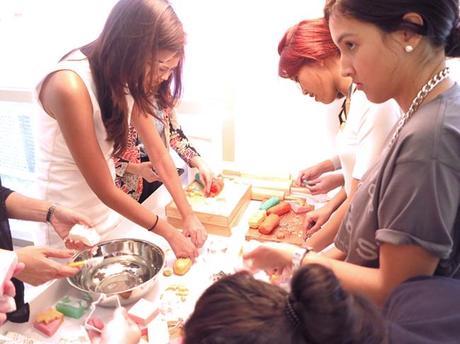 Here's what I came up with…and the girls laughed at me because I didn't spot the LIP shape cutter, I cut it out myself manually, then I spotted the lippy shape cutter and I was like "Oh…lol". Well, that makes this an original.  I got to take it home with me.  I also made a white soap dedicated to cloud but it turned out a bit hideous, so I've censored lol.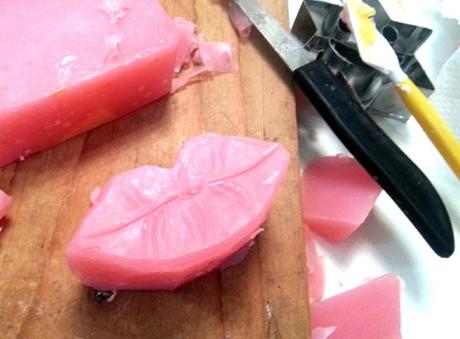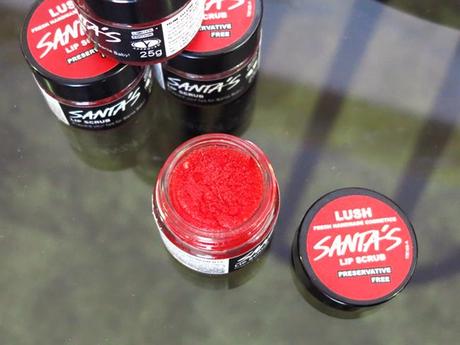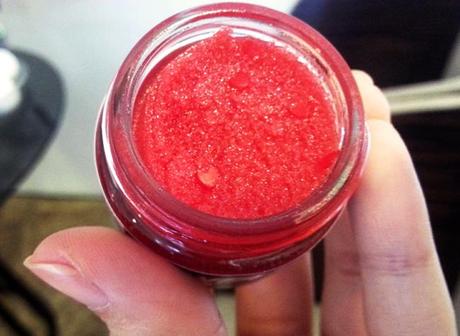 "Santa's Lip Scrub Php425 is special because I didn't notice until Annabelle pointed out to me other than the fact that it has the fizzy cola/cherry flavor it's got sweet hearts inside, when you look closer, see the hearts?  All vegan, non-toxic and the whole thing is safe and edible naturally because it goes on the lips.  Sold out already almost everywhere."
You can kinda tell why I like to be early at these sorts of events, I like taking pictures of events that are not yet in disarray lol.  LUSH are a company of do-gooders as well by being advocates of vegan alternatives and truly organic/botanical formulas.  I love how the name of whoever put your LUSH handmade product together is stuck on every item. LUSH is now extremely popular.  As early as when" fall" rolls around for 4-season countries people begin taking hot tub baths.  The increasingly frequent trips to LUSH to bring home bath and body "ammo" translate to added comfort when the wind turns nippy.  LUSH is here for Christmas and I'm so excited about pretty much all their new arrivals!