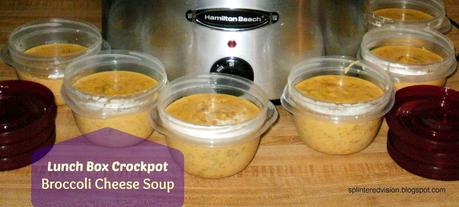 It's getting cold outside. The sun is coming up when I walk into my office building and, oftentimes, it's dark outside when I leave. With a two year old and all of those hours at work the last thing I really want to think about is lunch. I rarely have time to go pick something up and I normally work right through the lunch break. I eat whatever shelf stable food I have managed to pack away in the food drawer of my desk. Normally, my lunch consists of Cheese Its, Fig Newton's, Little Debbie Brownies, and the occasional mini bag of chips. It's not ideal, but it's better than nothing. 

When I have the chance, I try to make something on the weekend that I can freeze and easily throw in my lunch box on my way out the door. This weekend I had a little time to work on my lunch box prospects. I had some fresh broccoli in the refrigerator the needed to be used up, so I made this Crockpot Broccoli Cheese Soup to put up in the freezer. It's warm, cheesy and comforting on a cold day stuck in my office. This recipe made enough to take some soup over to my grandmother and fill 6 Rubbermaid lunch soup containers. I stuck these in the freezer and I can grab them any morning to take with me.
Lunch Box Crockpot Broccoli Cheese Soup
Ingredients
2 bunches of fresh broccoli (washed and chopped)
1 1/2 cups of baby carrots (finely chopped)
1 Celery Stalk (finely chopped)
½ Onion (finely chopped)
1/2 stick of butter
3 Cups of chicken Broth
1 Can of cream of chicken soup
Salt to taste
1 Cup of finely shredded cheddar
½ Cup of shredded mozzarella cheese
½ A brick of Velveeta (cubed)
Directions
Chop, finely, the Celery, Onion, and Carrots. I used our new Ninja Chopper to chop these and it was super easy and fast. I like this much better than a regular food processor. I chopped the broccoli by hand because I wanted larger chunks.
Put the vegetables, butter, chicken broth, can or cream of chicken soup and salt into the crockpot.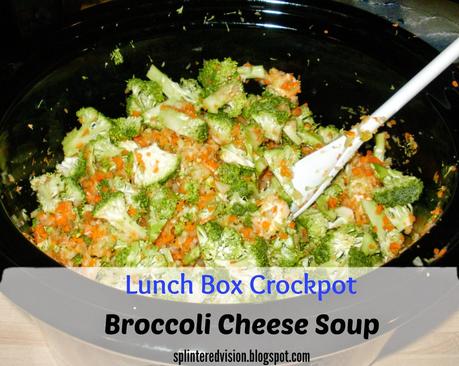 Let it cook on high for about 3 hours.
Switch the crockpot to low and stir in the shredded cheddar, shredded mozzarella, and cubed Velveeta.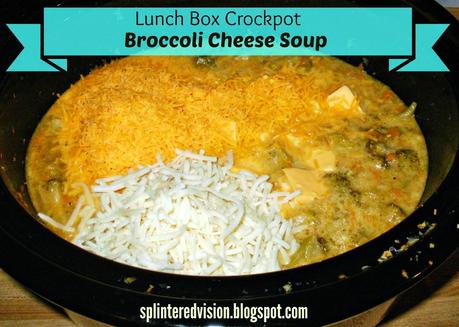 Let the soup cook for about half an hour more to let the cheese melt.
Serve immediately or dish it up into freezer and microwave safe bowls and freeze it. It microwaves nicely.
Interested in the kinds of tools I used to make this dish? Click below to see them on amazon. If you decide to buy something, I might even be compensated. If it ever happens, I'll let you know. 
Amazon.com Widgets