Gong Xi Fai Cai everyone (haha sorry a bit late!) To celebrate the Lunar Markets 2016 at Pyrmont Bay Park was on between 4- 14th February. It was a free event that had multiple pop up food stalls offering a range of delicious Asian food like PokLol, Boa Stop, Everybody Loves Ramen- just to name a few. This was like a mini version of the Night Noodle Markets (part of the Good Food Month), even though it was smaller there was still a great offering of good food!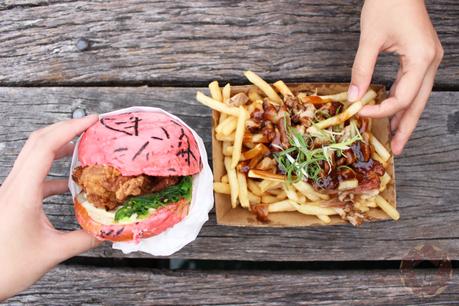 Everybody Loves Ramen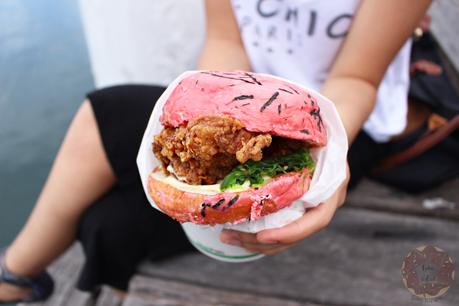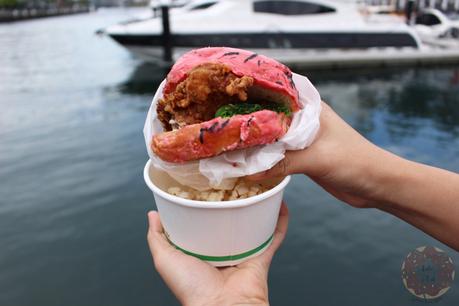 Sakura Burger | Fried chicken, sakura glazed bun, Japanese curry sauce served with miso popcorn

Have you ever seen a pink burger before? Have you ever wondered what it tastes like? Think of a ridiculously delicious fried chicken sandwiched between two glazed doughnuts with some mayo.. sound strange? well that's what Everybody Loves Ramen
Sakura Burger
tasted like. The bun was Sakura (cherry blossom) flavor and usually I really enjoy the sweet and savoury combination but for the bun was super super sweet and it just threw off the balance of flavours. However, the fried chicken was very good, it was almost as good as Belle's Hot Chicken (blog post to follow) and that's VERY good! Yes, the burger looked "Instagram" worthy/ pretty but unfortunately the taste did not match up to its good looks.
Bao Stop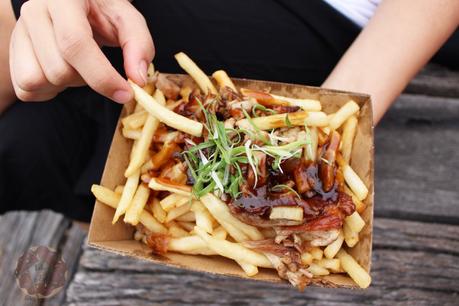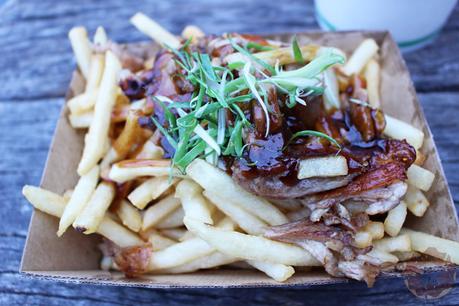 Peking Duck Fries

Lately, I've been eating a lot of loaded fries/ poutine.. whatever you like to call it and I'm not complaining at all.. maybe my waistline is :P I've seen a stream of
Boa Stop's
famous Peking Duck Fries all over social media/ food guides and I'm glad we ordered this because it was absolutely delicious! Two things that I love in one dish- fries and peking duck.. enough said. It would of been nice if there was more sauce but other than that this dish was perfection!
Black Star Pastry x N2 Gelato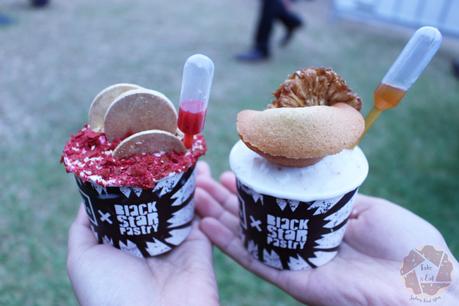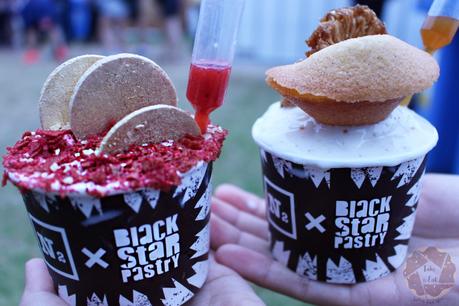 Left: Gong Xi Fai Cai Cake Smash | Black Star Pastry's strawberry watermleon cake smashed into N2's vanilla gelato, topped with firecrackers feuilletine and covered with gold dusted pop rocks and haw flakes | $9.50
Right: Hipster Cookies & Cream | Almond and pineapple gelato with almond sesame cookies, a pipette of pineapple jam served with dehydrated pineapple and hipster fortune cookie | $9.50

Because my friend and I have eyes that are bigger than our stomachs we decided to get both of the Black Star Pastry x N2 special gelato! The
Gong Xi Fai Cai Cake Smash
was hands down the better one out of the two we got. If you're a fan of Black Star Pastry's famous strawberry watermelon cake you will definitely enjoy this because this is basically the ice cream version of it.
The
Hipster Cookies & Cream
was not enjoyable, there was some strange combination of flavours going on in this ice cream. It tasted a lot like cough medicine and there hardly any pineapple flavouring at all. My friend also took a bite out of dehydrated pineapple and spat it out immediately.... It was a creative ice cream but nice try...
Overall, the Lunar Markets 2016 presented by The Star was an enjoyable evening of stuffing our faces with delicious food, it is definitely an event not to be missed!
Happy eating x