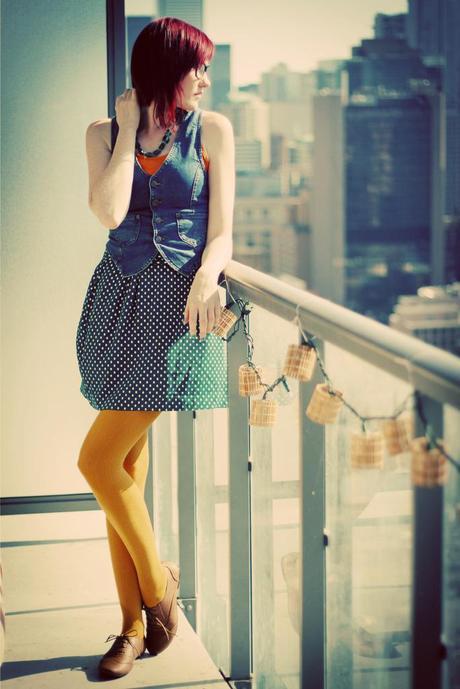 Skirt // Thrifted // Tights // H & M //  Shoes // Ardene // Denim Vest & Tank Top //
H & M
// Necklace // Thrifted //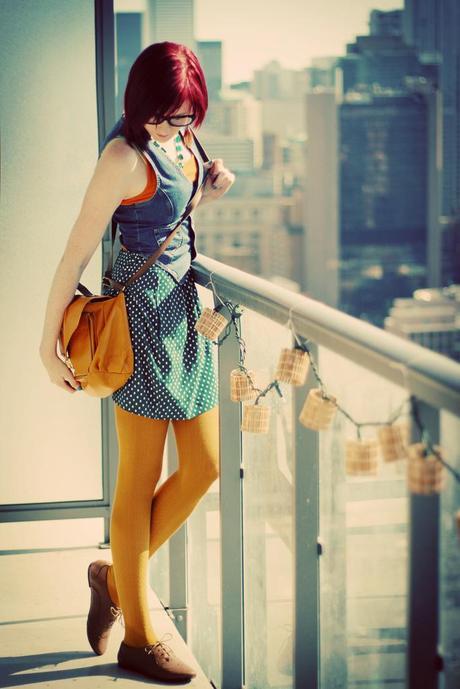 Today is Labor day, a holiday for us Canadian and yet since I'm a freelancer for the moment every Monday is kinda like a holiday Monday for me. Labor day was always the sign that school was riiiiight around the corner. I'm sure some of you are off to school and my friends and I have been saying our goodbyes to our brothers and sisters who are heading off to university/college. Lucky ducklings... I honestly miss school like crazy. My mom has been super awesome and thoughtful about this and got me and her into this online Art History university lecture series from the Smithsonian Institute. I studied some Art History in my studies in graphic design but never at length or in depth. It's heaven. I am loving the lectures and I'm even writing my own little essays.....I love learning/writing/history.
This little outfit I've got on here feeling like the perfect outfit for back to school. I can imagine running around the old Oxford campus (my dream school - where I spent a time studying English in grade 12), heading off to my first Art History lecture, books in my mustard yellow bookbag, pens and pencils rolling around inside. My polka dot teal skirt blowing in the wind as I jump off my bike and park it under some grinning gargoyles. And I whiz around the corner, my woolen tights protecting me from the chill, running up the cobblestones and wooden steps of a great old Gothic building where an old instructor waits at the mahogany lecture stand with a smile. My brown lace up oxford shoes dancing under my seat with excitement as I break out my notebook and dive into the images and ideas floating around in my head.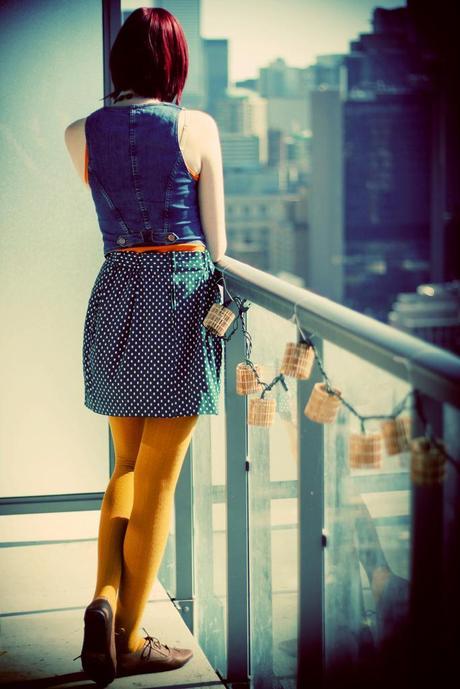 I've been searching and searching the thrift shops for a little denim vest to rock this fall but I've had no luck. Then the other day I found this lovely little vest at H & M
ON SALE
nonetheless and I snapped it up along with a great cheap bright orange thank top and this awesome pair of mustard tights. All the perfect colours for fall! I'm trying to hold back my heartbreak about summer leaving us so soon by diving into fall with arms wide open!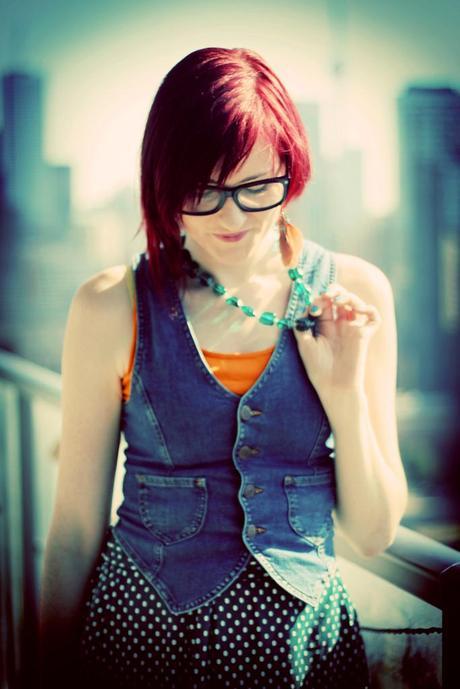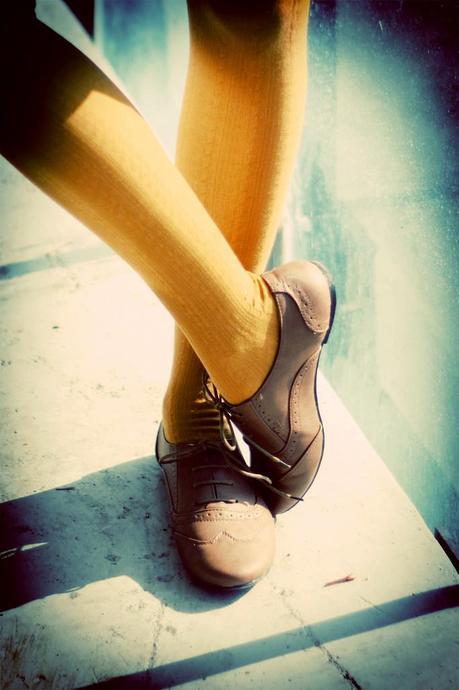 Claire
has been wearing
her denim all summer
, inspiring and giving me some great ideas about using the vest to bring a fall feel to some of my summer wardrobe. (I know I keep mentioning Claire but she's seriously my favorite person and I love love love her style - total inspiration) Honestly, I adore this vest. I think I've worn it every single day since I bought it. It seems to go with absolutely everything! I'm thrilled that I found it before we got too far into the fall.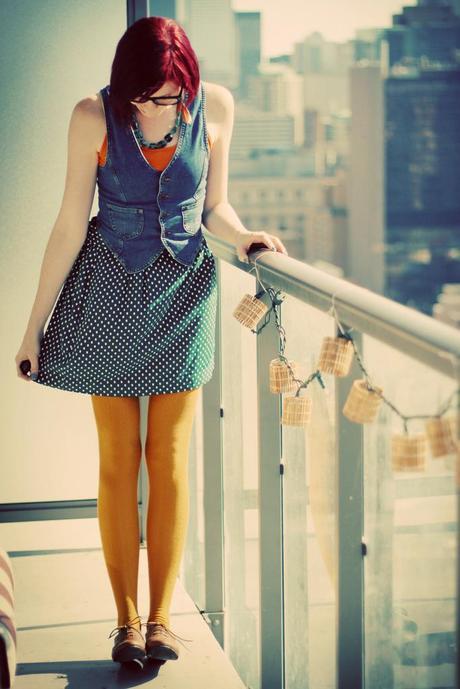 I spent the weekend hosting a slew of visitors at the condo (planned ones and surprise guests), chatting/laughing/commiserating with Jesse, and tomorrow I'm off to help my lovely Sarah find an apartment downtown and then I might attempt to meet Jesse in the park. Hopefully the weather will hold out so he and I can chill and read outdoors before the cooler September weather rolls in.
What did everyone else get up to this weekend? I know some of my readers are back in school, so how are you guys preparing for your first days? Excited?! Lemme know what you guys are up to this holiday Monday!