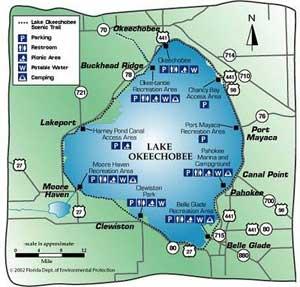 Posted on the Ultralist:
Date: Sun, 24 Feb 2013 21:36:28 -0500
From: Mike Melton
Subject: 2013 race results for the LOST 118-Mile Endurance Run
Listers -
Complete results are finally posted for the seventh annual LOST 118-Mile Endurance Run – visit www.lost118.com to view them.
Juan Carlos Sagastume of Guatemala won the Men's Overall title in the Solo division as he covered the 118-mile course in 21 hours, 51 minutes, 47 seconds. Claire Dorotik of Aurora CO won the Women's Overall title in 28:33:50. Eight out of 21 starters finished in the Solo division for a 38% finishing rate.
One two-person team finished – Miami FL's Eric Friedman and West Palm Beach FL's Krystle Martinez combined to finish the course in 20:25:20.
The course begins and ends in Clewiston, Florida and is one loop around Lake Okeechobee atop the Herbert Hoover Dike that surrounds the lake. Lake Okeechobee is the second-largest freshwater lake in the United States, and is located in the middle of the state south of Orlando.
The final finishers crossed the finish line about five hours ago. After 44 consecutive hours of working the race, with about 90 scattered minutes' worth of intermittent sleep, I cannot construct a logical sentence much less do any of the myriad race stories any sort of justice. I hope that this will change for the better after a few hours of sleep .
Sincerely,
Mike Melton
Visit www.lost118.com